PhD soft matter research showcased by leading journals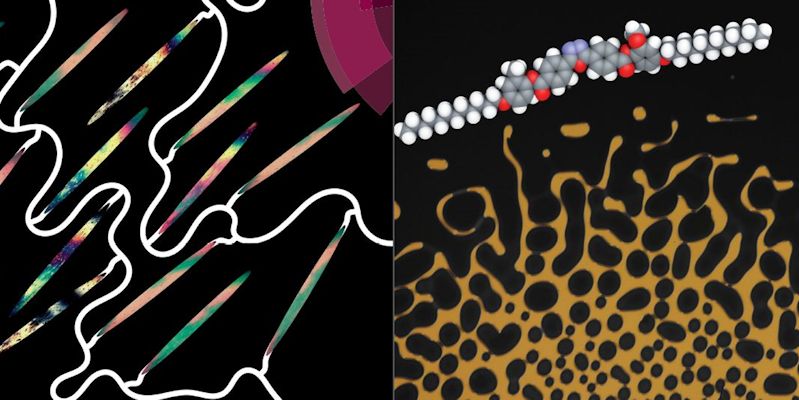 Separate studies into the elastic properties of liquid crystals led by PhD researchers from Leeds have been published in two journals, with both gaining coveted cover images.
PhD researcher Shajeth Srigengan is the lead author for a study in the 7 February 2018 issue of Journal of Materials Chemistry C. The paper is about one of the key properties of liquid crystals: elasticity. It is the elastic properties of these ordered fluids that controls their performance in liquid crystal displays (LCDs).
The paper's title is 'Anomalously low twist and bend elastic constants in an oxadiazole-based bent-core nematic liquid crystal and its mixtures; contributions of spontaneous chirality and polarity'.
Fellow PhD researcher Devesh Mistry is the lead author of a paper titled 'New insights into the nature of semi-soft elasticity and "mechanical-Fréedericksz transitions" in liquid crystal elastomers', which has been published in the 28 February issue of Soft Matter journal, also from the Royal Society of Chemistry.
Liquid crystal elastomers (LCEs) are one of today's most exciting materials in soft matter science.
Both Shajeth and Devesh are supervised in their PhD studies by Professor Helen Gleeson, Head of the University's School of Physics and Astronomy, who is a co-author of both papers. Professor Gleeson's research interests involve understanding liquid crystal systems, and how they can be used for novel photonic devices and applications.
Among the dozens of researchers whose work is published in each edition of the journals, it is seen as an accolade to be given a cover spot by the editors, a sign of the quality of the research article. It is rare for PhD researchers' work to be featured, again a sign of the standards which Leeds students reach.
It also reflects the quality of Leeds' Physics and Astronomy research, more than 90 per cent of which was classed as 'world-leading' or 'internationally excellent' in the most recent Research Excellence Framework review.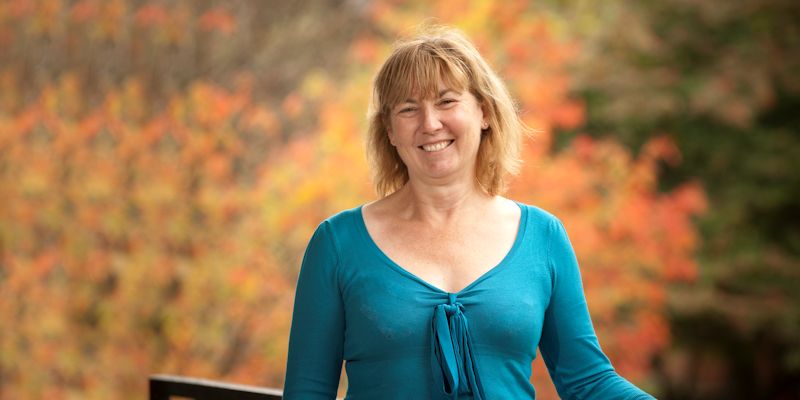 Professor Helen Gleeson, School of Physics and Astronomy
Elasticity of liquid crystals
Shajeth's research article reported a system that has extraordinarily small values of the twist and bend elastic constants of the liquid crystal. The elastic constants influence the operating voltages and optical properties of liquid crystal devices.
Shajeth said: "Low elasticity is an exciting feature of liquid crystals and observing it in bent-core liquid crystal mixtures shows that we are furthering our knowledge of liquid crystal science.
Devesh's research paper covered his team's ambition to develop new liquid crystal elastomers with optimised mechanical properties for application in switchable optical devices. The study investigates the fascinating fundamental behaviours of a new material developed and its implications on the new devices.
Impressively, this signals toward a new phenomenon of LCEs, making these already amazing materials even more remarkable.
Devesh explained: "This paper is first from our group to focus on Liquid Crystal Elastomers which took a lot of hard work to catch up with this well-established field.
"It was therefore extremely exciting to hear that Soft Matter wanted to feature our work on their journal cover as it shows they believe our work is not only of interest to the Liquid Crystal Elastomer field but also to the wider soft matter community."
It was extremely exciting to hear that Soft Matter wanted to feature our work on their journal cover... they believe our work is of interest to the wider soft matter community.
Leeds' Soft matter research group
Leeds' School of Physics and Astronomy is home to a diverse community of committed and passionate staff and students, accessing a range of facilities and working within dedicated research laboratories.
The Soft matter research group is primarily experimental with an equal focus on fundamental and applied aspects. It is interested in a wide range of different soft matter materials including liquid crystals, liquid crystal devices, polymers and biopolymers, glasses, composites, complex fluids, gels and networks and colloids.
Further information
View the research profiles of Shajeth Srigengan and Devesh Mistry to learn more about their work. For more details about the research of Helen Gleeson, view her staff profile.
View issue 5 of Journal of Materials Chemistry C to read the paper authored by Shajeth and Professor Gleeson and collaborators from UltraVision CLPL and the University of Manchester. View issue 8 of Soft Matter to read the paper authored by Devesh and Professor Gleeson.
For further details about the journals, visit the Royal Society of Chemistry website.
Discover more about the School of Physics and Astronomy's Soft matter physics research group.