Summer Internship Scheme Celebrations 2023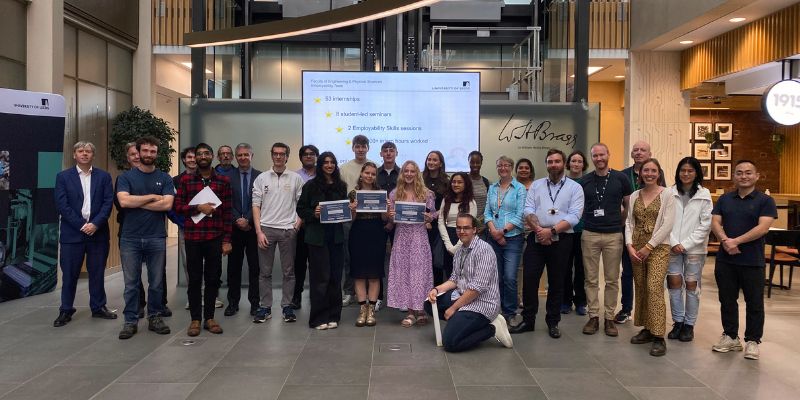 Congratulations to all the students who took part in the Faculty of Engineering and Physical Sciences Summer Internship Scheme this year.
The internship scheme has been running for several years, having started in the School of Mechanical Engineering, it has now grown to become a cross-faculty event. This year saw 53 internships from across the Faculty of Engineering and Physical Sciences. Projects came from the Schools of Chemical and Process Engineering, Chemistry, Civil Engineering, Computing, Electronic and Electrical Engineering, Mechanical Engineering and Physics and Astronomy.
The internships are open to undergraduate Level 1, Level 2, and Level 3 (penultimate) year students, and last an average of 8 weeks, with students working an average of 30 hours per week on campus, alongside their academic supervisor/team. In total, there were 13,000+ intern hours worked. All the internships are paid and this year many places were funded internally by the schools, others were funded by the Sheard Scholarship Fund (an alumni fund), EPSRC, or the Bragg Centre for Materials Research.
The students apply for an internship, either within their own school/specialist subject area or choose another from across the faculty. The internships are a brilliant way for students to not only have a job for the summer, but be part of world-leading research, or work on a project supporting student education and student success.
The 2023 internship scheme culminated with a poster showcase and celebration event in the Sir William Henry Bragg Building on the 13th of September. The event championed the incredible work that student interns completed over the summer and gave others a chance to see posters representing various fascinating projects. 
The evening also included a poster competition, sponsored by the Henry Royce Institute. The judging panel consisted of Professor Ozz Querin, Pro-Dean for Student Education, Dr Andy J Lee, Bragg Centre, Professor Edmund Linfield, Bragg Centre. The 1st prize went to Nelli Sadarova, and tied in 2nd place were Emily Bomphrey and Gulana Anwar.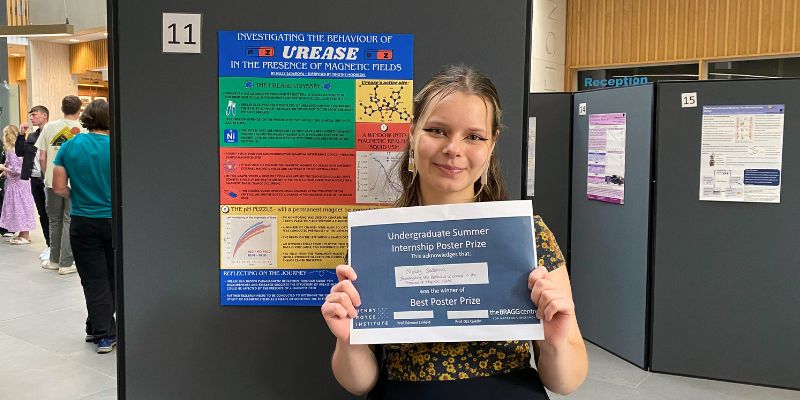 Nelli Sadarova said "I had an incredible time during my EPS summer internship on "Investigating the Behaviour of Urease in the Presence of Magnetic Fields." I was particularly drawn to this project due to the intersection of physics, chemistry, and biology because I believe pursuing interdisciplinary research offers the potential for exciting discoveries and research opportunities; bridging gaps that traditional disciplines might overlook.

Despite encountering some challenges, I really enjoyed this project. As a physics student, I quickly realised the unpredictability and complexity of biological and chemical processes, which presented obstacles in obtaining accurate measurements. Regardless, this internship provided me with incredible opportunities, including presenting a poster at a conference and conducting hydrolysis experiments at the University of York.

The internships ended with a poster session where all interns presented our project achievements. Upon seeing the impressive work of many of my fellow interns, I was pleasantly surprised when my poster was awarded first place. Winning this was an amazing way to conclude the internship program and I would absolutely recommend to anyone considering undertaking a summer internship to take the leap."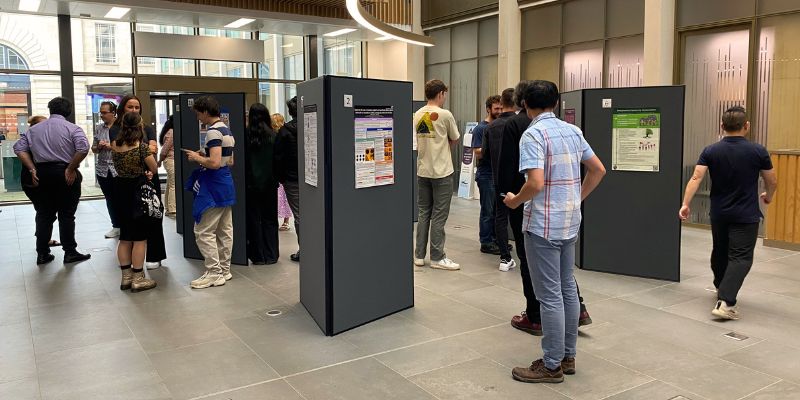 Throughout the duration of the internships, the Faculty of Engineering and Physical Sciences Employability Team supports the cohort, this includes running an introductory session and two employability skill sessions. They also recruit volunteer Seminar Representatives from amongst the interns. The student representatives support the running of the peer-to-peer seminar series, whereby interns present their projects/work to each other and engage in discussion and academic supervisors are invited to join.
The scheme provides students with a vibrant cross-campus community, it is a great way to develop commination skills as well as reinforce their academic and research skills gained through their studies in a practical application. 
Poppy Beacock, Employability and Placement Officer co-running the scheme, said "The EPS Employability Team has run the EPS Faculty Summer Internship programme for a number of years now, it has really gone from strength to strength with this year being the highest amount of internships yet. It's one of my favourite areas of work as we get to support students right from the beginning, helping them develop the skills for the application and interview process, and then supporting throughout the internship with a wide range of employability skills. As well as giving the students the chance to get some insightful work experience it is also a great opportunity for them to make connections, both in the academic world but also amongst their peers. Who knows what each student will do next, but whatever it is I think they'll do great because they have been such an amazing bunch to work with."
Learn more about Research and Innovation in the Faculty of Engineering and Physical Sciences.