Dushyant Goordyal
Course: PhD in Mechanical Engineering
PhD title: Design and development of atraumatic Vacuum Assisted Delivery (VAD) devices
Dushyant Goordyal is completing his PhD in Mechanical Engineering, and has secured a role as a device development scientist at the Devices Centre of Excellence (DCoE) group at Pfizer in Cambridge, UK, following his graduation.
Dushyant talks about his research and career plans, and his journey to becoming a PhD student at Leeds and a Chartered Engineer.
Designing and developing vacuum-assisted devices for safer child delivery
As part of his PhD Dushyant has been working closely with an industrial partner and a team of academics to look at informing novel research in the field of Vacuum Assisted Delivery (VAD) during childbirth, with the view of developing innovative and safer products. He explained:
"VAD is an obstetric practice used to assist child birth during the second stage of labour. During the procedure, the obstetric professional attaches the VAD device to the scalp of the foetus through suction and tractive force is then applied alongside maternal contractions to assist the baby's passage through the delivery channel.
"VAD is more prevalent than obstetric forceps due to its ease of use, lower maternal morbidity and improved cosmetic outcome for her baby. However, safety concerns such as unintentional cup detachment or high vacuum, can lead to induced trauma to the foetus."
He continued: "Since its original inception, there has been limited effort to evaluate the safety of VAD devices or optimise their design and operation: assessing the performance of these devices and integrating state of the art technology which can assist in improving the design safety is the focus of my research."
From industry to academia – An international journey
After gaining his initial experience in the medical device and combination products industry, Dushyant decided to learn more about the development of medical devices in academia; he had always been keen to expand his knowledge in this area.
He said: "Prior to my PhD studies I was working at Roche on as a device development engineer on the banks of the Rhine in Basel, Switzerland. I was primarily responsible for defining product requirements for primary packaging and delivery systems, such as pre-filled syringes for drug and device combination products and medical devices (auto-injectors and needle safety devices) in a design-controlled environment.
"Having discovered the Surgical Technologies group on FindAPhD, I approached the supervisors about the prospects of joining their research group. Within a few arranged interviews, I was encouraged by their collaborative and open-minded approach and didn't hesitate to join this program."
After discovering the Surgical Technologies on FindAPhD… I was encouraged by their collaborative and open-minded approach and didn't hesitate to join this program.
Understanding the mechanics of VAD devices
Dushyant's research topic focuses on understanding and characterising the biomechanics of VAD performance, with a view to investigate VAD device design improvements to improve obstetric practice.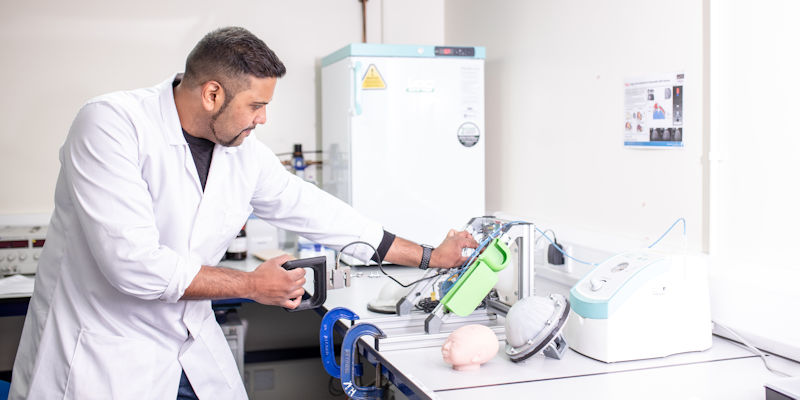 He explained: "During my PhD, I developed an instrumented experimental recreation of VAD to achieve a comprehensive understanding of the mechanics of VAD devices and the associated trauma.
"It features a commercially available VAD device (the Kiwi® Omnicup) connected to a tensile testing machine to simulate obstetric traction onto a head scalp model (fabricated using textile reinforced silicone). A pneumatic control system provides an actively controlled vacuum to the instrumented device."
Dushyant continued: "Optical markers, placed onto the scalp model, combined with a high-speed camera system provide tracking of scalp deformation during mechanical simulation of obstetric traction. Experiments have been devised to investigate the clinical impact of system variables including the applied force rate, magnitude of vacuum imposed and geometry of the VAD cup."
He added: "Results to date have demonstrated that cup detachment can be recreated and successfully characterized during a dynamic loading simulation of over traction. This new information introduces the opportunity to quantitatively assess the efficacy of VAD devices which can be used to inform the design of less traumatic VAD devices."
High standards of academic supervision
Dushyant also explained he felt encouraged by the support he has received throughout his studies.
He said: "Pete Culmer and Ali Alazmani are a dynamic duo with complementing expertise in medical device instrumentation and soft robotics. Having been through the 'Leeds' way, both supervisors deliver at high standards of academic supervision whilst maintaining friendly and healthy relationship with the postgraduate researchers.
"In the ethos of my research, the supervisory team have aligned thoughts in the betterment of VAD devices whilst maintaining a common sense and responsible commitment to this critical area of care."
Pete Culmer and Ali Alazmani deliver at high standards of academic supervision whilst maintaining friendly and healthy relationship with the postgraduate researchers.
Leeds Doctoral College
Dushyant also described his experiences as a postgraduate researcher belonging to a community as part of Leeds Doctoral College. He said:
"I was privileged to be a finalist to showcase my research for the Three Minute Thesis (3MT) Challenge during the inaugural launch of the Leeds Doctoral College. Since its introduction, through effective communication, access to key information regarding postgraduate academic life have simplified.
"Useful communication about training and development, job opportunities and events makes me feel part of a supportive and inclusive community."
There has been an impressive effort, such as training and development, to simplify the challenges of postgraduate academic life... which makes me feel part of a supportive and inclusive community.
Chartered Engineer status
Dushyant explained his plans for the future.
He said: "Having been granted a Chartered Engineer Status by the Institute of Mechanical Engineering (IMechE) through my combined work and research experience, I am enthused the development and application of intuitive engineering solutions to address unmet clinical needs.
"Shortly after the PhD, I will be starting a device development scientist role at the Devices Centre of Excellence (DCoE) group at Pfizer in Cambridge, UK."