Leeds Digital Festival: University of Leeds Showcase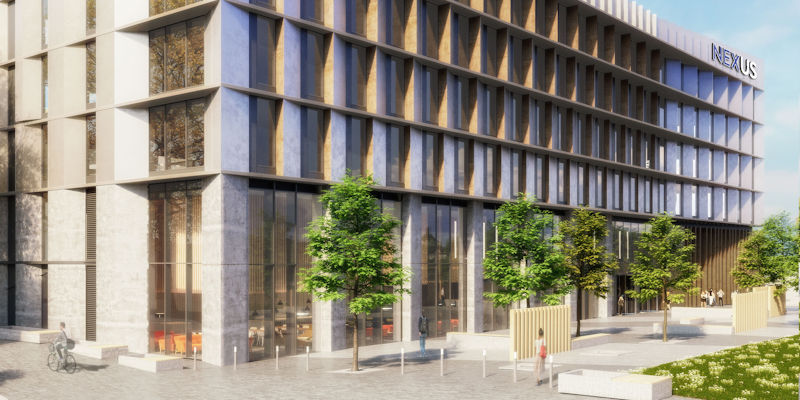 Date: Wednesday 1 May 2019, 12:00 – 18:30
Location: Engineering Building
Type: Conferences
Cost: Free
The Showcase, featuring an exhibition and workshops, is part of the Leeds Digital Festival and highlights the very best in digital technology that the University has to offer.
Taking place at the new Nexus building, visitors will be able to sample immersive technology being used across different Schools and projects.
For more information please see the programme below and book your place today:
12:00 - 13:30 May Day Play Day: Go places you can't normally go
From the faculties of Engineering, Maths and Physical Sciences, Earth and Environment and the Leeds Institute of Medical Education
Go places you can't normally go with interactive virtual reality (VR) tours, see and interact with real patients using the Microsoft Hololens®, watch your heart beating through an Augment Reality t-shirt (Virtuali-tee), ), play computer games with our MyPAM robot go on a virtual geology field trip, and watch stars form and evolve over millions of years before your very eyes!
12:00 – 12:30 What's on Show? Find out about immersive technologies at University of Leeds and the workshops you can get involved in at 12:30. (10 minute quick-fire presentations from all of the demonstration stands.)
12:30 – 13:30 Come and have a go! Drop in to our VR and AR fun and interactive workshops across 4 different rooms. See and use a range of immersive technology that is currently being used across Schools at the University of Leeds within Healthcare, Astrophysics, Engineering and Environment.
Book your place (through Eventbrite) on the May day play day
2:30 - 3:30 Online learning supporting professional development
Presented by the Digital Education Service
The Digital Education Service at the University of Leeds has developed a wide range of open online learning activities that support and enhance professional growth. Our design and development process employs a combination of appropriate pedagogy, engaging content and resources, collaborative activities to promote social learning and authentic learning tasks. Join us to see how we combine these elements to create rich, engaging and effective learning experiences and how they could support your professional development in your workplace.
Book your place (through Eventbrite) on Online learning supporting professional development
2:30 - 3:30 Showcasing the Timescapes Archive
Led by the School of Sociology and Social Policy
Join this event presenting an in-depth insight into Timescapes Archive, the first large scale Qualitative Longitudinal study to be funded in the UK by the ESRC (2007-2012).
Qualitative Longitudinal research tracks people over time, walking 'hand in hand' with them as their lives unfold. It is a powerful research method used to help researchers understand peoples' lived experience in 'real time'. It also has an unrivalled ability to connect the stories individuals tell to bigger social events allowing researchers to investigate social histories and social change.
If you are interested in taking part in the research or you are scholar who uses research data, this event will inform you on how the types of data it contains and how it is being used.
3:30 - 4:30 Well-being in education; through digital content and channels
Led by Go Higher West Yorkshire (NCOP) - Educational Engagement
Facilitated by Go Higher West Yorkshire and Leeds Mind: This interactive session will focus on how digital presents an excellent mix of channels through which to raise awareness of, and convey helpful information about well-being.
It will explore the power of both content and channels as conduits to enhance well-being – with a focus on young people in education and their key influencers.
Book your place (using Eventbrite) for Wellbeing in education; through digital content and channels
3:30 - 4:30 Digital body painting: An interactive presentation
Led by the School of Languages, Culture and Societies (Spanish, Portuguese and Latin American Studies)
This interactive session presents an electronic art project run by the NGO Thydêwá in a number of different indigenous communities in North Eastern Brazil in 2018, honing in on one particularly successful example. 'This Earth that Is Us' was made by the Karapotó Plak-ô community together with artist Bruno Gomes, and explores the ways in which traditional indigenous body painting can be creatively reworked through digital technologies. While some video animations were created in situ, the project has also lent itself to audience participation when it has been exhibited. Come prepared to be creative!
Book your place (through Eventbrite) on Digital body painting: An interactive presentation
3:30 - 4:30 Beyond bricks and mortar: Introduction to digital special collections
Led by Leeds University Library
The University of Leeds Special Collections holds rare books and manuscripts from around the world that can be viewed on-site in the Research Centre in the Brotherton Library. To increase digital access an ongoing programme of digitisation is underway to open up collections so people can discover the content beyond bricks and mortar. In this workshop you will learn about how we digitise the collections, what is available to the public, and how we are looking to the future.
5:00 - 6:30 21st century digital skills for a diverse workforce (panel discussion)
Led by the Digital Education Service
An engaging panel discussion between employers and diversity groups. The session will be chaired by Professor Neil Morris, Dean for Digital Education at the University of Leeds, encouraging lively discussion and debate around the challenges of securing a diverse range of staff with appropriate values, attributes, skills and abilities for the 21st Century workplace. The University of Leeds and FutureLearn will introduce a new series of free online courses being developed with support from Techmums, UK Black Tech and Nesta. The courses are funded by the Institute of Coding, to support learners to develop 21st-century skills to improve their opportunities for employment and enhance their career. Following the panel discussion, those attending will be actively encouraged to have their say in shaping these courses to ensure they are relevant and appropriate. Join us and influence the content of these exciting and innovative 21st Century courses. The event will include a pre-panel drinks reception with an opportunity for networking.
Book your place (through Eventbrite) for 21st century digital skills for a diverse workforce
12:00- 17:30 Exhibition (in Nexus atrium)
Online courses for professionals and continuing study - Digital Education Service
Online learning helps support continuing professional development (CPD) and the continuation of study. Visit this stand to find out how we can support you or your organisation to continue to learn.
Technology in medical education - The Technology Enhanced Learning team and the Time to Teach team at the Leeds Institute of Medical Education
All about the technology used in medical education and how we teach our teachers to teach our students using the tech!
Introducing Digi - Leeds University Union
Showcasing Digi - a unique not-for-profit digital marketing micro-agency, born out of a collaboration between Leeds University Union and Epiphany. Trained by industry experts, Digi is here to support local organisations and create a collaborative digital network. Chat with the two graduates running the micro-agency and find out more about how they are working towards bridging the gap in the digital landscape in Leeds.
Further information
For more information on the event please check the Leeds Digital Festival website.