Black, Female, Dyslexic... My Journey to a career in Space Science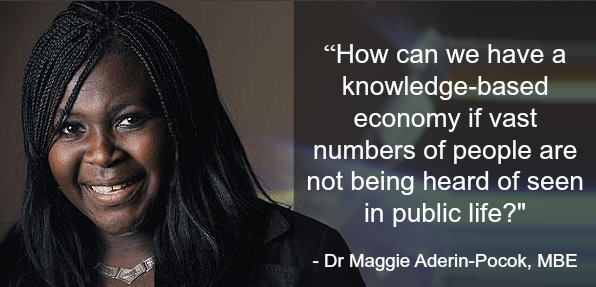 Date: Wednesday 27 June 2018, 15:15 – 16:30
Location: Engineering Building
Cost: Free
A public lecture by Dr Maggie Aderin-Pocock, MBE.
Physicist, engineer and TV presenter, Dr Maggie Aderin-Pocock MBE, presents her remarkable story, journeying from a disadvantaged background and overcoming her dyslexia to gain a PhD in mechanical engineering, to becoming one of the most recognisable faces in space science.
As a leading British space scientist, Maggie makes frequent TV appearances, especially as presenter of The Sky At Night on BBC4. She has been BAFTA nominated for her space shows for children on CBeebies, and is a member of the World Economic Forum.
As well as being passionate about her subject, Maggie is an experienced science communicator and now a 'go to' science pundit for the UK's media. She is a strong advocate for encouraging women to make their voices heard and communicate widely about their academic work and ambitions. She will talk about her relationship with the media, her concerns about the lack of women in public life and specialist fields, and present her ideas for some of the ways in which this imbalance can be addressed.
Refreshments will be available after the event and there will be an opportunity for networking.
Further information
Please register your attendance online