Fire Dynamics and Modelling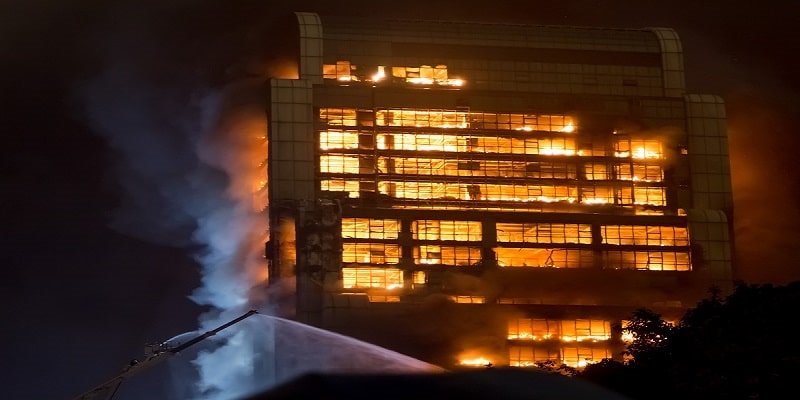 Start date: 18 September 2023
End date: 22 September 2023
Duration: Five days (although you can choose to participate on individual days)
Fees: £TBC
Venue: Weetwood Hall Estate
---
enquire
course leaflet
About the course
What will I learn?
The course will follow a structured approach starting from the general fundamental principles of combustion flammability and heat transfer, and will lead you through to the more specific study of fire spread and fire development in compartments. Open fires such as pool and jet fires will also be covered. The principles of fire protection practice and technology will be discussed within the context of understanding the fire development mechanism and the response of structures to fires. Your learning experience will be enhanced through worked examples and brief problems that you'll be asked to attempt on your own or in groups. There will also be an opportunity for some hands-on experience with predictive PC packages.

How will I benefit?
On completion of this course, you should:
be able to apply general combustion and engineering principles to fires

know the parameters that influence flame spread and steady burning and be able to quantify the burning rate in compartment fires

predict the rate of development of the fire, the onset of flashover, and appreciate the application of these concepts to fire protection design

understand the factors influencing smoke toxicity and movement

be aware of the predictive tools that are available and become familiar with the application and use of such tools, through 'hands-on' practice.
Who should attend?
This course is for you if you wish or need to gain a comprehensive, scientifically-based analysis and engineering quantification tools, of fire development and consequence assessment in industrial and residential scenarios.
Perhaps you're involved in the design and operation of buildings and chemical plant (architect, civil engineer, chemical engineer) or in the design of protection systems (passive and active system developer, manufacturer, installer).
Maybe you're responsible for building and plant safety on a day-to-day basis, a regulator or adviser (Health and Safety Executive, Fire Service, Home Office, local authority, building control office, consultant, insurer) or firefighting professional.
This course would also be very useful if you're a new researcher in the field.
Programme
This is the 2022 course programme, if you would like to receive details on the 2023 course when they become available please email cpd@engineering.leeds.ac.uk
Provisional programme
Day 1
Fundamental processes
Registration: 8.30 – 9.00am
Physical concepts
Fuel and combustion processes and fundamentals
Limits of flammability
Heat transfer: conduction and convection
Day 2
Radiation, ignition and flame spread
Radiation from fires
Ignition - general, gaseous/liquid fuels and solids
Spread of flame
Fire combustion products and toxicity as a function of ventilation conditions
Day 3
Pool fires, jet fires and cloud fires
Steady burning diffusion fires
Pool fires in the open
Gaseous jet flames
Radiation from flames
Example calculations: radiation flux from flare on escape route
Pool and jet fires, large-scale tests
Pool and jet fires in compartments
Cloud fires
Day 4
Compartment fires
The growth period
Flashover
The post-flashover period and backdraughts
Fire performance of structures
Smoke movement
Day 5
Compartment fire modelling
Using CFD models
Fire behaviour and modern buildings
A zone model in detail – CFAST
Hands-on experience with a zone model – taking place at the University of Leeds, return coach transport will be arranged
Course finish time: 4.35pm
Speakers
Course Director :
Dr Roth Phylaktou, University of Leeds
2022 Presenters:
Professor Gordon Andrews, University of Leeds
Dr Florian Block, BuroHappold Engineering
Professor Derek Bradley, University of Leeds
Geoff Chamberlain, Waverton Consultancy Ltd, previously Shell Global Solutions UK
Rob Crewe, DNV GL
Ben McColl, OCR Consultants
Jeremy Ockenden, Affinity Fire Engineering
Peter Rew, Atkins
Fee information
Registration for the 2023 course will open around 3 months prior to the course, if you would like to be added to the mailing list to receive updates please email cpd@engineering.leeds.ac.uk
Course fees:
Full five days: £TBC
Any one day: £TBC
Fees are VAT exempt
Fees include: cost of tuition, course materials, lunches, light refreshments and course dinner. Accommodation is not included in the course fee.
15% discount for members of The Institution of Fire Engineers (IFE)
View our terms and conditions
Venue details
The course will take place at Weetwood Hall Estate, which is situated to the north of Leeds at the junction of the A660 Leeds - Skipton road and the A6120 Outer Ring Road.​​
Weetwood Hall Estate
Otley Road
Leeds
West Yorkshire
LS16 5PS
UK
Accommodation
Accommodation
The course will take place at Weetwood Hall Estate, which is situated to the north of Leeds at the junction of the A660 Leeds - Skipton road and the A6120 Outer Ring Road.
If you require accommodation, and wish to stay at the course venue Weetwood Hall Estate please contact Emma Barker or Stevie Standerline E: reservations@weetwood.co.uk / T: 0113 230 6000 quoting 'CPD' and the 'Fire Dynamics' course.
Bedrooms are subject to availability and the following rates (including VAT) apply with a '48 hours prior to arrival with no cancellation fee' policy: Friday – Sunday, bed and breakfast £TBC per night, Monday – Thursday, bed and breakfast £TBC per night, for sole occupancy in a superior double room. Please book your accommodation as soon as possible to avoid disappointment with availability. A list of alternative hotels is available on request. Delegates are responsible for their own evening meals.
What our delegates say
"Really good course for teaching and explaining the fundamentals of fire dynamics in an interactive and well thought out course" Shell UK
"An excellent course for providing a balance between understanding the basic principles of fire science/dynamics and more in-depth practical applications. Thoroughly recommended" Kingspan
"A well thought out, relevant and interesting course" BAE Systems
"A comprehensive short course in understanding the basics of fire modelling" Geoffrey Hunt & Partners
Contact us
Helen Forsyth – Course Coordinator
CPD Conference and Events Unit
Faculty of Engineering and Physical Sciences
University of Leeds,
Leeds
LS2 9JT
T: +44 (0)113 343 8104
E: cpd@engineering.leeds.ac.uk
Accreditation
The Fire Dynamics and Modelling CPD course, Leeds, has been approved for 32 CPD hours in total by the Institution of Fire Engineers (IFE).