Leeds engineer wins net-zero prize at IOM3 Sustainable Future Awards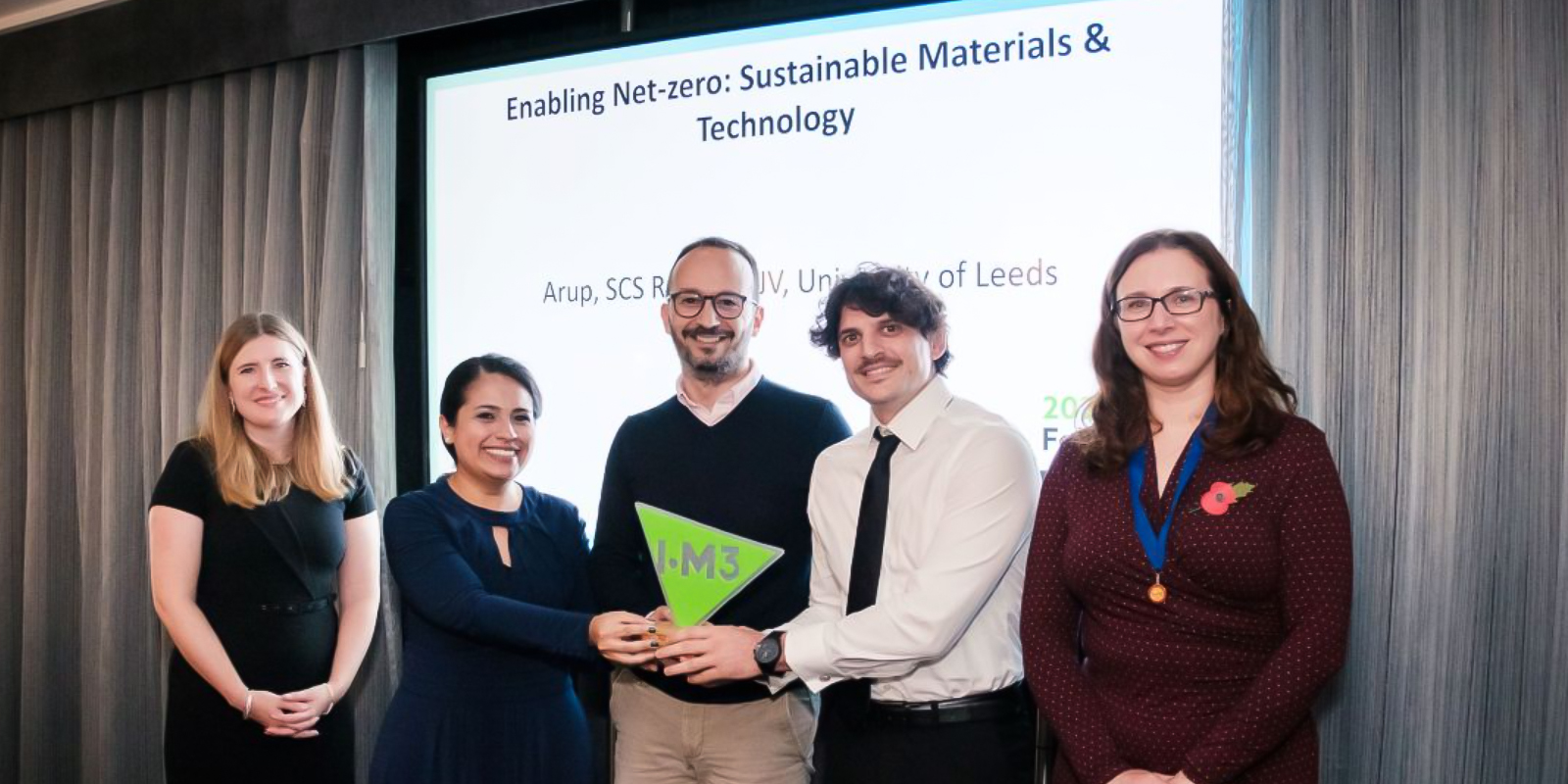 A Leeds engineer has collected a prestigious IOM3 Sustainable Future Award for a net-zero venture that helped significantly reduce the carbon footprint of the High Speed 2 (HS2) project.
Professor Susan A Bernal, Chair in Structural Materials and a member of the School of Civil Engineering, was part of a cutting-edge collaboration between ARUP, SCS Railways and University of Leeds that won the Enabling Net-Zero: Sustainable Materials & Technology category in London this month.
Professor Bernal, who collected the award alongside Fragkoulis Kanavaris of ARUP and Apostolos Tsoumelekas of SCS Railways, worked with business partners to employ an innovative approach to repurposing high-value clay during HS2's construction.
As part of the huge HS2 infrastructure project, enormous quantities of material are being excavated – approximately 5,000,000m3 – and the majority of this is London Clay. Offsite disposal leads to major CO₂ emissions and costs, but Professor Bernal and her team proposed a successful way to transform it for use in HS2 project concrete mixes as a replacement to Portland cement.
Portland cement in traditional mixes can be replaced with up to 70% calcined London Clay, without undermining the demands of the material's 120-year service life. With this breakthrough, the collaboration reduces the carbon footprint of concrete volumes by up to 70%.
It is hoped that the breakthrough can be transferred to other major infrastructure projects or mining operations across the UK where clay is excavated, contributing to an increased focus on sustainable materials and self-sufficiency in the construction sector.
Professor Bernal said: "My team and I are honoured and humbled to receive this award, as it is a most welcome recognition of our research efforts in developing low-carbon cement and concrete technologies.
"I feel very grateful with our industry partners for giving us the opportunity to be part of such an important project. This experience has taught us a lot about the unique features of the UK clays, and how best to support knowledge transfer between industry and academia.
"We're using the knowledge gained in this project to develop research, at a larger scale, in calcined clays, so this technology can be adopted as an effective solution for decarbonisation of the UK construction sector."
Professor Bernal and her team overcame strong competition from five other projects in the UK, which offered solutions including biomass-derived adhesives, clean fusion power, and compostable, seaweed-based packaging.
Further information