Ten years of INWED: Meet ten academics inspiring the next generation of women engineers
Today (23 June) is International Women in Engineering Day (INWED), which marks its tenth anniversary in 2023 – and we're celebrating the achievements of ten engineers within our Faculty.
Every June, the Women's Engineering Society (WES) honours the incredible work done by women engineers across the globe. INWED gives them a profile in the face of huge under-representation – 2021 figures indicate that fewer than one in five UK-based engineers (16.5%) is a woman.
To support WES's initiative, we're showcasing the accomplishments of ten women within our Schools of Engineering from the last 12 months. Alongside their colleagues across the University, they're dedicated to improving the world we live in – and they hope to encourage more young women and girls to follow in their footsteps.
---
Dr Ashani S Ranathunga
School of Civil Engineering
Dr Ashani S Ranathunga is one of the newest additions to the School of Civil Engineering, working as a transformative lecturer and playing an active role in the University's Curriculum Redefined. Dr Ranathunga's groundbreaking research prior to her tenure saw her named one the world's top 100 Asian scientists by Asian Scientist Magazine just this month.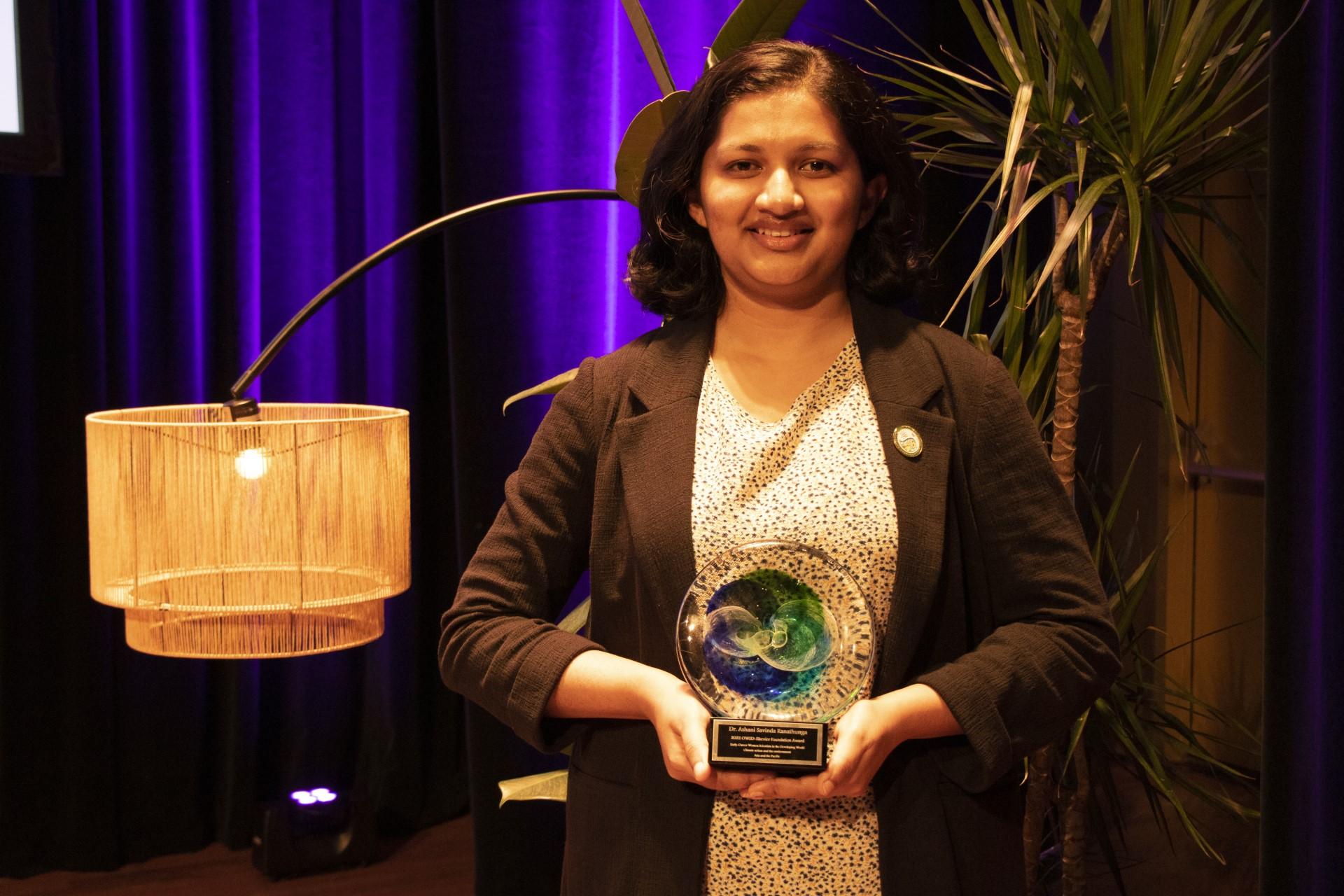 Dr Ashani Ranathunga with her OWSD-Elsevier Foundation Award.
This honour reflects her studies to turn industrial and agricultural waste into raw materials for eco-friendly construction and development projects. Dr Ranathunga also received the 2022 OWSD-Elsevier Foundation Award for her innovative work.
---
Dr Zabeada Aslam
School of Chemical and Process Engineering
This month, Research Officer Dr Zabeada Aslam received the inaugural Henry Royce Institute Award for Outstanding Contribution by a Technical Professional from the Institute of Materials, Minerals, and Mining (IOM3).
As a member of the Leeds Electron Microscopy and Spectroscopy Centre (LEMAS), she offers crucial support to students, academics, and industrial customers. IOM3 judges hail her as "outstanding", while her peers in SCAPE praise her for being "a very highly skilled, dependable, consistent, and expert individual" within the Faculty.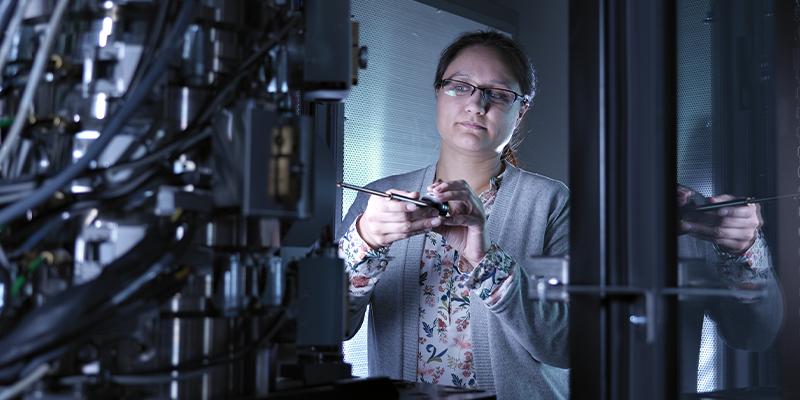 Dr Zabeada Aslam
Dr Aslam continues to teach at the annual Royal Microscopical Society Electron Microscopy School, and she served as a regular co-author on research papers that helped place the University in the top ten Engineering Schools in the UK.
---
Professor Gehan Selim
School of Civil Engineering
Professor Gehan Selim joined the University in 2017, and serves as the Deputy Director at Leeds Social Sciences Institute. She leads the Architecture and Urbanism Research Group, and her research bridges between architecture, memory, and digital heritage. Her dedication to her field saw her become the first female academic to be honoured with the title of Hoffman Wood Chair of Architecture. She also won the Faculty's Overall Partnership Award (staff) in 2023.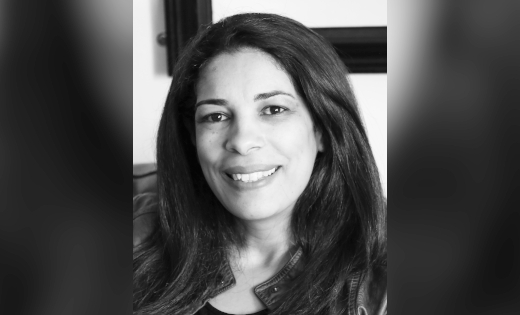 Professor Gehan Selim, Hoffman Wood Chair of Architecture.
In December, a project led by Professor Selim – "Integrating intercultural cities through belonging in green spaces" – won the support of the Research England Policy Fund, which examines diverse living communities and the ways that green spaces can be reimagined to promote a sense of belonging in Leeds. You can read more about this project here.
---
Dr Briony Thomas
School of Mechanical Engineering and School of Design
Dr Briony Thomas joined the University's School of Design in 2004 before being moving to the School of Mechanical Engineering in 2015. Since 2019, in her designer-maker role, she has pioneered cross-faculty initiatives in shape-based design and manufacture.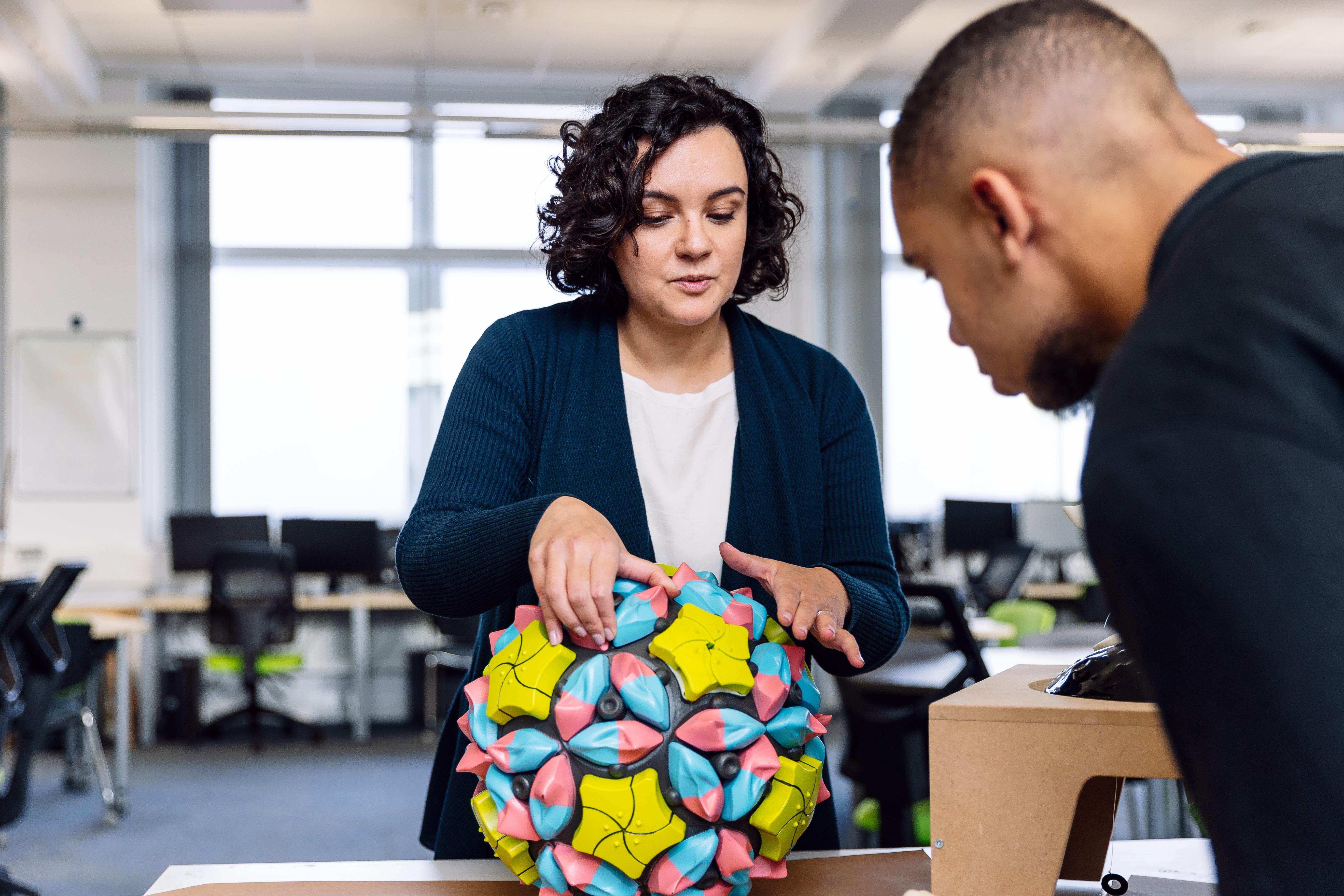 Dr Briony Thomas (credit: Simon & Simon)
Her projects have received funding from a range of sources including UK Research and Innovation, the British Council, and national charities. Last month, her groundbreaking research partnership with Northern Ballet, "The Mechanics of Life: Movement, Mobility and Me", was given an Ingenious Award by the Royal Academy of Engineering.
Dr Thomas is also passionate about diversity, inclusion, and "transformative power of creative education", which has seen her take key roles in community-focused initiatives such as Be Curious and LeedsCEP.
---
Professor Lisa-Dionne Morris
School of Mechanical Engineering
In November 2022, Lisa-Dionne Morris celebrated success by becoming a professor, after joining the 100 Black Women Professors NOW programme. She previously felt her existing position didn't match her expertise – a systemic problem the initiative aims to address – and with support to communicate the value of her experience, she finally landed the role she was qualified for.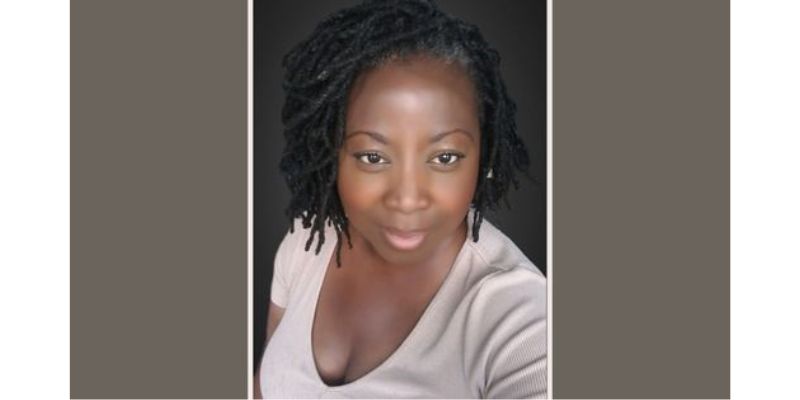 Professor Lisa-Dionne Morris
The initiative aims to increase the number of black women in leading academic positions. When it started in 2021, there were just 35 black female professors out of 22,000; Professor Morris became the 41st. While the programme uses the word 'Black' to describe its cohort, Professor Morris prefers to use the phrase "Professors of African, African Diaspora and Diaspora Dual Heritage".
You can read all about Professor Morris's inspiring journey here.
---
Professor Cath Noakes
School of Civil Engineering
Professor Cath Noakes is a familiar face to many, owing to her high-profile work on ventilation, indoor air quality, and infection control in built environments. She assisted public health organisations with her expertise during the COVID-19 pandemic, for which she was made an OBE.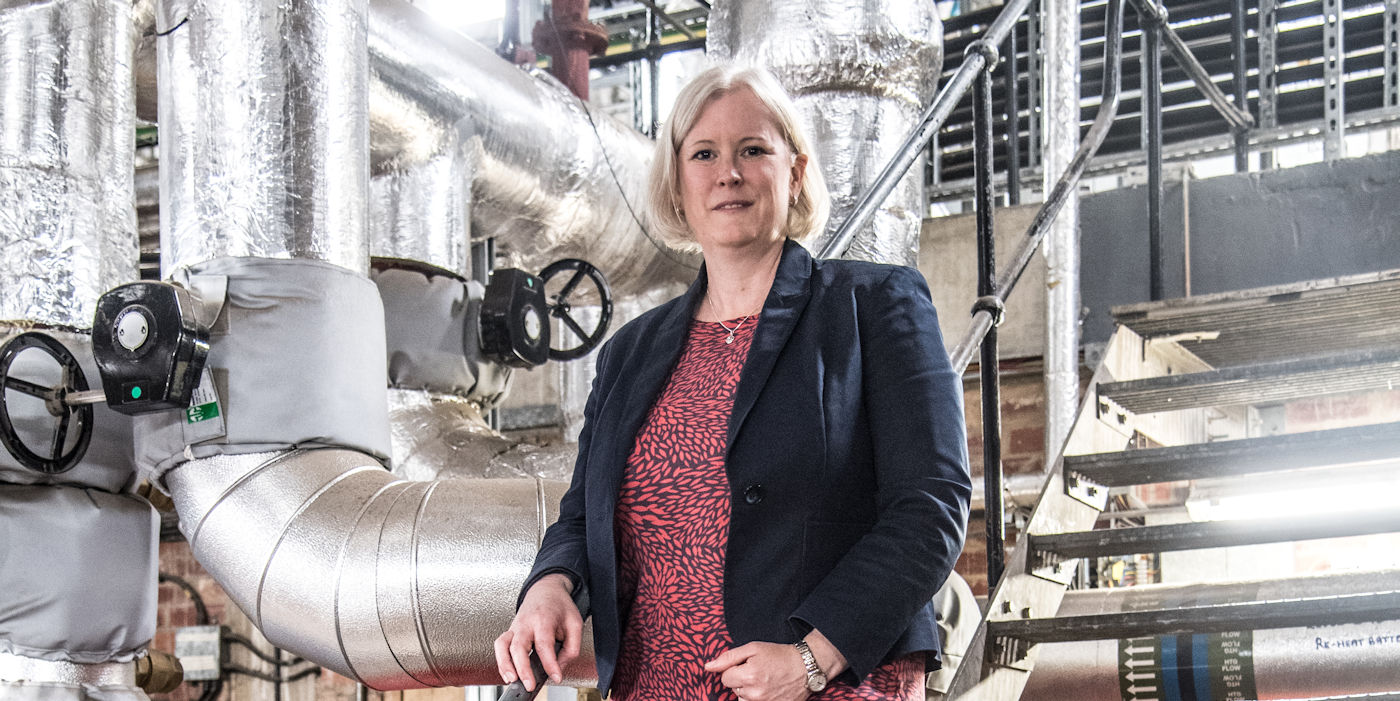 Professor Cath Noakes
In her advocacy work, Professor Noakes has called on governments, institutions and the public to avoid complacency with COVID, and she continues to champion better building ventilation in workplaces and schools to combat the spread of infectious diseases and create healthier, happier and more productive environments.
Professor Noakes remains deeply committed to inspiring the next generation of female engineers. When she was recognised for her work during the pandemic, she said: "I […] want this award to demonstrate to young people – and particularly young women who are under-represented in the profession – that engineering is a deeply rewarding profession."
---
Dr Anuradha R Pallipurath
School of Chemical and Process Engineering
Dr Anuradha R Pallipurath joined the University as a research fellow in 2018, and her excellence in her field was recognised in October 2022, when she was named to the Royal Society Olga Kennard Fellowship, awarded just once every five years.
Named after Professor Olga Kennard, the founder of the Cambridge Crystallographic Data Centre, this fellowship will allow Dr Pallipurath to develop new principles for the design of metastable therapeutics through a greater understanding of inter-molecular and non-covalent interactions.
---
Professor Susan A Bernal
School of Civil Engineering
Professor Susan A Bernal has had an incredibly successful 12 months since being awarded the prestigious 2022 RILEM Robert L'Hermite medal, which recognises her work on durability and sustainability of novel cements and concretes.
Professor Susan A Bernal
She was highly commended in the Mentor category at our Faculty's annual Partnership awards and received a 2022 Outstanding Paper Award from Materials and Structures. This year, Professor Bernal secured significant ESPRC funding to develop low-carbon, sustainable alternatives to Portland cement using industrial waste and by-products.
---
Professor Louise M Jennings
School of Mechanical Engineering
Professor Louise Jennings, who originally joined Leeds to study a PhD in cardiovascular bioengineering, now leads the way in experimental musculoskeletal solutions for knees and hips, as well as cardiovascular biomechanical function.
Working closely with industry, she applies pre-clinical research methods to medical devices in commercial development to enhance their safety and reliability. Most recently, her project on polymer knee joints won £1.7 million of funding from the EPSRC; if successful, it could improve the lives of countless people with osteoarthritis who need surgery.
---
Professor Ornella Iuorio
School of Civil Engineering
Until April 2023, Professor Ornella Iuorio served the Director of the Cities, Infrastructure and Energy research group, and was recognised for her sustainable engineering research during her time at the University by WES, which named her in the Top 50 Women in Engineering Awards.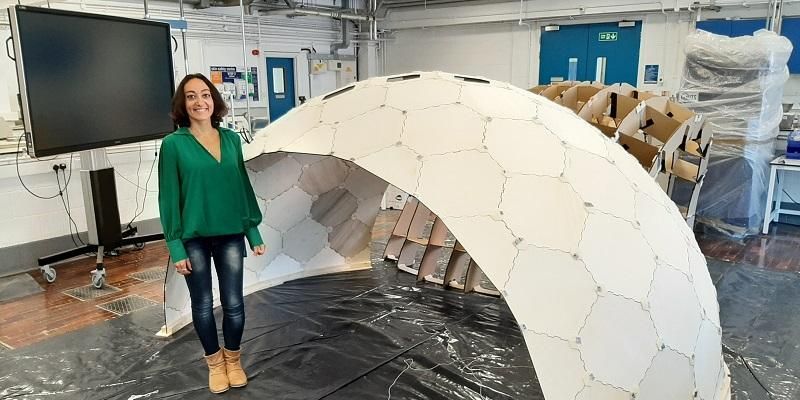 Professor Ornella Iuorio
She led research into the design and application of lightweight steel structures used to construct buildings in earthquake zones and for the large-scale manufacture of prefabricated homes. Her other research interests included ways to retrofit outdated or dilapidated housing, and how to build back better homes and neighbourhoods damaged by natural disasters – expertise that has led to her involvement in the Novavida project in Ecuador.
Speaking of her recognition by WES, Professor Iuorio said: "I hope the awards will […] inspire other women who want to become engineers and to follow their dreams. It shows women are playing a key part in designing, developing, building and operating the solutions that will reduce the major problems facing the world."
Last month, Dr Iuorio's tenure with the University ended, as she moved back to her native Italy to become Associate Professor of Architectural Engineering at Politecnico di Milano.
---
Learn more
You can read more about the University of Leeds' strong commitment to supporting women in STEM here.