SAWstitch: exploring self-avoiding walks through hand embroidery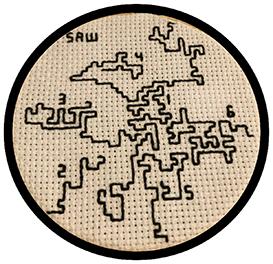 A self-avoiding walk (SAW) is a sequence of moves on a grid that does not visit the same point more than once.
SAWs are used to study how networks form, including social networks, biological networks and computer networks, and have provided inspiration to scientists, artists and designers.
Research, undertaken by University of Leeds academics Prof Lorna Dougan, Dr Paul Beales with PhD students Christa Brown and Kalilia Cook has just been published in IOP Science, which describes a collaborative project which aims to deliver public engagement activities that embrace creative thinking to explore SAWs through the medium of hand embroidery.
This introduces the physics of SAWs and then presents an activity which uses materials from hand embroidery to explore these concepts. Specifically, the activity makes use of a Maker Kit which contains all the materials needed to create SAWs on an embroidery hoop. The paper evaluates the impact of the Maker Kits and reflect on the opportunities provided by a creativity-led engagement activity for physics teaching and research.
Download and read the paper – "SAWstitch: exploring self-avoiding walks through hand embroidery" here.
Photo: An embroidery hoop with six different SAWs embroidered in back thread and labelled 1–6. Credit: the SAWstitch was created by Naomi McMorn and is published with her permission.