Honor Harris
Course: Physics with Astrophysics BSc
Choosing Leeds
Honor Harris chose to study Physics with Astrophysics BSc at Leeds. "I didn't originally consider Leeds, however, when a friend who was already studying here mentioned it, I decided to check it out. Firstly, the University had a great feel, and the fact it was all one campus really appealed to me. The staff in the physics department were really welcoming and happy to answer any questions which made it an enjoyable visit. On top of that, getting to visit the city centre meant I could see more of Leeds. The city had a great feel to it, and that really helped me in deciding on Leeds - it had the university and academics I wanted, as well as a city I wanted to live in."
For her, the best aspect of the course has been the astrophysics modules. She said "Whilst the normal physics modules have been important for me to be able to understand all the physics that is involved, getting to study aspects of physics such as black holes, stars, galaxies and more, meant I got to make a childhood dream come true. The lecturers are so passionate about their subjects too, so it is great to learn from them. Finally, the experiments we get to perform in the laboratories can be really interesting and exciting and are much more individual than we did at school which really lets you get a grip on the content and explore the physics."
getting to study aspects of physics such as black holes, stars, galaxies and more, meant I got to make a childhood dream come true.
Overcoming fears
The thought of moving from home and into a new room was really daunting for Honor, especially without knowing anybody she would be living with. She described "It was hard having to go through so much change and not even have your 'own room' that you could retreat to, however, everybody else is going through the same thing, and very soon your room does become your own. I was also worried about if I would make friends, but just going out and saying yes to different activities has led to me making so many friends. It's surprising to realise how easy it can be to make friends, and definitely something I will remember going forward and leaving university in the future."
Project work
In Honor's first year, she got to do a group project making a video presentation on a famous experiment of their choosing. "It was a really great way to connect with other people on our course and allowed us to gain experience in researching ground-breaking experiments as well as building our team working skills. At the end, we got to watch the other group's presentations which was exciting to see and learn about the other projects."
Experiences at Leeds
There is a range of services at the University to help students with their studies and future careers. Honor said "We have a great Employability services team and they have run workshops as part of some of our modules. They have really helped me in enhancing my CV, with many resources available online which has helped me to get interviews in the past for various internships and placements. They are constantly sending out useful emails filled with placements and internships you can apply for. I will definitely be using the service more during my final year to help me secure a job after my degree!"
Life outside the classroom
Leeds University Union is home to over 300 societies, so there is something for everyone. Honor told us "Outside of studying, I took part in some societies – for example, PhySoc ran many events throughout the year such as a Christmas dinner and free pizza evening. They were always fun to go to and see coursemates outside of lectures. I also took part in KDS, K-pop Dance Society which was a great way to meet people with similar interests to me, but outside of just my course and has led to some really great friendships and getting to do something I really love."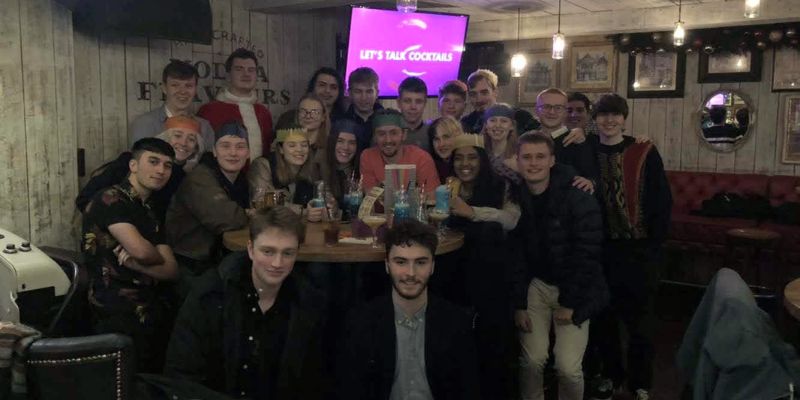 Plans for the future
Thinking about what she will do after she graduates, Honor said "After my studies, I am either looking at continuing with a master's degree in Physics, either in the UK or studying abroad. I might also take a year out and then return to Leeds to do my master's degree, before then looking for a job where I can use my physics knowledge – probably some type of engineering!"
Words of wisdom
Honor had some final words for anyone thinking about studying Physics with Astrophysics BSc at Leeds. "It is a great course to study and doing a STEM degree has given me so many options for after university. The staff and other students are amazing and if physics feels right for you then you should definitely study it. Taking physics with astrophysics has given me so many choices and options, and even though it is hard work, its extremely rewarding and an exciting field to study."
Join us
Want to know more about student life at Leeds? Chat to one of our current students to find out what it's like to be part of our welcoming community.