£3.4 million collaborative programme addresses protein-protein interactions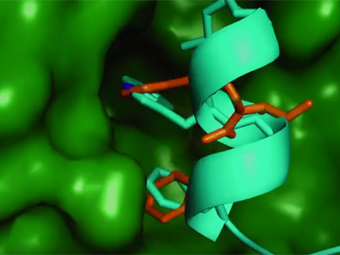 A major £3.4 million project, bringing together academics from across the universities of Leeds and Bristol with industrial partners, aims to deepen understanding of interactions between proteins.
The EPSRC-funded PoPPI (Perturbation of Protein-Protein Interactions) project is a five-year collaborative programme involving members of Leeds' Wilson, Nelson and Edwards groups, the University of Bristol, Northern Institute of Cancer Research (Newcastle University), AstraZeneca and Domainex.
The PoPPI project focuses on the development of computational and chemical tools to classify protein-protein interactions (PPI) and use the resultant insight to synthesise molecules, which act as selective inhibitors and which can be used as chemical probes. Understanding and modulating the PPIs will increase the knowledge of the underlying mechanisms of diseases, such as cancer and the neurodegenerative diseases, e.g. Alzheimer's, Huntingdon's and Parkinson's.
A short video introducing the PoPPI project to the scientific and wider communities was recently produced, featuring members of the PoPPI team. Further information about the programme can be found on the PoPPI website.