Khadijah Ibrahiim shows vision for Leeds' research culture through powerful poetry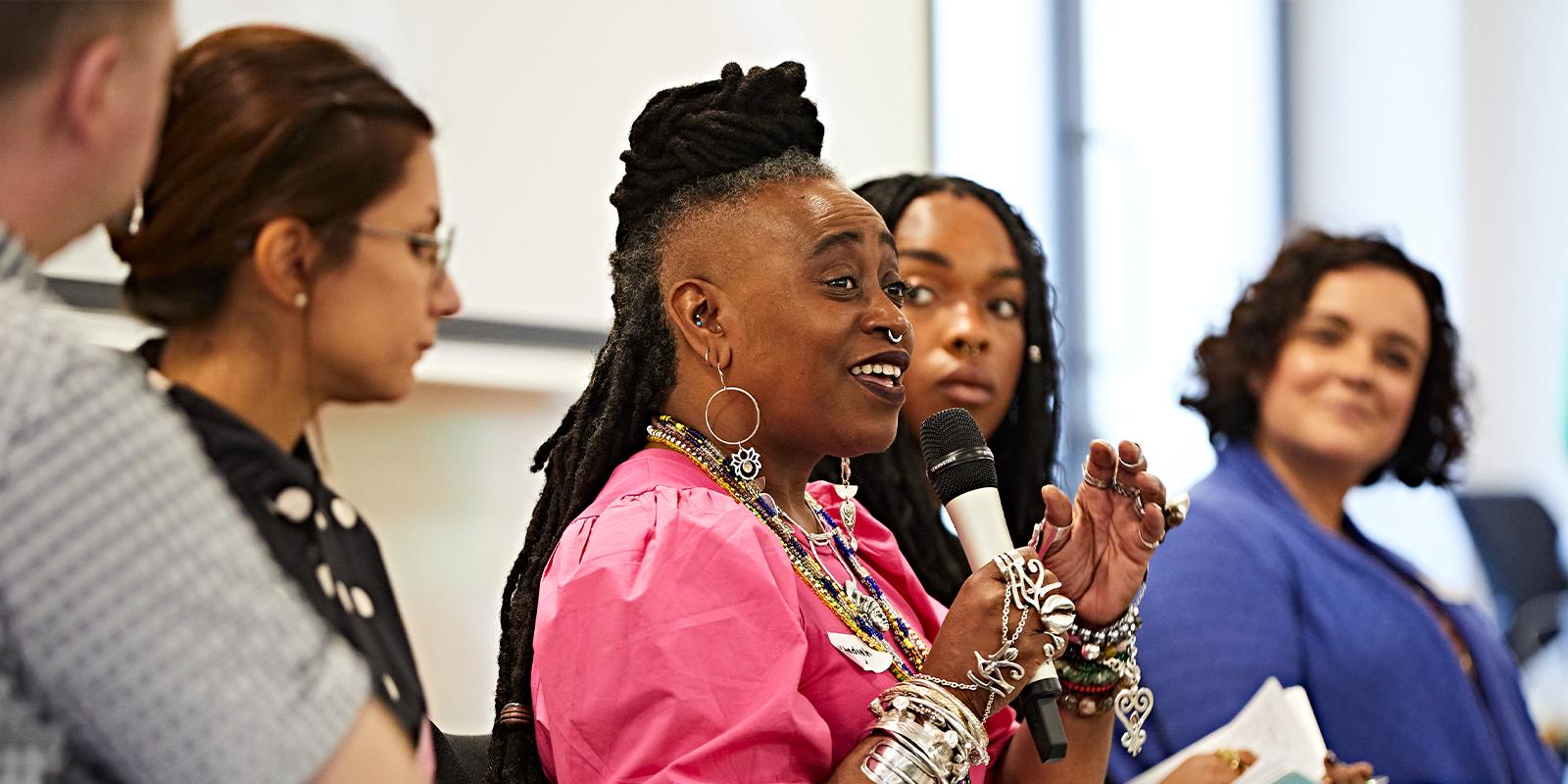 A Leeds alum – one of Yorkshire's most prolific and celebrated poets – has showcased a cultural vision for the future, following a collaborative initiative bringing together arts and engineering.
Khadijah Ibrahiim, a globally renowned literary activist, penned "Let It Be Named" as a key milestone in a cultural change initiative in the School of Mechanical Engineering, which aims to drive a more inclusive and diverse environment for work and study.
This action-focused poetry collaboration, supported by Research England funding, is the culmination of the School of Mechanical Engineering's Research Culture project, led by Dr Briony Thomas, the School's Equity, Diversity and Inclusion Lead.
Khadijah's experience with the project, and the thoughts and feelings gathered, were beautifully fused into Let it Be Named, combining the poet's celebrated literary skills with a desire for future change. Khadijah recited the poem at major campus hotspots to capture the essence of both Mechanical Engineering's research culture and the University's desire to meet the evolving needs of those who make it the valued institution it is today.
Video transcript: Let It Be Named by Khadijah Ibrahiim
Dr Thomas explained: "The concept behind our partnership with Khadijah was 'voice', as we sought to amplify voices that are often unheard. To explore 'what's next', we took a deep dive into 'what is', intertwining traditional approaches with bold and experimental ones to imagine an ideal future culture and the steps that could take us there.
"This is captured in Khadijah's poem – she has skilfully given a voice to the feelings, thoughts and expressions made throughout the project, harnessing the power of creativity, collaboration, and inclusivity in driving positive change."
Surveying the landscape
The School of Mechanical Engineering's Research Culture Project kicked off with a survey to gauge the views of everyone involved in the research environment, focusing on key themes such as collaboration and collegiality, personal development, fairness and inclusion, and integrity in research.
Dr Briony Thomas led the Research Culture Project. (Credit: Alex Beldea)
Participants offered invaluable responses, which helped the project team gain an understanding of the current environment. The team then shared the findings at school workshops and focused on proposed actions, paving the way for the co-creation of a Research Culture Action Plan.
Workshopping with artists
The project took a creative turn with artist-led workshops in collaboration with the Geraldine Connor Foundation. These were held at the Northern Ballet, led by University alum and Khadijah Ibrahiim, and attended by early-career academics, infusing qualitative data collection with an artistic flair. Three workshops took a deep dive into early career experience, surfacing challenges, exploring solutions, and taking steps to define support needed.
Paolo Feroleto from Fero Studio envisioning ideas through artwork at the Research Conference (Credit: Alex Beldea)
The workshops fostered a sense of community and empowered staff to take a new perspective on their needs by engaging with creative processes like storytelling, poetry, and roleplay. Discussions were beautifully captured graphically by Paolo Feroleto from Fero Studio – before being transformed into a captivating poem by Khadijah, who reflected on the discussions and experience within the sessions.
The Research Culture Project took a grassroots approach, adopting a bottom-up approach to action planning in which colleagues were given ownership and autonomy over what they wanted to see at every stage of the process. Their active participation resulted in co-produced actions that aim to address shared challenges and build on colleagues' priorities to shape the way things are done on a wider level.
The final artistic boards, on easels, at the Research Conference. (Credit: Alex Beldea)
The project will continue for another year, and those involved will launch a Research Culture Action Plan for the School and extended creative workshop activities to other groups of staff and postgraduate research students. 
Dr Thomas added: "I'm delighted we've received further Research England funding to continue our work – it's an exciting journey to be on, and I can't wait to see what's next."
Further information