Children become scientists in outdoor lab for National Play Day
Children learned how robot doctors could transform healthcare at this year's Child Friendly Leeds Live event.
University of Leeds researchers met hundreds of children and their parents at stalls in the city's Millennium Square.
A constant drizzle failed to dampen the enthusiasm of attendees as they played interactive games and learned about Artificial Intelligence (AI) while picking up tips for staying healthy.
The event was organised by Breeze, a service that offers children and young people access to a wide range of sporting and cultural activities, to celebrate National Play Day.
The University of Leeds researchers were part of the Be Curious initiative to show local communities what research is taking place and what impact it can have on people's lives.
The team talking about robot doctors (AI in healthcare) consisted of Morgan Thomas, Oliver Umney, Zoe Hancox, Victoria Moglia and Oliver Mills, who all study in the School of Computing.
Another group, which included PhD student Xin Ci Wong, demonstrated AI algorithms to children using 'decision trees' to classify dogs and cats by narrowing down characteristics.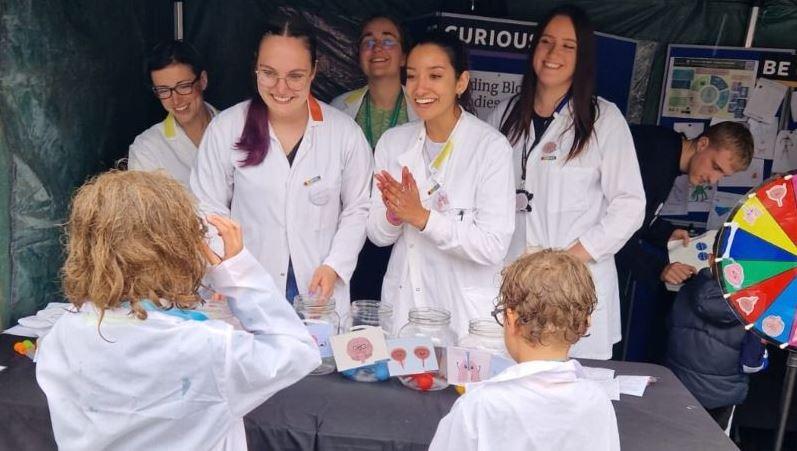 Dr Emily Caseley, Kasia Hammond, Emily Rolfe, Izzie Gibson and Rebecca Motley teach children how to keep themselves healthy.
"We are using this outreach work to try and communicate the message as to how AI works in a simple way," said Oliver Umney, a first-year PhD student.
"There is as yet not much practical use of AI in medicine, but it will be in regular use in hospitals and GP practices in the near future and especially when these children are older."
Zoe Hancox, who is in her second year as a PhD student, added: "We are trying to push engagement with the local community and instil a passion for science in young people."
Our aim is to make Be Curious a known name across Leeds. We want it to be synonymous with high quality and fun activities.
The second team taught children how to identify different parts of their bodies and stay healthy, understanding the role of oxygen, sugar, vitamins and water.
Izzie Gibson said: "We spoke about our bodies and the importance of everything we eat, drink and breathe. The children wore lab coats to 'join our lab' for the day and they loved imagining being a scientist."
Celine Roblin-Robson, Engagement Officer at the University of Leeds, said: "Our teams of researchers did such a fantastic job at being able to attract all ages and finding different ways of making their research interesting to them.
"Our aim is to make Be Curious a known name across Leeds. We want it to be synonymous with high quality and fun activities. It is also hugely important for us to engage with city-wide initiatives, giving us the opportunity to connect the University with the city."
Further information
For more information, please contact Jane Lewis in the University of Leeds press office.