£2m investment boost for professor's 'wonder material'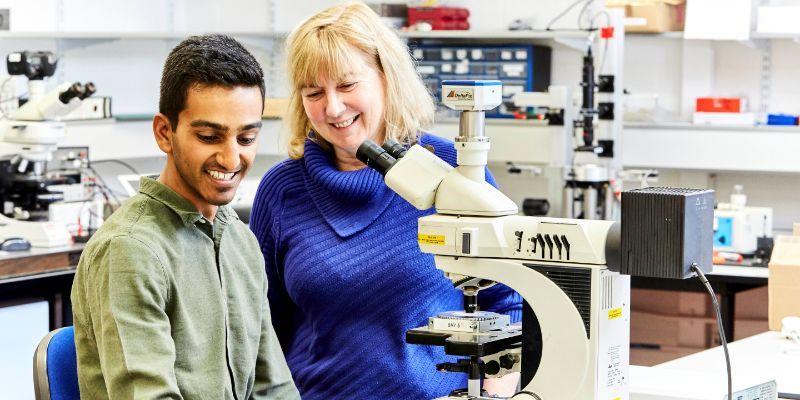 A cutting edge "deeptech" company born when a Leeds academic discovered a revolutionary new material that gets thicker as it is stretched has attracted £2 million in investment.
Professor Helen Gleeson, who is Cavendish Professor of Physics at the University of Leeds' School of Physics and Astronomy, founded university spin-out LC Auxetec after she discovered a material that is – uniquely – auxetic at a molecular level.
Auxeticity – when a material becomes thicker rather than thinner when stretched – can be seen in places like a human Achilles tendon and cat skin. It can give materials an advantage when it comes to absorbing shock, as well as resisting fractures and tears. That makes these materials promising in applications that require durability and robustness, such as electronic screens and glass for buildings and vehicles.
We began to realise the opportunities the material could hold across a number of different industries
Professor Gleeson said: "When we discovered that our materials were auxetic at the molecular level, we began to realise the opportunities that they could hold across a number of different industries as they can be stretched further than other materials already available."
Her discovery has attracted £2 million in seed investment funding from Northern Gritstone, the investment company founded by Northern universities, to kick-start its development. The money will see the new company hire experienced start-up leader Robert Gunn as CEO, alongside Senior Engineer Matt Reynolds, and move into dedicated offices in the Nexus building on the University of Leeds campus.
Professor Gleeson added: "As we continue to test the properties of our material and expand our understanding of what is achievable, Northern Gritstone's funding will enable Robert and his new team to start making these potential use cases a reality. We will continue to work closely together to share knowledge and ensure the success of LC AuxeTec going forwards."
Mr Gunn, who has worked across science and technology-based start-ups for 15 years, said he cannot wait to get onboard at LC AuxeTec and start work on developing the extraordinary new material for real-world uses.
He added: "Northern Gritstone's investment will be essential to helping us to achieve this, allowing us to take the world-class research produced by Helen and the University of Leeds team and commercialise it for industry. We are just beginning to grasp the full possibilities of this material and I am optimistic about the results we can deliver in the years ahead."
World-first discovery
Professor Gleeson came across the new material when she and her team were exploring the semi-soft elasticity of liquid crystal elastomers. It is the world's first synthetic material that is auxetic at the molecular level, and its unintuitive properties mean it expands under pressure.
The patent which covers these materials is exclusively licensed to the company. Professor Gleeson and her team will continue to make improvements to the auxetic materials at the University of Leeds and LC AuxeTec will have access to these developments and first rights to in-license any new intellectual property that emerges in this area.
Northern Gritstone CEO Duncan Johnson said: "In pushing the boundaries of their research to develop a unique auxetic material, Helen and her team have showcased Northern universities' ability to drive innovation and create world-leading businesses in the region.
"This investment will help ensure LC AuxeTec's technology reaches its full potential and maximise opportunities for commercial use. We look forward to working with Rob and the University of Leeds as they guide the company's expansion and develop proof points that their industry partners can roll out across their products."
Further information
Email University of Leeds press officer Victoria Prest on v.prest@leeds.ac.uk with media enquiries.