Leeds' First Student-Built Rocket
The world is entering the most dynamic era of space exploration since the 1960s and a group of students from the University of Leeds are now entering the race.
Leeds University Rocket Association (LURA), are a student-led, multi-discipline engineering team capable of designing, building and flying sub-orbital rockets. Their mission is to prepare the Mars Generation: the engineers, astronauts and technicians that will start the first human colony beyond Earth. With space exploration ramping up since the turn of the century, NASA's Artemis missions are aiming to return astronauts to the Moon as soon as 2024, and Elon Musk's SpaceX hoping to reach Mars by 2026, the pace of innovation is record-breaking.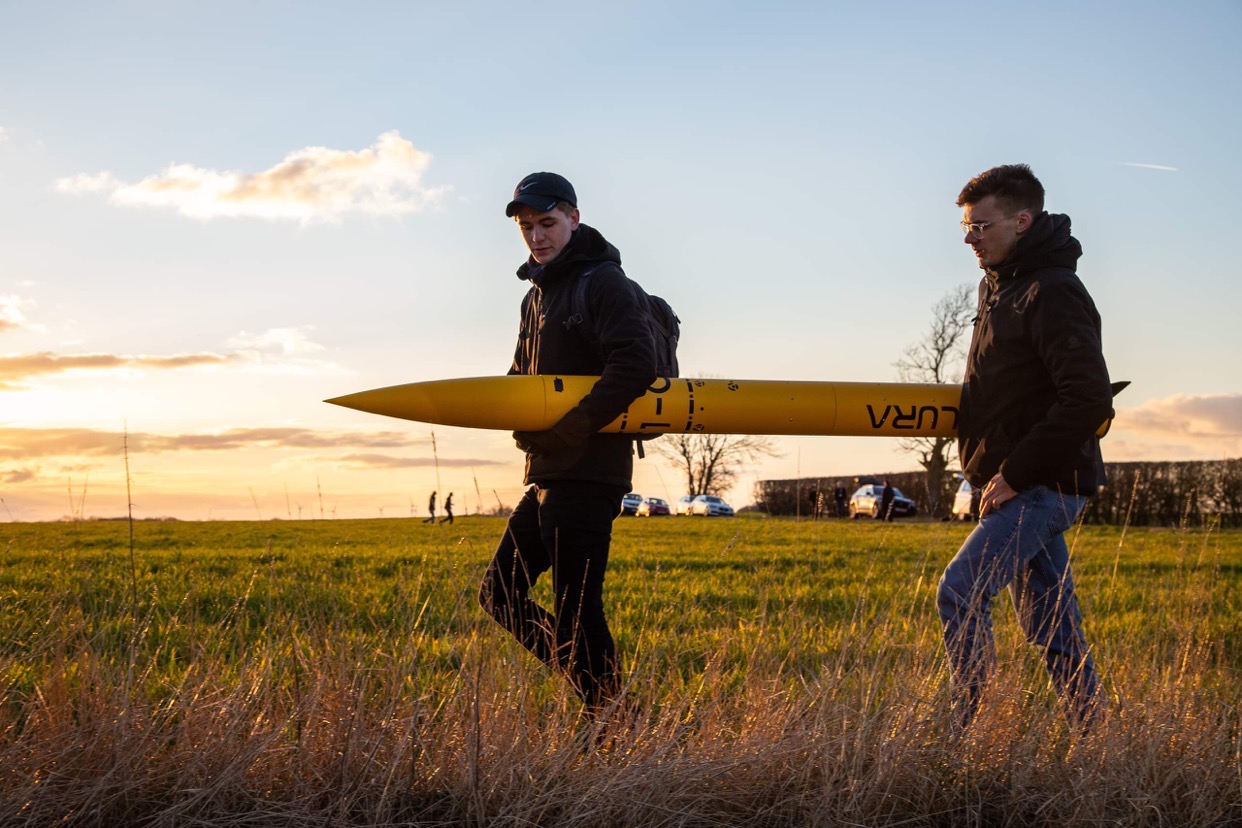 Meet the Gryphon I, Leeds' first-ever student-built rocket. The design process started back in May 2021, the team focused on simplicity, aiming to power the rocket with a commercial, off the shelf solid motor. Over the next few years, LURA is going to develop the technology and infrastructure to regularly launch scientific experiments aboard student-built sounding rockets. LURA say 'launching sounding rockets provides the perfect opportunity to carry out otherwise impossible research into Earth sciences, atmospheric chemistry, microbiology, and material science to name a few.'
Last month saw the successful maiden voyage of the Gryphon I-C (G1-C), a more compact version of the Gryphon I. This first flight was designed to test the in-house developed avionics and recovery systems, whilst flying to a lower altitude of ~2,200ft. The ascent was smooth and very straight considering the windy conditions and the rocket was recovered safely and intact.
<iframe width="560" height="315" src="https://www.youtube.com/embed/sj39LSGpGic" title="YouTube video player" frameborder="0" allow="accelerometer; autoplay; clipboard-write; encrypted-media; gyroscope; picture-in-picture" allowfullscreen></iframe>
The next stage will be the Gryphon I Validation Launch in March 2022 from the SARA launch site in Scotland. This will include a test launch, during this flight, the rocket will carry a unique 'black-box' payload to measure flight performance data and relay it back to the ground in real-time.
The culmination for the Gryphon I rocket and the team will be to travel to America for the 2022 Spaceport America Cup, where student rocketry teams from across the globe will compete. Last year, 75 teams from 16 countries launched solid, liquid, and hybrid rockets to target altitudes of 10,000 and 30,000 feet. LURA will be hoping to send the Gryphon I soaring up to 10,000ft above the New Mexico desert.
From July 2022 LURA will start the Gryphon II design process. If you are interested in taking part see their vacancy page for more details.
Team members include:
Theo Youds - Founder - Aeronautical and Aerospace Engineering
Dom Buta - Chief Engineer - PhD, Fluid Dynamics
Jake Hollyman - Head of Aerostructures - Mechanical Engineering
Sam Kinloch Large - Head of Payload - Mechanical Engineering
Eduards Butans - Head of Avionics - Mechatronics and Robotics
Alisha Sharma - Head of Propulsion and Launch Operations - Aeronautical and Aerospace Engineering
Freya Segar - Head of Recovery - Mechanical Engineering
Dhani Khapoor - Aerostructures Engineer - Mechanical Engineering
Kris Ermins - Aerostructures Engineer - Mechanical Engineering
Ninad Singh - Aerostructures Engineer - Aeronautical and Aerospace Engineering
Dan Gibbons - Aerostructures Engineer - Aeronautical and Aerospace Engineering
Arjun Narayanan - Aerostructures Engineer - Mechanical Engineering
Prarthana Chhaparwal - Aerostructures Engineer - Aeronautical and Aerospace Engineering
Mohammad Reza Izady - Aerostructures Engineer - Aeronautical and Aerospace Engineering
Tom Nussey - Aerostructures Engineer - Aeronautical and Aerospace Engineering
Toby Thomson - Avionics and Recovery Engineer - Electronic and Electrical Engineering
Yudong Xiao - Avionics Engineer - Electronic and Electrical Engineering
Arthur Vie - Recovery and Payload Engineer - Electronic Engineering
Cem Mirata - Payload Engineer - Mechatronics and Robotics
Dan Arteni - Recovery Engineer - Aeronautical and Aerospace Engineering
Andre Santos - Recovery Engineer - Aeronautical and Aerospace Engineering
Joey Humphreys - Propulsion Engineer - PhD, Mechatronics and Robotics
Hoda Gendya - Launch Operations Specialist - Mechanical Engineering
Katy Armstrong - Marketing & Outreach Specialist - History
James Tolcher - Strategy & Relations Specialist - Global Strategy and Innovation Management
Chloe Lloyd - Recruitment Specialist - History
Ben Adams - Photographer - Photography
Keep up to date with all the latest news visit https://leedsrocketry.co.uk/
Connect via Facebook https://www.facebook.com/LeedsRocketry