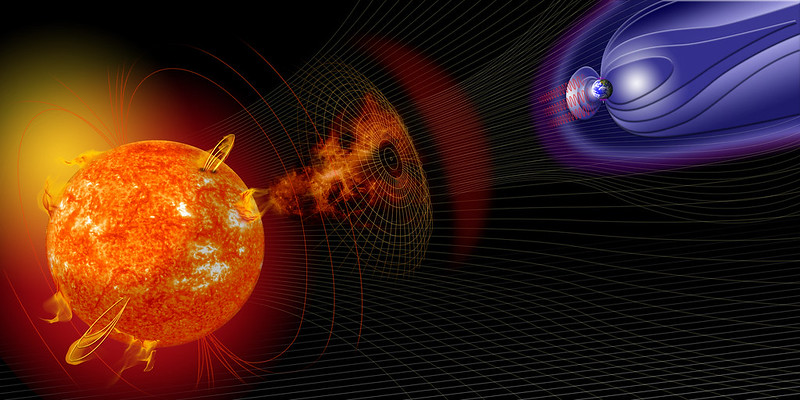 Experts at the University of Leeds are helping the UK to create accurate predictions of solar storms and other space weather events.
The major research project is part of the £20 million, four-year Space Weather Instrumentation, Measurement, Modelling and Risk (SWIMMR) programme funded by UK Research and Innovation. The project aims to improve the UK's capabilities in predicting space weather events, which could help triggering warnings for impacts on satellite services and other communications infrastructure.
Led by the University of Birmingham, experts in upper atmosphere modelling from the Universities of Leeds, Bath, Leicester and Southampton, Lancaster University, and the British Antarctic Survey are involved.
Professor Dan Marsh, from Leeds School of Physics and Astronomy, said: "Space weather is influenced not only by the Sun, but by weather in the Earth's troposphere that causes variability throughout the atmosphere. Our state-of-the-art global models, which reach from the surface to the edge of space, will be used to improve space weather monitoring capability.
"We hope to improve the prediction of satellite drag and disruption to communications by including previously-omitted lower atmosphere effects such as this in the forecast system."
Simon Machin, Space Weather Programme Manager at the Met Office, said: "SWIMMR will deliver a step change in UK space weather monitoring, warning and prediction capability by supporting pull-through of cutting-edge science into operational services.
"This will enable the Met Office to provide a greater range of more accurate services driven by the needs of users and underpins the UK's strategic aims to grow and exploit opportunities in the space domain. SWIMMR communicates a clear vision of cementing the UK as a world leader in space weather and our thanks go out to all partners and stakeholders for supporting this programme of work."
Photo credit: NASA Goddard Space Flight Center from Greenbelt, MD, USA / Public domain