Dr Richard Bourne recognised by the Royal Academy of Engineering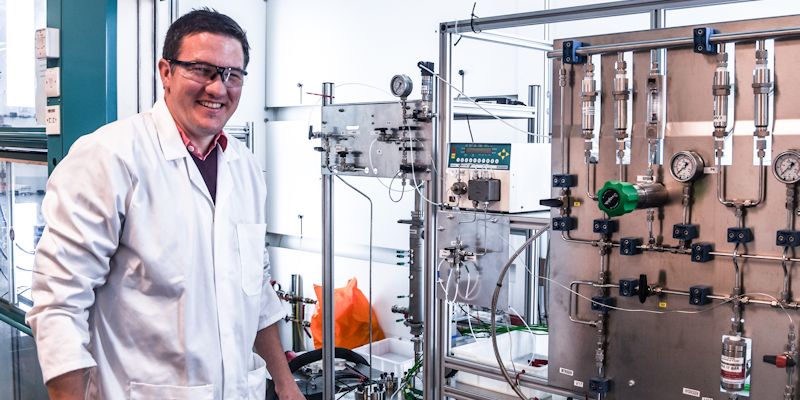 Dr Richard Bourne announced as a new Royal Academy of Engineering Senior Research Fellow in Digital Manufacturing and Discovery of Pharmaceuticals
On the announcement of his Fellowship, Dr Bourne said
I'm very excited to partner with The Royal Academy of Engineering – the RAEng Senior Research Fellowships scheme provides incredibly flexible and generous support that will enable me to explore the breadth of processes for generating new molecules.
He adds, "This, together with the post-doctoral collaboration I have with BioPharmaceuticals R&D at AstraZeneca, will enable us to explore many more possible ways of generating and optimising potential new candidate drugs. The Academy's network of engineers will help to ensure these new technologies are widely disseminated and can make the most impact on society."
Dr Richard Bourne is currently an Associate Professor based at the Institute of Process Research and Development (iPRD) here at The University of Leeds, developing new methods to optimise the discovery and manufacture of new medicines using automated reactors and chemical engineering techniques.
With the support from this Fellowship, Dr Bourne aims to develop and integrate artificial intelligence and machine learning controlled synthesis to accelerate the development of new drugs and support potential new treatments for diseases such as arthritis and cancers. As well as accelerating discovery and manufacture, Dr Bourne's methods promote "clean growth" with less chemical waste that the more expensive, traditional drug discovery techniques.
From 2015 to 2016, Dr Bourne used a Royal Academy of Engineering Industrial Fellowship to collaborate with AstraZeneca on the development of a new automated continuous reactor platform.
Related information
Established in 2008, the iPRD brings together experts from the fields of process chemistry and chemical engineering working closely with the chemical industries to develop technologies delivering cost reductions, increased productivity and quality, and reducing waste and energy utilisation in product manufacture. The iPRD is linked with the EPSRC Centre for Doctoral Training in Molecules to Product.