Business expertise drives ethical hackathon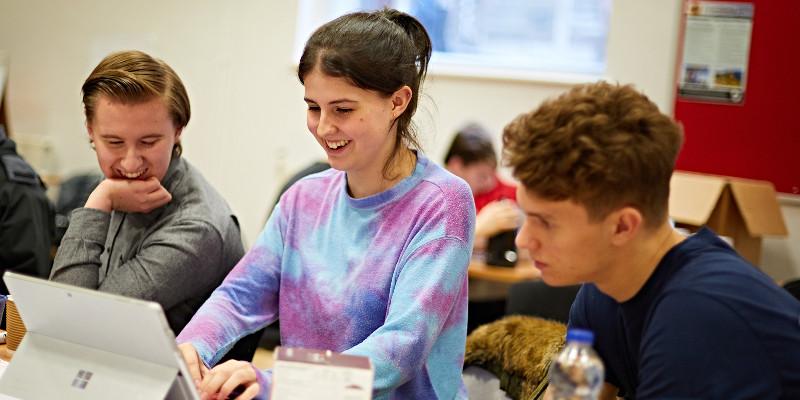 More than 100 students took part in this year's Fintech Hackathon, receiving valuable advice from leading businesses during the 24-hour challenge.
Senior staff from professional services firm PwC, Yorkshire Building Society, First Direct and digital agency Cyber-Duck joined the School of Computing-organised event.
They set students challenges to solve, shared ideas and motivated the teams.
The challenges, which focused on financial technology, digital identity, security and personal digital assistants, were unveiled to the teams at the start of the hackathon.
Many responded with a solution with an ethical or social theme.
Working day and night, the 25 teams created new ways to meet the requirements before pitching their findings in a 60-second session to a five-strong judging panel.
Students developing their solutions to the business challenges during the hackathon.
Dr David McKee, who led the organisation of the Hackathon, said: "The creativity of the teams' ideas was impressive, as well as the skill in turning them into working products which answered the brief from a business.
"To do it all in 24 hours, in a new environment with only limited tools and data, shows how talented our students are."
Thinking outside-the-box
The first winning team created an app which gathered details of shelters and food banks in the UK, supporting Yorkshire Building Society's partnership with the charity End Youth Homelessness.
The second winning team created a blockchain solution to provide accountability and transparency for charities, visualising their expenditure to show where every penny of a donation has been used.
Students from the University's Computer Science degree programme took part, alongside others studying electrical engineering, finance, business, and economics, as well as an MBA student.
Dr McKee added: "We're pleased to have had so many people taking part, and also grateful to the partner businesses for their suggestions and support for the teams; I'm sure they will have seen several future employees at work during the hackathon."
Sharing opportunities and expertise
The University has a strong record of working with the private sector to help students engage with industry through placements, on campus talks and events like the hackathon.
It also creates opportunities for research-led solutions to support businesses to expand and succeed, drawing on academic expertise or high-specification technical equipment. The hackathon was another example of how leading academics and businesses work together.
Further information:
Media contact: Peter Le Riche, University of Leeds press office, 0113 343 2049 | p.leriche@leeds.ac.uk