Robotics at Leeds researchers shortlisted for international innovation award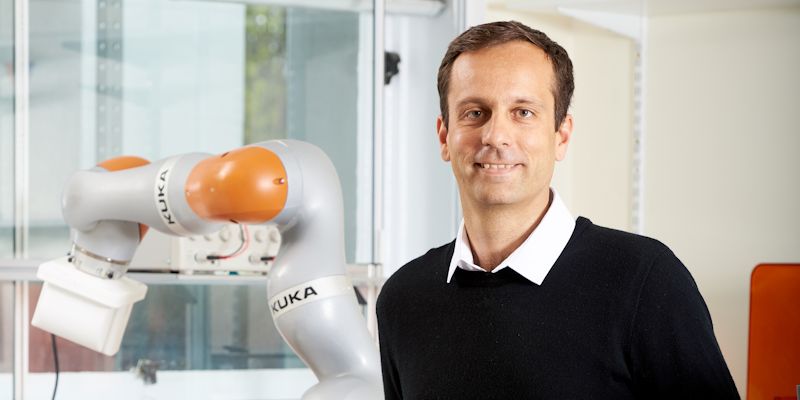 Team RoboFORCE have been shortlisted for an international award, having developed a new, less painful way of carrying out colonoscopy and other invasive procedures.
Colonoscopy is a common procedure to detect bowel cancer in its early stages. While this procedure offers major advantages, it can also undesirable outcomes such as a risk of damage to tissue, pain during the procedure, and high costs.
Professor Pietro Valdastri and other University of Leeds researchers are among Team RoboFORCE. The team is developing a robotic platform that uses a magnetic capsule to navigate through the human bowel during the screening process for gastrointestinal (GI) disease.
Their equipment comprises a Roboception vision system and creates an external 3D map of the patient to enhance safety and performance during the procedure. Team RoboFORCE also includes researchers from the universities of Leeds, Vanderbilt and Turin.
Team RoboFORCE's project was shortlisted for the KUKA Innovation Awards, for which an international jury of experts selected the best concepts from among 30 applications.
Talented robotics specialists from around the world were encouraged to send in their concepts on the current topic of 'healthy living'.
Each of the five finalists will be given a sensitive KUKA lightweight robot and a 3D vision system from Roboception for half a year to help the teams implement their concepts.
Further information
Talented robotics specialists from around the world submitted their concepts. The panel selected five teams for the finals of the innovation competition.