University of Leeds team shortlisted for national engineering awards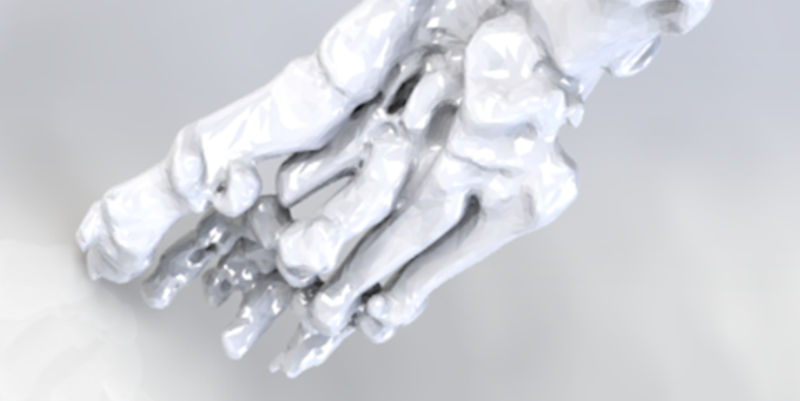 A team from the University of Leeds have been shortlisted for The Engineer: Collaborate to Innovate awards 2018.
The team's project 'Shear Load Inductive Plantar Sensing for assessment and treatment of Diabetic Foot Disease' will be judged by a panel of leading UK engineers drawn from the highest levels of industry, and winning entries have to demonstrate that they are innovative, collaborative and likely to have an impact in their field of application. In order to attract entries from diverse and cross-disciplinary groups, entries were invited from a range of themes: automotive, aerospace, defence & security, information, data & connectivity, healthcare & medical, energy & environment, manufacturing technology, young innovator-engagement and academic innovator. The project from Leeds falls under the healthcare & medical category, where other finalists include; the University of Sheffield, the University of Nottingham and Imperial College London.
The issue
Diabetes affects 4.5m of the UK population. Diabetes can cause neuropathy (damage to the nerves) as a result of persistent high blood glucose levels, which results in soft tissue changes in the foot leading to areas of abnormally high plantar (foot sole) pressures, predisposing to ulcer formation. It is estimated that at any time 2.5% of those with diabetes will have a Diabetic Foot Ulcer (DFU), a hugely debilitating condition which has a significant impact on personal quality of life and costs the NHS up to £1.13billion in treatment costs each year.
The aim
The multidisciplinary Leeds team of engineers, healthcare professionals and industry partners are seeking to bring assessment and treatment of DFU into the 21st century using innovative tactile sensing technology using mass manufacturing techniques.
The innovation
For effective diagnosis and treatment of DFU it is important to understand ifthe patient's foot is at risk of developing an ulcer and prevent further complications. Novel sensing technology lies at the heart of this project, through the development of a tactile sensing film using an array of inductive-coil transducers, which can be printed onto flexible films using mass manufacturing techniques. The sensory skin will be composed of a flexible base layer embedded with arrays of printed inductive coils, a thin elastomer layer and an upper film with embedded conductive 'nodes'. This array is linked to an embedded signal-conditioning unit which measures the inductance and resistance at each coil which are electromagnetically coupled to the conductive nodes on the upper layer. This inductive-based tactile sensing technology will enable new in-shoe assessment systems to provide valuable information for clinicians through the ability to simultaneously measure both normal and shear pressures, combined with temperature, in a robust film suitable for mass manufacture.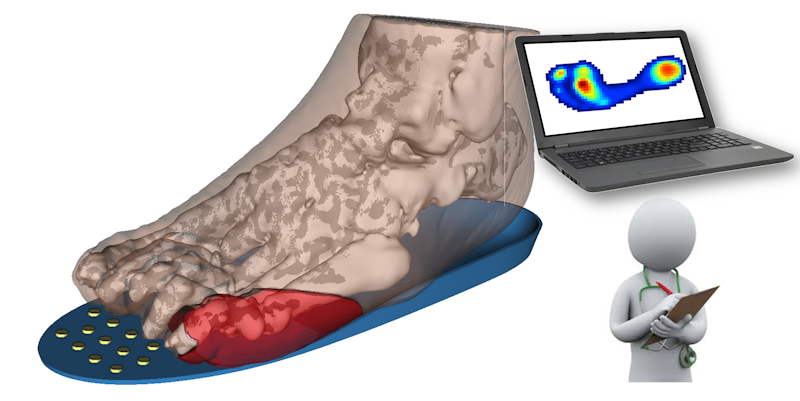 Shear Load Inductive Plantar Sensing for assessment and treatment of Diabetic Foot Disease
Multidisciplinary collaboration
The team's combined expertise from the University of Leeds, Leeds Teaching Hospitals Trust and Steeper Group, were formed through research events, which established their recognition for the need and opportunity of this project.
Dr Peter Culmer, Dr Ali Alazmani, Dr Graham Chapman and Dr Lefan Wang – University of Leeds
Mr David Russell, Consultant Vascular Surgeon and Honorary Clinical Associate Professor and Dr Heidi Siddle, Consultant Podiatrist and Associate Professor - Leeds Teaching Hospitals NHS Trust and University of Leeds
Mr Andrew Nicol – Orthotics, Steeper Group.
Further information
The winner will be announced at the awards ceremony on 6 November 2018. The Engineer: Collaborate and Innovate awards are in partnership with Engineering UK and EPSRC. For more information about the awards visit The Engineer website.