Knee implants designed to better fit individual patients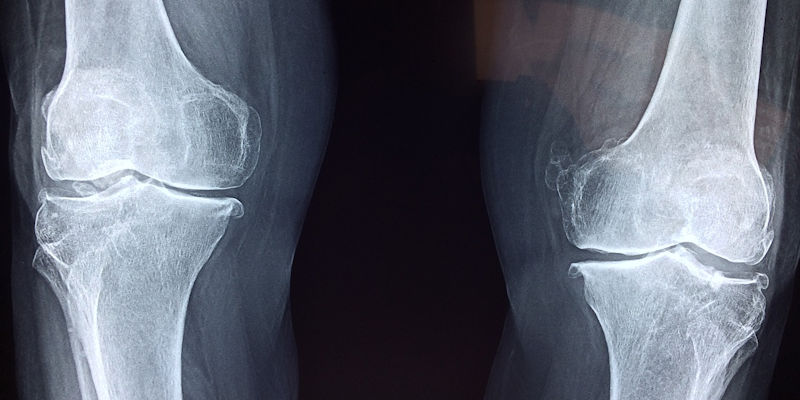 MeDe innovation researchers, at the University of Leeds, are developing enhanced simulation equipment to investigate the effect of different kinematics on the wear and performance of knee prostheses.
Sophisticated simulation methods developed by researchers at MeDe Innovation are improving researchers' ability to predict how well replacement knee joints will perform. Working with commercial partner, Simulation Solutions, MeDe Innovation has developed the world's largest independent joint simulation facility. Using a combined computational and experimental approach, it is possible to more accurately predict the effects of a wide range of different activities on the wear and performance of the knee replacements.
Knee replacement surgery is a routine option for patients suffering from pain caused by arthritis or injury – but although more than 90,000 of these operations are performed in the UK each year, and 2.5 million globally, many do not meet the rising expectations of patients.
Patient-reported outcomes show up to 30 per cent of patients are unhappy with their replacement knees one year after their operation and, depending on the region, between 5 and 12 per cent of knee implants will need revision surgery after 10 years – mostly among younger, more active patients who had surgery in their 50s and who want to be able to maintain an active lifestyle.
Despite the prevalence of knee surgery, there has been little change in materials and techniques over the past 20 years – the bearing couple of cobalt chrome and UHMWPE, with its high wear resistance and biocompatibility, is still the gold standard in arthroplastic surgery. But as patients are beginning to have more of a voice in what constitutes successful surgery, new technologies are starting to emerge, meeting their need for implants that are both comfortable and long-lasting.
These new materials require increasingly sophisticated methods to test performance, especially the effects of wear as the implant has to be able to stand up to a huge range of different movements and loads. This testing is exactly what the joint simulation facility, developed by the EPSRC Centre for Innovative Manufacturing in Medical Devices (MeDe Innovation) is designed to do.
Pre-clinical testing innovation
Working in partnership with experimental simulation equipment specialists, Simulation Solutions, MeDe innovation have designed and developed one of the world's largest facilities for pre-clinical simulation of total joint replacements.
The facility combines dynamic computational simulations with electromechanical joint simulators. For knee replacements, this means that, for the first time, computer models can be created that predict the effect of a wide range of kinematic conditions on contact stress and cross shear on wear in knee prostheses. These can be validated with experimental simulations and measurements, which extend far beyond current international standards, reflecting a wider range of clinical conditions.
Because of its expertise in this field, MeDe Innovation's researchers have been able to lead on the drafting of new international standards for the pre-clinical testing of joint replacements. The electro-mechanical knee simulators co-designed with Simulation Solutions are now being manufactured and sold across the UK, Europe and Asia.
Related Articles
Orthopaedic Product News: MeDe researchers are putting next generation knee implants through their paces