Mechanical Engineering students to race at Silverstone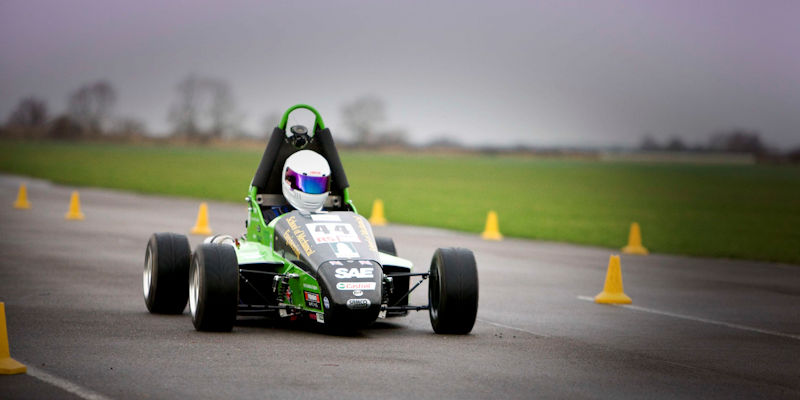 Students from the School of Mechanical Engineering are excited to enter the Formula Student racing car event 2018.
The event, which is run by the Institution of Mechanical Engineers, will see 130 student teams from over 30 countries take part in this year's event at Silverstone. Leeds will be one of the 69 teams from the UK competing. Formula Student challenges university teams from across the world to design, build and race a single-seater racing car in one year. The cars are then judged on their speed, acceleration and endurance, while the teams are tested on their design, costing and business presentation skills.
This year marks the first time that there will be a driverless element to the competition, FS-AI, with some teams being tasked with developing a cost-effective software package to enable an Artificial Intelligence (AI) car to make its own decisions, and evolve to improve its own performance. The new aspect of the competition ensures that FS continues to support industry by addressing the skills gap and providing mechanical engineering students with the opportunity for real-world experience of integrated electronics, software and systems engineering.
The event will run from Wednesday 11 July until Sunday 15 July, with the main dynamic events being held on Friday, Saturday and Sunday.
Andrew Deakin, Chairman of Formula Student, said:
"To design and build a competitive racing car in one year, whilst studying for a degree, is no mean feat. The level of innovation, commitment and ambition that the teams display is incredible and it's very exciting to see their hard work pay off.
"The fact that we are introducing a new AI element this year is particularly exciting, as AI is already transforming so many industries, including the automotive sector. This new, exciting element to the competition aims to encourage enterprising students to look to the future by designing the software for a fully autonomous Formula One-style vehicle in a safe environment.
"Formula Student is more than just a university project; it's a unique, hands-on experience that can launch a student's career. Competitors learn about teamwork, delivering challenging technical targets on time and within a tight budget and pushing the boundaries of what is technically possible. Many Formula Student alumni have progressed to work in professional motorsport, and are also highly valued in all sectors of industry, in disciplines such as aerospace, power industries and manufacturing."
Further information
The Institution of Mechanical Engineers was established in 1847 and has some of the world's greatest engineers in its history books. It is one of the fastest growing professional engineering institutions. Headquartered in London, they have operations around the world and over 120,000 members in more than 140 countries working at the heart of the most important and dynamic industries such as the automotive, rail, aerospace, medical, power and construction industries.
If you would like to attend the Formula Student racing competition, you can purchase tickets on the Institution of Mechanical Engineers website.
For more information about the School of Mechancical Enginnering visit their website.