Student receives Recognition of Research Excellence from The Graduate Board's Examinations Group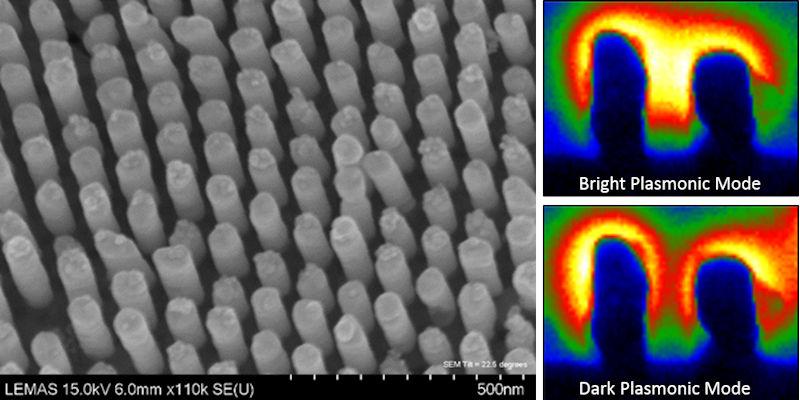 Postgraduate researcher Josh Cottom has received the prestigious 'Recognition of Research Excellence' award from The Graduate Board's Examinations Group.
Josh's research 'Fabrication and characterisation of an adaptable plasmonic nanorod array' focusses on the optical properties of plasmonic arrays, which show promise for increasing efficiency of photocatalytic or photovoltaic devices based on enhancing the solar energy absorption and local electric field strengths.
In particular, he addresses the issue around understanding the complex coupling effects that occur. He achieved this by using a combination of UV-Vis spectroscopy, finite element modelling (FEM) and electron loss spectroscopy (EELS), the latter two of which led to the prediction and observation of novel propagating substrate modes and dark plasmonic modes within the arrays for the first time.
Following the notification of his accomplishment, Josh stated:
"Having successfully defended my thesis at my viva in November, I was thrilled to hear I had been nominated for the award of Recognition of Research Excellence. I am convinced this was only achievable due to the excellent support I had from both my supervisors Rik Brydson and Kevin Critchley, as well as the continued dedication received from my collaborators, particularly Dr Patricia Abellan at the SuperSTEM Advanced Electron Microscopy facility."
Josh also received a letter of congratulations for his outstanding achievement, with a comment from The Graduate Board's Examinations Group:
"In our opinion the level of theoretical understanding, critical comment and engagement with literature, prediction of phenomena and observation in this thesis is exceptional. For example, modes of propagation between nanostructures and their substrate are predicted and observed for the first time.
The candidate has shown dark modes in oriented structures for the first time with EELS spectroscopy. This breakthrough was only possible due to his development of a new finite element model capable of explaining the phenomena coupled with great experimental tenacity."
Further information
The Graduate Board's Examinations Group is responsible for the award of all postgraduate research degrees, to find out more visit their website.
Project supervisors
Professor Rik Drummond-Brydson oversees the Materials Characterisation Research group at Leeds and coordinates the interdisciplinary Electron Microscopy (LEMAS) Centre.
Dr Kevin Critchley is a lecturer and is also involved in major projects within the Astbury Centre for Structural Molecular Biology at Leeds.
Dr Patricia Abellan is a SuperSTEM Research Fellow at Leeds. She is currently working in the area of soft-matter research and nanoplasmonics.