Professor Anne Neville visits China University of Petroleum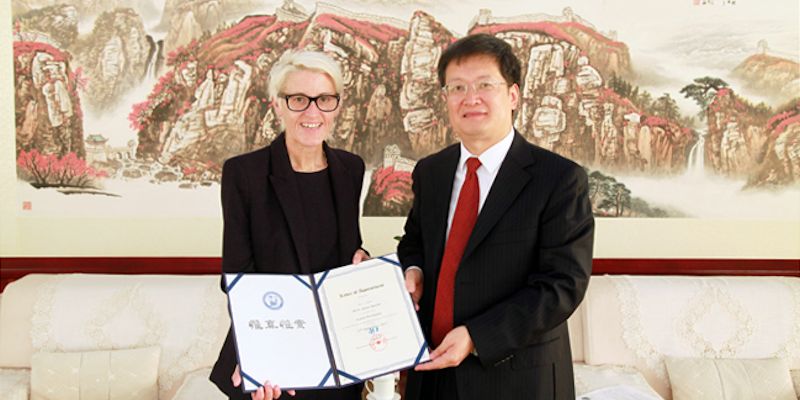 Professor Anne Neville, School of Mechanical Engineering, met with Wang Yong at China University of Petroleum, where she was invited to be Visiting Professor.
Deputy Secretary of Party Committee Wang Yong warmly welcomed Professor Neville to the institute, where discussions were held about her bilateral cooperation.
This partnership between China University of Petroleum and the University of Leeds will allow both universities to share knowledge and experience, as well as increasing collaborative opportunities for student programmes and academic work.
China University of Petroleum is located in Qingdao in East China, and boasts beautiful campus grounds and state-of-the-art labs that are equipped for its specialism in petroleum science and engineering. Key areas of research for the university include: Chemical engineering and technology, mineral resources prospecting exploration, and oil and gas well engineering.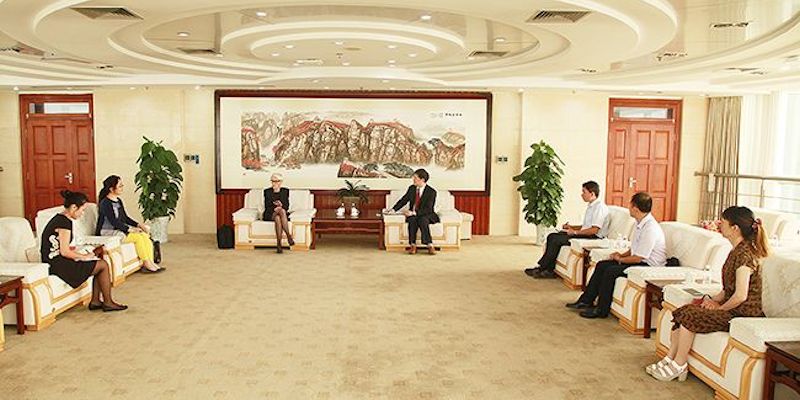 Professor Anne Neville visiting the Deputy Secretary of Party Committee Wang Yong at China University of Petroleum
As well as being the Chair Professor of Institute of Functional Surface at Leeds, Professor Neville was also recently elected to Fellowship by the Royal Academy of Engineering. She has focused her research on corrosion science and material engineering and published more than 470 papers on ResearchGate and 298 on Web of Science.
About Professor Anne Neville
Professor Neville's research is focused in the following areas: Corrosion and tribo-corrosion, lubrication and wear, mineral scaling, and surgical technologies. She also holds the following accolades:
RAEng Chair of Emerging Technologies

CEng, MIM

Member STLE (Society of Tribologists and Lubrication Engineers, USA)

Member ICorr (Institute of Corrosion)

EPSRC Advanced Fellow (1999-2004)

Fellow of RSE, May 2005

FRSE 2005

Fellow of IMechE, July 2007

FREng 2010

Royal Society Research Merit Award 2011
Further information
For more information about China University of Petroleum, view their website.
For further details about Anne Neville's research, view her staff profile.
Related articles
University of Leeds - Professor Anne Neville awarded an Honorary Degree
University of Leeds - Prestigious Royal Society fellowship for Engineering professor
University of Leeds - New year's honour for influential engineer