Awards for high achieving civil engineers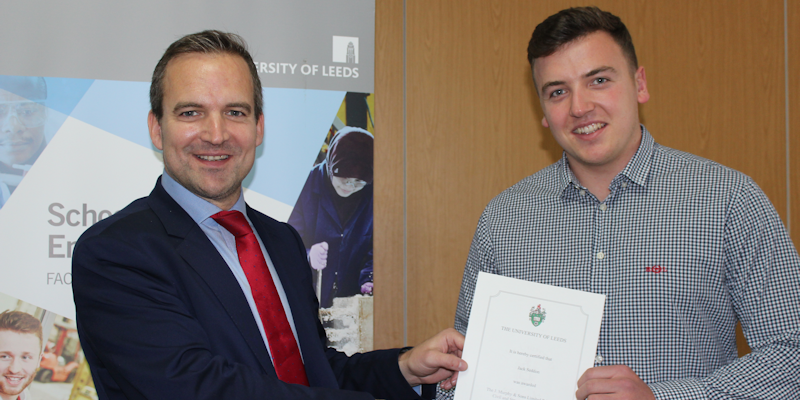 Top students on our undergraduate Civil and Structural Engineering course have received an award and cash prize thanks to the support of engineering and construction company J. Murphy and Sons Limited
The awards are made to the highest performing students in years one, two and three. This year the awards went to Joseph Sykes (Level 1), Samuel Newbery (Level 2) and Jack Seddon (Level 3).
Alastair Smyth, J. Murphy & Sons' Engineering Director, presented the awards, which are given annually. These awards recognise excellence in the field of civil engineering, supporting the future of engineering skills of the highest calibre.
Professor Muhammed Basheer, Head of School of Civil Engineering, commented:
"We are delighted to be working with J. Murphy and Sons to present this award in recognition of our students' outstanding performance. Through the partnership, we are also able to offer our Civil and Structural Engineering undergraduates placement and internship opportunities at the company which will enable them to apply the materials learnt in lectures to real life work situations. From this experience, they gain valuable skills in order to secure a successful career in engineering."
Alastair said: "It was a great pleasure to present the Murphy prize that recognises high achievement in engineering and huge congratulations to Joseph, Sam and Jack. Murphy is proud of our association with the University of Leeds, which is leading the way in first-class engineering, and we hope our relationship is a long and continuing one. I'd like to thank Professor Basheer, the Head of School for Civil Engineering, and the rest of the University staff for engaging with Murphy and allowing us to support the work of the faculty.
"There's a lot of great work going on to bring together people from two organisations, who have a shared vision for engineering and especially the development of engineers today and in the future. It's important that we are recognising excellence in engineering through this prize and we're happy to support the achievements of these students."
The company, whose current COO and incoming CEO, John Murphy, is an alumnus of the School of Civil Engineering, is also taking students on year in industry and short-term summer placements, to work on a range of infrastructure projects in the rail, water, power and natural resources sectors. Murphy also has an office in Cross Green, Leeds.