Full speed ahead for UK's first dedicated centre for high speed rail technologies and system integration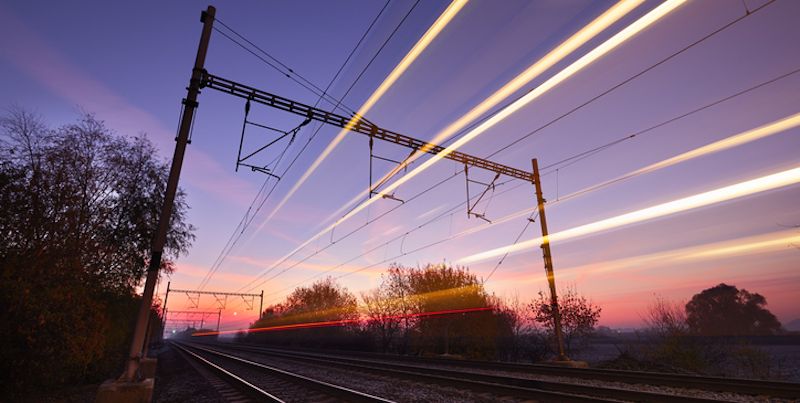 The University of Leeds is investing £10m to develop the UK's first dedicated centre for high speed rail technologies and system integration.
Offering a 'complete system' approach to high speed rail engineering, it will give the UK an unrivalled centre of excellence for high speed rail planning, design, construction and manufacturing.
The Institute for High Speed Rail and System Integration will include a high speed railway infrastructure and vehicle system test facility.
From foundations and track, traction systems, to braking, energy harvesting, sensor technology and digital systems, the Institute aims to optimise the efficiency, performance and safety of high speed rail.
Working with other institutions in the north, it will also help address the skills gap to support rail industry growth, with undergraduate and postgraduate courses to support industry demands.
Full speed ahead for Leeds
Leeds is ideally located to lead the development of high speed rail and system integration, being at the centre of HS2's Yorkshire Hub.
The area is targeted for major economic growth from the HS2 construction project, with the HS2 rolling stock depot also located to the east of Leeds.
Iain Roche, Head of Innovation for HS2, said: "HS2 is delighted that the University of Leeds is launching the UK's first Institute dedicated to high speed rail and system integration.
"The creation of world-leading facilities so close to the HS2 depot to the east of Leeds will accelerate the vehicle and systems integration testing process, and advance the UK's vision of creating a high speed railway that will support regional growth, create jobs and rebalance the economy."
Professor Lisa Roberts, Deputy Vice-Chancellor: Research and Innovation, at the University of Leeds, added: "This is a timely investment in this Institute, supporting not only the development and construction of the UK's high speed network, but also positioning the region and the UK as pioneers in modern high speed rail technologies.
"We now have a genuine opportunity to forge ahead and be a global leader in a high speed rail market that is expanding rapidly across the world."
Investment and regeneration
The UK is investing £12 billion per year in rail infrastructure, with new UK projects in the pipeline worth a total of £88 billion. High speed rail investment is predicted to be over £380 billion by 2022.
The Leeds City Region is getting HS2 ready, integrating high speed rail in its plans for economic growth, as well as the development of the South Bank and the Leeds Station complex.
Together with the High Speed Rail College in Doncaster, the Network Rail Campus in York and the manufacturing capabilities of the Leeds City Region, there is an unprecedented economic opportunity for advanced manufacturing, engineering and education in the region and the north, to complement the Northern Powerhouse agenda.
Leader of Leeds City Council, Councillor Judith Blake, said: "The new Institute for High Speed Rail and System Integration at the University of Leeds is a really exciting development which will establish Leeds as a centre of excellence for high-speed rail on a world level.
"It will not only enhance our strengths in civil engineering, rail manufacturing, transport studies and infrastructure development services but will also drive growth through inward investment, aiding regeneration and job creation through the supply chain.
"As well as being a fantastic asset for the city and region in terms of learning and specialist skills development, the potential for it to grow into an advanced manufacturing and engineering research hub generating and supporting university spin-outs means it also has a key role to play as an economic driver."
Cllr Susan Hinchcliffe, Chair of the West Yorkshire Combined Authority and Leader of Bradford Council, added: "The impact High Speed Rail will have on our City Region is truly transformational. As a region we aren't stopping at the transport benefits either but focusing on the wider opportunities which it brings, including in the area of skills and investment.
"It is therefore fantastic to see that the University of Leeds investing in this new institute which will ensure our region is not just at the forefront of today's technology but is shaping the transport systems of tomorrow."
Unrivalled support for high speed rail
Leading the Institute for High Speed Rail and System Integration is Professor Peter Woodward, the University's new Chair in High Speed Rail Engineering.
Professor Woodward said: "We will be drawing on the full range of Leeds' significant research strengths to offer unrivalled support for a high speed rail network in the UK.
"A system integration approach is possible because of the highly multi-disciplinary teams at Leeds and, combined with state-of-the-art test facilities, this investment will place Leeds on the world-stage as the go-to place for high speed rail research."
Core research
The Institute will focus on:
Design and construction (Infrastructure and rolling stock)

Full-scale testing of track and train dynamics under extreme stress and speed to optimise design and assess performance of new technologies and materials.

Design and manufacturing (Rolling stock)

Develop new technologies, such as low cost titanium, and the impact of rolling stock components and new traction systems.

System monitoring maintenance and control

Advancing remote, wireless and intelligent sensing and data analysis, to ensure digital infrastructure is linked to a digital rolling stock and provide the potential for real time control on new and existing networks.

Digital engineering

Expertise of modelling, robotics and control systems to contribute to new infrastructure (civil and digital) and train designs.

Power deliver and power economics

Improving pantograph-catenary dynamics and alternative power pickup systems ensuring sufficient power to trains travelling at high speed.

Train-track interaction

Ensuring high speed train-track interaction optimised for safety and comfort, with trains that are highly efficient yet low maintenance.
Forging partnerships
The Institute will also work with a range of international partners, including SouthWest Jiaotong University, one of China's leading railway engineering universities, where Leeds has opened a joint school.
Further information
Professor Peter Woodward is available for interviews. Contact the University of Leeds press office on pressoffice@leeds.ac.uk or call 0113 343 4031.
The Institute will combine the expertise of the renowned Institute for Transport Studies, Leeds Institute for Data Analytics, and the Schools of Mechanical, Civil, and Electronic and Electrical Engineering. The Institute will support high speed rail by focusing on:
De-risking UK and global rail expansion: Supporting major infrastructure programmes including potential capital and operational cost savings, as well as improved predictability of costs, which together will help to prevent overruns.
Delivering innovation for business: Internationally-regarded research to give UK-based businesses a leading edge in the global rail market.
Uplifting engineering skills: Training apprentices, technicians, undergraduates and postgraduates with skills that industry demands.
Supporting advanced manufacturing: Helping anchor engineering activity in the North and the UK, supporting the Northern Powerhouse agenda and developing Leeds City Region.
Building an innovation-led economy: Attracting industry investment, spur new enterprise and supply chains, grow research and innovation expertise.
Related Articles:
BBC Radio Leeds - University of Leeds investing £10m in high speed rail centre
Business Insider - University of Leeds investing £10m in high speed rail centre
Business Cloud - University of Leeds to invest £10m in high speed rail centre
The Business Desk - University invests £10m in centre for high speed rail technology
BDaily - University of Leeds invests £10m in UK's first high speed rail technology centre