Raising the standard for green communications technology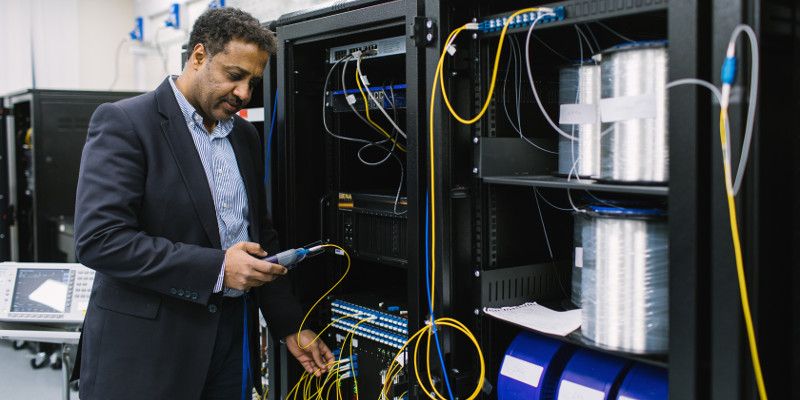 New international standards for green communication technology have been backed by the world's largest professional body for engineers.
The new standards have been developed by Professor Jaafar Elmirghani from the Faculty of Engineering, who specialises in developing highly energy efficient technology.
Standards set by the IEEE are adopted globally by many leading manufacturers and service providers. They ensure the functionality, capability and interoperability of products and services.
One of the more popular and universally known IEEE standards is known as IEEE 802.11™, a standard that underpins wireless networking applications. Today's laptops, tablets and mobile phones are typically equipped with an IEEE 802.11 radio, often branded as "Wi-Fi".
In 2012, Professor Elmirghani was appointed by the IEEE to chair its green ICT initiative, overseeing all related research carried out by Institute members, of which there are 430,000 worldwide.
As well as developing five standards through his own research, as chair, he oversaw the development of another four in a similar field.
Professor Elmirghani said: "The standards we have developed through the IEEE are intended to lead to more energy-efficient operation of networks and hardware. Achieving the standard cuts the amount of carbon emissions attributed to these networks and hardware.
"If they are adopted extensively, as other IEEE standards have been, companies will be making a significant contribution to cutting CO2 emissions and will reduce the cost of operating their networks through reduced energy use."
The five standards Professor Elmirghani has developed are:
The process has already started to secure final approval for the nine standards by the highest levels of the Institute, and a green standards in ICT working group chaired by Professor Elmirghani will oversee the process.
It is due to complete its work in September 2018, and Professor Elmirghani is inviting members of the IEEE who wish to contribute to the final standards to take part in a series of webinars.
Once they have secured final approval, the standards will be available for use by equipment vendors, network operators, service providers and end users.
The development of the new standards stems from Professor Elmirghani's involvement with GreenTouch, a consortium of Information and Communications Technology (ICT) industry, academic and non-governmental research experts dedicated to reducing the carbon footprint of ICT devices, platforms and networks.
The intention behind the standards was to ensure GreenTouch's recommendations could be used openly and in an interoperable way by the interested parties.
The development of the five standards was carried out through a £6 million EPSRC INTelligent Energy awaRe NETworks (INTERNET) programme grant.
Further information
The above picture shows Professor Elmirghani at work in his laboratory.
For interviews, contact Peter Le Riche in the University of Leeds press office on 0113 343 2049
Related Articles
Northern Engineer - Raising the standard for green communications