Leeds PhD graduates win Engineering Impact Award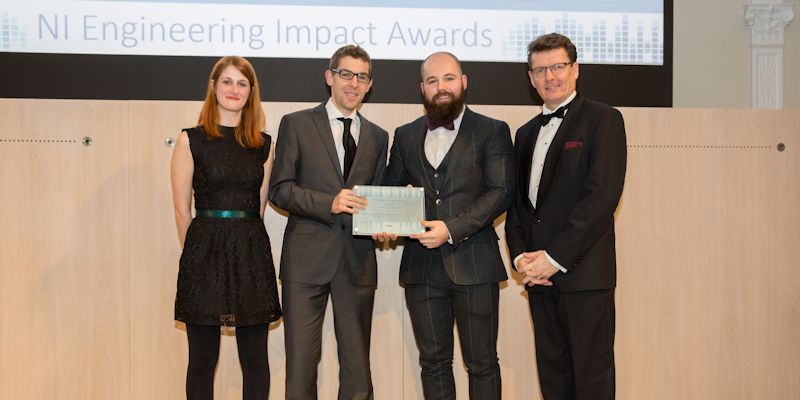 Two Leeds Engineering PhD graduates who founded a Leeds-based engineering consultancy have been awarded the prestigious Northern European Engineering Impact Award for Innovative Research.
Dr Earle Jamieson and Dr James Chandler, both graduates from the School of Mechanical Engineering, won the award after their work on Kinelab, a software application that will help understand the way in which manual dexterity affects childhood development, health and overall wellbeing.
Kinelab has been a collaboration between their company ReSolve, The University of Leeds and the Bradford Institute for Health Research (BIHR). It is part of the Born in Bradford (BiB) study, which is headed by the NHS and is one of the world's largest scientific studies. It aims to track the lives of 13,500 children from birth to adulthood to understand the childhood influences that shape health and wellbeing.
Kinelab is a series of games that involve tracing and following shapes that appear on-screen, as well as interactive quizzes that are designed to test memory and processing speed.
In the background, Kinelab intelligently calculates a number of key scores for each child relative to all other children in their age group. This score can be used to identify those children with difficulties, and to inform suitable interventions that will help them improve in those key areas and achieve their full potential.
The prestigious prize was awarded to ReSolve by National Instruments at their 'NI Days' event in London on November 28th 2016. Their success has automatically granted them a place at the final of the global competition taking place in May of 2017 in Austin, Texas.
About ReSolve
Dr Jamieson and Chandler founded ReSolve Research Engineering Ltd. after noticing first-hand the lack of suitable technical support that is available to researchers and companies who wish to apply engineering and scientific principles to improve their processes and products.
The company specialises in developing bespoke technologies for research and innovation across industries such as medical, energy, aerospace, automotive and manufacturing.
They are currently working closely with researchers and innovators across the Yorkshire region on projects to help "speed discovery, streamline innovation, and drive change".
To find out more about the BiB study, the Kinelab project and some other interesting projects the team have been part of, please visit the ReSolve website.
Image: Dr James Chandler, Technical Director at ReSolve, and Dr Pete Culmer from Mechanical Engineering at The University of Leeds, receiving the NI Engineering Impact Award.