Double award success for civil engineering graduate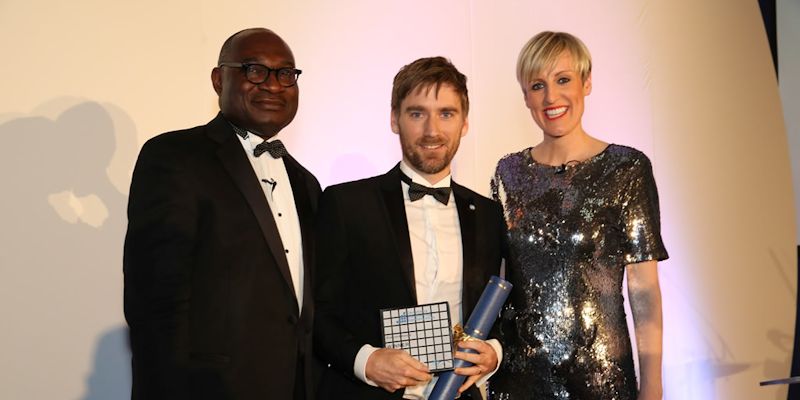 School of Civil Engineering graduate Glyn Utting has won both the Diamond Award for Engineering Excellence and Young Professional of the Year at the ACE Consultancy and Engineering Awards 2016.
Glyn, who graduated with an MEng in Civil and Structural Engineering in 2007 and is now an international project manager at WYG, was commended for his work in the UK, in Cumbria after extreme flooding and also for leading a number projects in conflict-affected or natural disaster-affected countries.
After five years of experience delivering a major UK infrastructure project for the Ministry of Defence (MOD), from January 2014 he project managed the construction of Camp Qargha an Officers Academy and NATO support base for the Afghan National Army in western Kabul, Afghanistan. From there he moved on to projects in Tripoli Libya, and assessment studies for the Defence Infrastructure Organisation for the reconfiguration of multiple army bases in the north of England.
Following the Nepal earthquake in 2015, Glyn led his employer's damage assessments and its rebuild programmes done through Community Action Nepal (CAN). As a UK-based charity geared to aid the mountain people of Nepal, Glyn engaged with local communities to fully assess the damage and need, following through to lead the rebuilding projects on eight rural schools and 12 rural health posts.
Glyn has worked to achieve project success in potentially hazardous environments, amidst increasing militia fighting or dire circumstances. He has dealt with the myriad working issues seen by UK teams abroad, such as ensuring that UK health and safety standards were maintained as well as overcoming linguistic or cultural barriers. He dealt with up to 12 concurrent projects at once during his work on the assessment studies for the Defence Infrastructure Organisation. Through all his projects he has had to handle remote logistics and best use of local supplies to achieve project success.
The judges were so blown away by the work of Glyn that they also awarded him the 'winner of winners' and receipient of the Diamond Award.
One judge said: "Choosing a winner was difficult but Glyn's sheer passion for his work and desire to change the quality of lives in areas ravaged by war or after natural disasters was decisive. His commitment to go the extra mile to contribute to bettering lives is remarkable; whether in Cumbria after the extreme flooding, disaster relief in Nepal or through other efforts to better conditions in war ravaged areas.
"In deciding the overall "winner of winners" and the recipient of the Diamond Award we have one phrase to sum up this remarkable young man – 'He took our breath away!'"
The awards celebrate the best of the UK's consultancy and engineering profession and showcase the remarkable work of ACE members and supporters across a variety of specialisms. This year they attracted over 140 entries for both businesses and individuals.
Details of the awards were obtained from both the Consultancy and Engineering Awards website and Infrastructure Intelligence.