Civil engineering graduates win international awards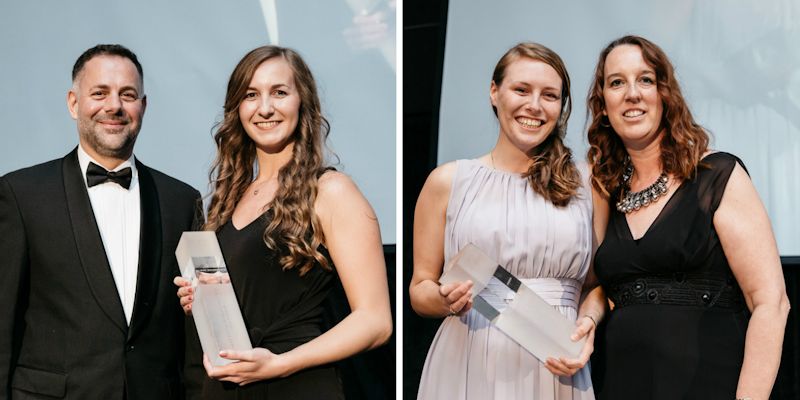 Graduates from the School of Civil Engineering have won international awards for the contribution to their fields at The European Women in Construction and Engineering (WICE) Awards 2016.
Alison Waterworth, 2011 graduate in MEng Civil and Structural Engineering won Best Young Woman Engineer and Melanie Ogden, graduate in MEng Civil and Environmental Engineering, won Best Young Woman in Construction.
The two awards were open to young women with less than 5 years' experience and focused on positive impacts in areas of sustainability and innovation; both of which Alison and Melanie are passionate about. The winners were put through their paces at the Judging Day where they presented their experience and career history to a panel of judges and gave a one minute speech to an entire room of judges and other finalists.
Since graduating, Alison has worked on a number of major international projects including the Forth Road Bridge, the Chester Zoo Islands development and the construction of the new Moscow to St. Petersburg highway in Russia, where she spent a year working. Melanie is now a Project Manager for Transport For London, managing the tunnels and shafts design and construction on the London Underground Northern Line extension.
On winning her award, Alison said "I think the awards are testimony to the teaching we received at the University of Leeds and the encouragement from the staff, particularly Dr. Creasey, who proved women can be successful in the engineering world."
The WICE awards were created with the aim of making the engineering and construction industries more enticing to women, to create role models for women considering a career in these sectors and encouraging companies to employ and train more women in these industries.