Product design graduates win university business award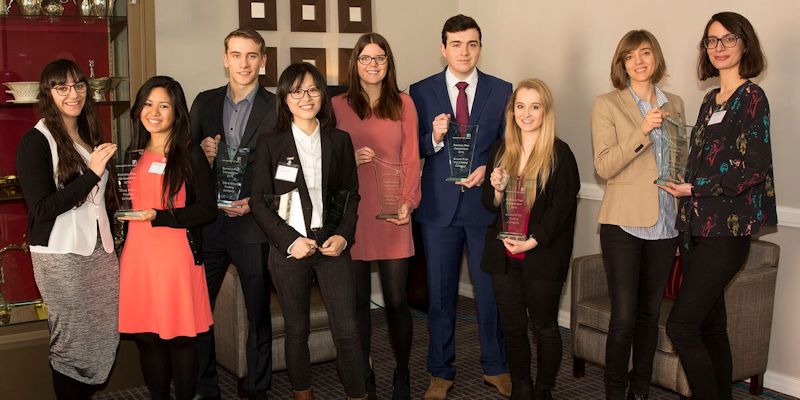 Two Product Design graduates have won first prize in the University of Leeds Business Plan Competition for their new specialist branding and marketing company, Eat Fish Design.
Rowena Madar and Satthaporn Barnes, were awarded first prize in the Trading Company category for their design consultancy, which was founded in November 2015 and is already working on projects for nine client companies in the medical technology sector.
Both women graduated last year with a Master's degree in Product Design from the School of Mechanical Engineering. The two friends were also part of a team whose 4th year medical product design project won a national student design award and took them to Texas, USA to represent the UK in the international finals.
While they didn't win the final, they were approached by several companies who loved the way that they translated the benefits of complex technical products through simple and beautiful marketing and design materials.
Rowena said "We can't quite believe how fast this has all happened. I don't think either of us thought we'd be running our own business, but we love it! We jumped in with both feet and hit the ground running and it's taken off in a way that we could only dream of.
"The Spark team and the Spark services have been amazing, we couldn't have managed it without their advice and guidance. We're now based in the University's business incubator which is the perfect environment for us, with space to work and think, meeting rooms and all the facilities we could want – it's such a far cry from when we first started and were running the business from our homes and the café in the school of Engineering!"
Satthaporn commented "It's not just the solid foundations that we've had help with either. Spark is helping us with our growth plans too – things like investigating different schemes we could apply to, internships we can use to expand and introducing us to people who can share industry contacts and knowledge."
Organised by Spark, the University's business start-up service, the annual competition awards prizes in two main categories: Pre-trading and Trading up to 24 months. The winners in each category receive a cash prize of £2,000. A further prize of £1,000 for the best digital business idea has this year been sponsored by Santander.
The full list of winners of the 2016 University of Leeds Business Plan Competition.