Student presents robotic arm research at Parliament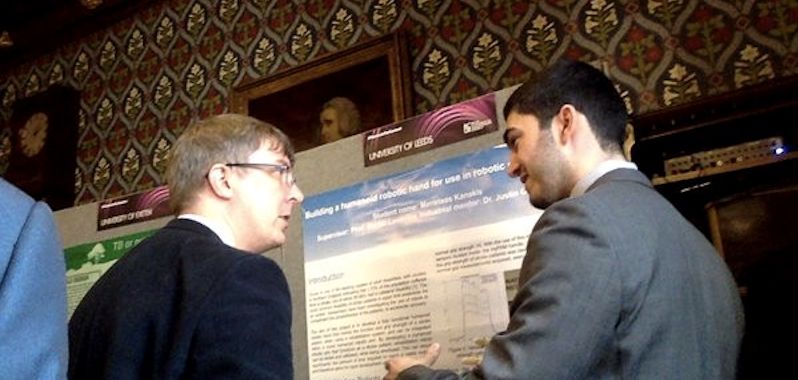 Mechanical Engineering student Menelaos Kanakis, has presented his final year research project "the Robotic arm", part of the Project ALAN, at the Posters in Parliament event in London.
Menelaos is currently developing the robotic arm as part of his final year individual project, and he aims to develop a fully functional robotic hand that is integrated within project ALAN, a university-led research project. The robotic hand must mimic the function and grip strength of a stroke patient.
"Being given this great opportunity to present my first research project at the Houses of Parliament. Viewed by MPs, university professors, as well as a diversity of students was certainly both an unforgettable and outstanding experience to gain, especially for someone like myself who is interested in commencing a research degree."
Project ALAN looks at the possibility of using robots in the rehabilitation process of post stroke patients and testing these devices. The project is divided into two parts, with one part taking an assisted movement device named myPAM from a research concept to pre-production product.
The second part of Project ALAN is the development of a novel humanoid robotic arm that functions as a human stroke patient in order to test and validate rehabilitation systems while being developed. It aims to significantly reduce the amount of time to reach a viable system and to replay the patients hand movement in real time, as well as allowing remote rehabilitation.
Posters in Parliament is part of the British Conference of Undergraduate Research (BCUR). It is an open coalition of universities dedicated to encourage a national culture of undergraduate research. The event gives undergraduate students the opportunity to experience real research at the cutting edge of their field.
The Posters in Parliament event took place on the 2 February 2016.