Faculty of Engineering wins national employability award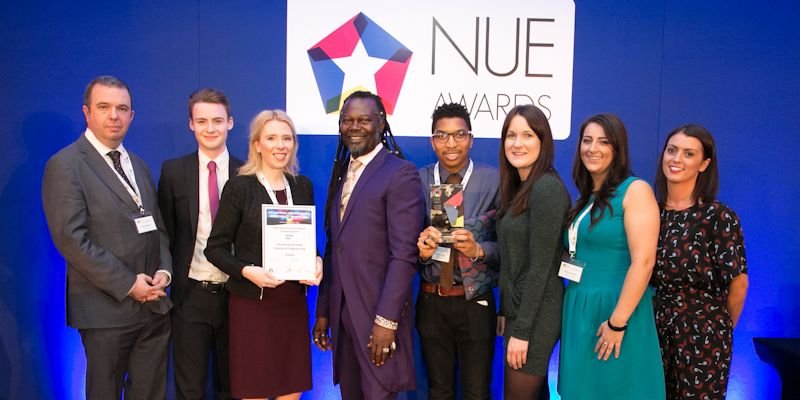 The Faculty of Engineering won the Most Improved Commitment to Employability Award at this year's National Undergraduatate Employability Awards.
The category celebrates the improved efforts and services provided by a university department, placement or careers service in helping students apply and maximise their work experience opportunities.
The Faculty was acknowledged for its embedded Work Placement Programme which reaches over 30 undergraduate degree programmes, for having increased the numbers of students taking up industrial work placements by 150% as well as its commitment to employability through running an in-house Employability Internship programme, open to all students.
The award is all the more impressive as the faculty fought off competition from a range of full university careers centres, including The University of Liverpool Careers and Employability Service, The University of Hull Careers and Employability Centre, Sheffield Hallam University Business School Careers Centre and The University of Westminster Career Development Centre.
Since 2012 the Faculty of Engineering has developed its employability commitment to enhancing student employability, this began with the opening of an in-house Employability Suite in 2013, and has gone on to develop a variety of initiatives including: an industrial placement year variant on all undergraduate degrees, delivery of an embedded employability lecture and workshops programme, daily drop-ins for students, and numerous employer led activities including a Computing Expo. In 2014 the faculty launched a summer internship scheme in partnership with the Manufacturing Advisory Service and continued with this thanks to IMechE funding for 2015 and 2016. All of these initiatives are supported by an in-house specialist face-to-face team consisting of Placement and Employability Officers and Careers Consultants.
As a result, the faculty has seen an increase of 180% of contact time with students over the last two years, and a 66% increase in careers fair attendance. The faculty is also one of only two universities in 2015 awarded £24,000 to fund SME internships.
Emily Timson, Employability Business Development Manager for the Faculty of Engineering said: "We're delighted with this award. Since the Faculty invested in a dedicated Employability Service, the provision provided to students and industry has grown immensely. Through continued investment, we've doubled the size of the team and have been able to develop initiatives and improve the existing service for students and industry partners. This has been a real team effort as all initiatives have been supported by the five engineering schools and by working in partnership with the Careers Centre. This recognition at a national level confirms the efforts made are making a difference, and it's wonderful to have validation that the faculty are providing an effective and successful service."
Gareth Cadwallader, Governor of University of West London, and head of the Judging Panel, said of this year's nominations, "The standard of nominations was once again outstanding across the sector. The commitment of some of the world's highest profile employers to engage with undergraduates, as well as the dedication from universities and students to the employability agenda, is extremely impressive.
The National Undergraduate Employability Awards is sponsored by PwC and supported by ASET, AGR and AGCAS. The Awards saw over 400 nominations from employers, universities and students across 17 different award categories.