Academic paper co-authored by Dr Costas Velis wins prestigious international awards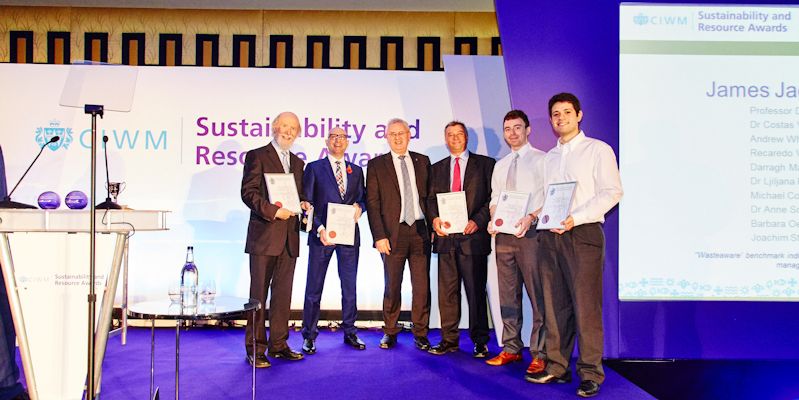 An academic paper on solid waste management co-authored by Dr Costas Velis from the School of Civil Engineering, has won two prestigious international awards.
Earlier this month, Dr Velis was presented with the Chartered Institution of Wastes Management (CIWM) James Jackson Award for best formal written paper, and the International Solid Waste Association (ISWA) Publication Award honouring the publication deemed to be most exceptional in its contribution to the field of solid waste management in the previous year.
The paper entitled "'Wasteaware' benchmark indicators for integrated sustainable waste management in cities" addresses a major problem in international solid waste management - the lack of data, and lack of consistent data which allows comparison between cities. It introduces a valuable tool for decision-makers: the 'third generation' of a set of indicators, which enables them to quantify in a sound and comprehensive way how cities perform with managing their solid wastes.
This city profiling methodology has already been applied to 40 sites around the world across the socioeconomic development spectrum, from Lahore in India to Bishkek in Kyrgyzstan to Belfast in Northern Island - making it the most complete set available world-wide.
Dr Velis was in the core team who developed the indicators, and his research team statistically processed these Wasteaware cities profiles for the recently released seminal UNEP Global Waste Management Outlook report.
Dr Velis lectures in Resource Efficiency Systems at the University, and coordinates a recently established network on Circular Economy and Resource Recovery (CERRY) as part of the Cities and Sustainable Societies Theme. He serves on many international initiatives, including the International Solid Waste Association (ISWA) Resource Management Task Force, and chairs the scientific committee of the Waste Atlas Partnership.
The multiple award-winning paper and supportive information can be downloaded here.