Mechanical Engineering students win cash prize for team project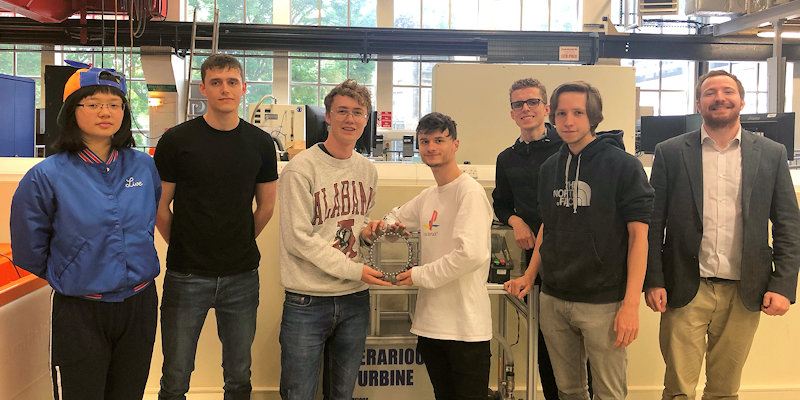 As part of their second year project, Temerarious Turbine, a team of six Mechanical Engineering students designed and built a turbine wheel to generate electricity and won £500 to share between them.
The students were tasked with designing, building and then testing their turbine wheel, which had to incorporate a pipe system to generate electricity from a jet of water using a DC generator. They had to undertake calculations to justify their design and predict the power output of their system.
The turbine wheel was created using laser cutting and 3D printing techniques, before being tested against 27 other teams made up of second year students, to find out which team's turbine wheel could generate the most power.
Green Frog Genovate, who sponsored the Temerarious Turbine project and awarded the cash prize, are one of the UK's most experienced gas-to-power energy developers, specialising in the development of flexible, embedded and standby power systems.
Business Operations Manager, Chris Barker visited the University of Leeds to meet with the students in order to award them their prize. The winning team's turbine wheel not only produced the most power, but was designed excellently.
Further information
The winning team comrpised of (main image left to right); Ningyuan Xu, John Crockett, James Cooper, James Ryan, Thomas Murdin and Thomas Sanders.
Green Frog Genovate Business Operations Manager, Chris Barker pictured on the right.