Faculty of Engineering and Physical Sciences Summer Internship Scheme Celebration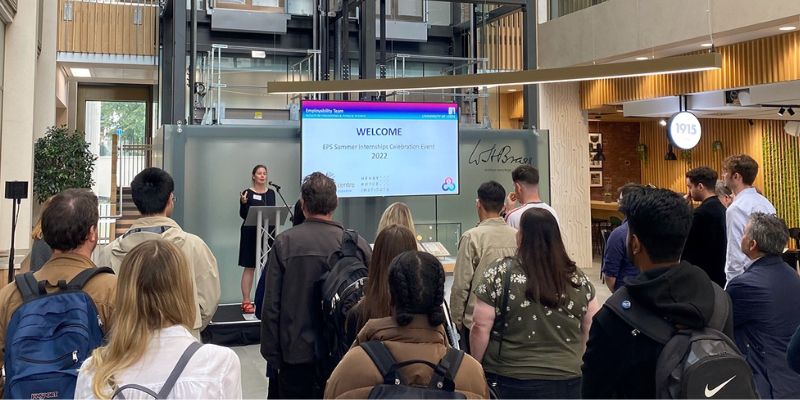 Congratulations to all the students who took part in the Faculty of Engineering and Physical Sciences Summer Internship scheme this year.
The internship scheme has been running for a number of years, having started in the School of Mechanical Engineering, it has now grown to become a cross-Faculty event. This year saw the highest ever number of projects and student interns involved in the scheme.
Projects came from the Schools of Chemical and Process Engineering, Civil Engineering, Electronic and Electrical Engineering, Mechanical Engineering and Physics and Astronomy as well as projects from colleagues working in materials research through the Bragg Centre for Materials Research. The Henry Royce Institute funded 5 projects this summer, another 5 projects have also received support from the EPSRC, and several projects have also received support from the Sheard Scholarship Fund (an alumni fund).
The paid internships are open to undergraduate Level 1, Level 2, and Level 3 (penultimate) year students, and last an average of 8 weeks, with the student working 30 hours per week on campus, alongside their academic supervisor/team. The student interns can either choose their own specialist subject area or choose another from across the faculty. The internships are a brilliant way for students to not only have a job for the summer, but be part of world-leading research, or work on a project supporting student education and student success.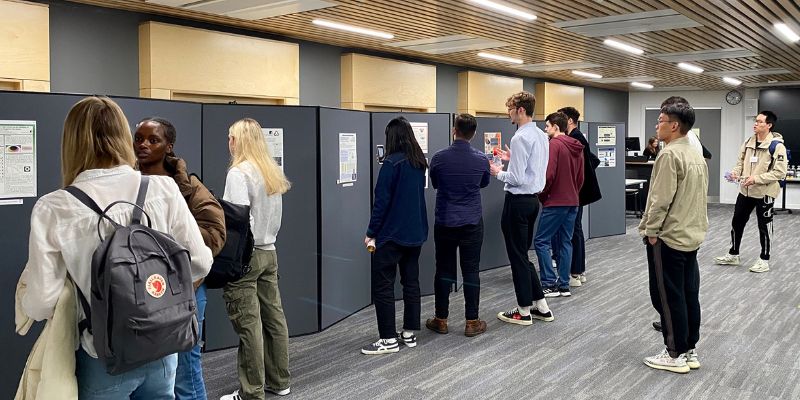 The 2022 internship scheme culminated with a Poster Showcase and celebration event in the Sir William Henry Bragg Building on the 15th of September, hosted, and supported by the Bragg Centre. The event championed the incredible work that student interns completed over the summer and gave others a chance to see posters representing the broad range of fascinating projects.
The evening also included a poster competition, sponsored by the Henry Royce Institute. The judging panel consisted of Professor Ozz Querin, Pro-Dean for Student Education, Dr Andy J Lee, Bragg Centre, Professor Edmund Linfield, Bragg Centre and Jade Rogan, Careers Consultant, EPS (Engineering and Physical Sciences) Employability Team. The 1st prize went to Benjamin Bellavia, 2nd prize to Chaodao Wang and joint 3rd prize to Guanyi Chen and Minnie Strange.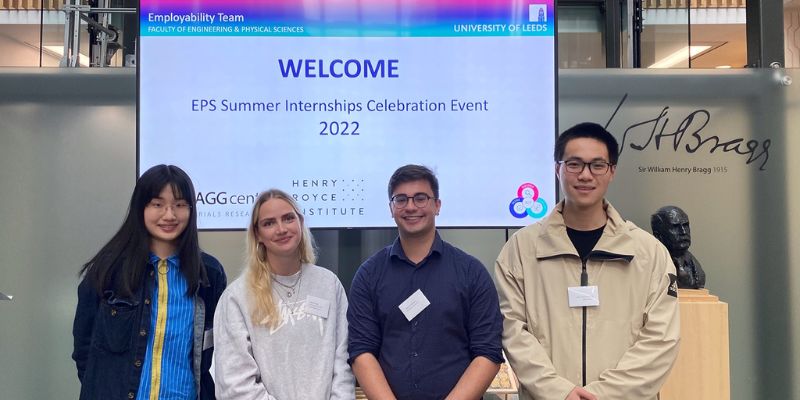 Prize winners left to right: Guanyi Chen, Minnie Strange, Benjamin Bellavia and Chaodao Wang.
Dr Nicole Hondow, Associate Professor and Director of Student Education in the School of Chemical and Process Engineering said, "The EPS Summer Internship Scheme Poster Showcase and celebration was a fantastic event not only for everyone to see the range of projects undertaken, but also for networking between the interns, their supervisors, and the wider Leeds community. The posters produced were of amazing quality and a great experience to hear the interns talking about their projects."
Throughout the duration of the internships, the Faculty of Engineering and Physical Sciences Employability Team supports the cohort, this includes running an introductory session and two employability skill sessions. They also recruit volunteer Seminar Representatives from amongst the interns, this year they were led by Grace Dyke, Ryan Hany and Minnie Strange. The student representatives support the running of the peer-to-peer seminar series, whereby interns present their projects/work to each other and engage in discussion and academic supervisors are invited to join.
Peter Culmer, Associate Professor in the School of Mechanical Engineering said, "The summer internships provide students with a valuable opportunity to develop transferable skills, including managing their own project, communicating their work and multidisciplinary collaboration with staff across campus.
Internship projects provide many students with their first experience of research within a supported environment, with many choosing to pursue PhDs and research careers as a result. Our academic staff supervise projects because they see their value, both to students and as a way of developing new ideas and collaborations across the university."
The scheme provides students with a vibrant cross-campus community, it is a great way to develop commination skills as well as reinforce their academic and research skills gained through their studies in a practical application.
When asked what advice for future students wishing to take part in the scheme, Dr Richard Chittenden, from the School of Mechanical Engineering, commented "Enthusiasm, I think more than anything else. Flexibility, but above all enthusiasm. You want to be enthusiastic about it and do as much as you can, because the more you can do, the more you can benefit from it."
Learn more about Research and Innovation in the Faculty of Engineering and Physical Sciences.