Clean Air Day: How we're fighting air pollution with world-class research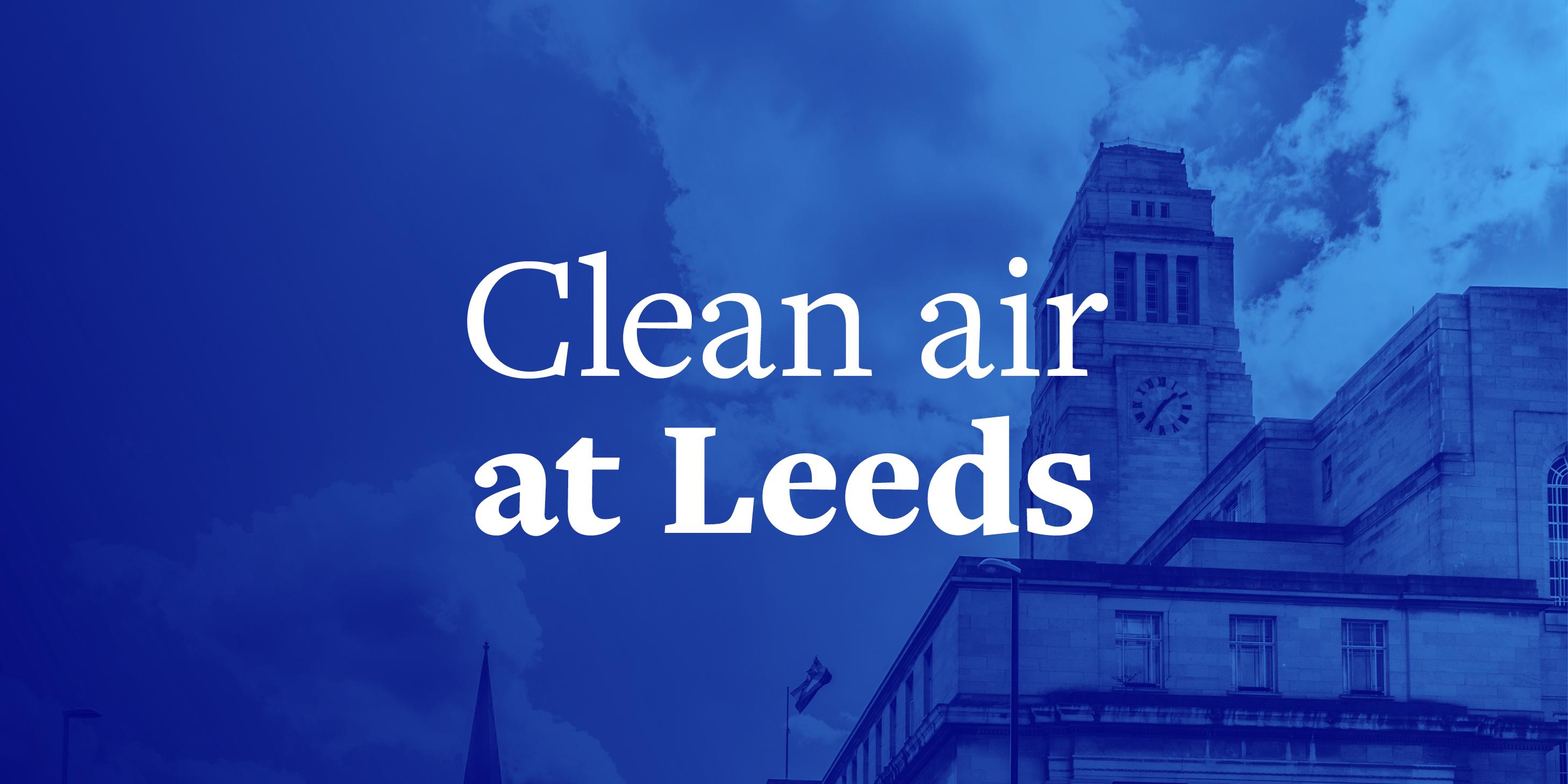 Air pollution is the greatest environmental health risk of our time – and for Clean Air Day, we want to show you how the University of Leeds is committed to improving lives through innovation.
The Faculty of Engineering and Physical Sciences continues to remain at the forefront of groundbreaking research and collaborative initiatives to improve air quality both indoors and out, while also offering bold voices that regularly call for action.
For Clean Air Day 2023 – organised by Action for Clean Air – we're giving you a taste of what we're doing to combat air pollution and fight for a cleaner, brighter future.
Selected clean air research projects
Future Urban Ventilation Network – The Breathing City
Pioneered by the School of Civil Engineering's Professor Cath Noakes – who was made an OBE for services to the COVID-19 response in 2020 – The Future Urban Ventilation Network is a UK Research and Innovation (UKRI) funded network that brings together researchers and practitioners across the UK to develop a "Breathing City" methodology to manage air pollution exposure by considering airflows between indoor and outdoor environments.
Professor Catherine Noakes
It hopes to define a new approach to urban and building ventilation for vulnerable communities, putting health at the heart of architecture and city design. Learn more about this fascinating project at the Breathing City website.
Using cosmic dust from Venus for cleaner air
A team from the School of Chemistry, led by Dr Alexander (Sandy) James, is developing a new generation of catalytic converters – the devices fitted to exhaust pipes to reduce the release of toxic gases – with chemistry inspired by "cosmic dust" found on the surface of extremely hot planets such as Venus.
Dr James' group is studying the effects of an iron silicate powder they created, which replicates this dust, on how it can speed up the conversion of carbon monoxide to carbon dioxide. The team will soon receive prototype-coated exhaust catalysts from collaborator Cats & Pipes, which we soon be tested at the University.
Learn all about the project at The Conversation.
Collective Learning
Dr Evangelos Pournaras, an Associate Professor at the School of Computing, was recently given the highest acclaim in UNESCO International Research Centre on Artificial Intelligence's Global Top 100 for his groundbreaking work on applying AI to smart cities, digitally assisting and coordinating human decisions to turn the tide on long-standing problems that "have unprecedented impact on environment and society".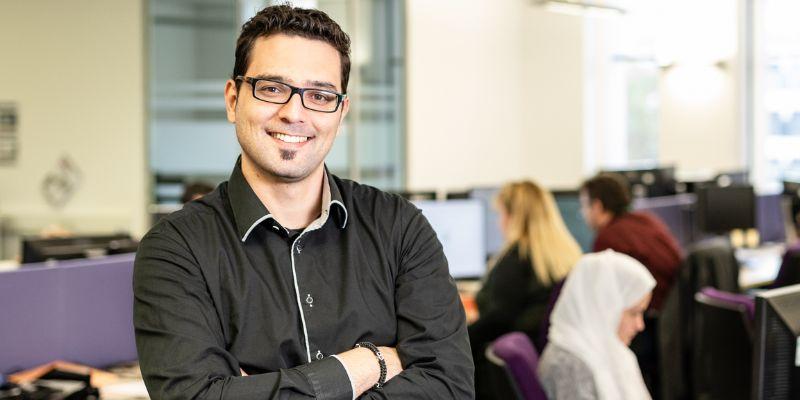 Dr Evangelos Pournaras
Dr Pournaras uses AI to find a solution to power blackouts, traffic jams, and over-crowded parking spaces. Collective learning has the potential to optimise decisions at a granular level, reducing air pollution by keeping unnecessary congestion and vehicle use to a minimum.
Read more about Dr Pournaras' work here at the IRCAI website.
Fuelling cars with food waste
Dr Cynthia Kusin Okoro-Shekwaga of the School of Civil Engineering has been funded by the Biotechnology and Biological Sciences Research Council to produce the next generation of biomethane fuel for vehicles from food waste – and help the UK meet its Net Zero target.
This project, scheduled to run through to 2025, hopes to exploit the potential of anaerobic digestion to produce low-carbon, high-grade biomethane from food waste, which can then be used as vehicle fuel – replacing natural gas, lowering our dependence on fossil fuels, and contributing to cleaner air. Read more about her work here.
SAMHE
SAMHE – Schools' Air Quality Monitoring for Health and Education – brings together scientists, pupils and teachers to deploy a network of air-quality monitors in schools across the UK, giving us an unparalleled dataset with which we can better understand indoor air quality for children – and improve it.
Faculty scientists are working with our friends at the University of Cambridge, Imperial College London, University of York (via the Stockholm Environment Institute's York centre), and University of Surrey, as well as the UK Health Security Agency, to drive towards improvements in health, concentration, attendance and attainment. You can learn more about SAMHE (pronounced "Sammy"!) here.
Taking the conversation indoors
While the effects of air pollution in outdoor spaces have been recognised for decades, the same cannot be said for indoor spaces. However, many of our scientists, including ventilation expert Professor Noakes, have spent the last year focusing numerous studies on improved air quality in working spaces, schools, and public buildings.
"For years, we have recognised that people need to be protected from air pollution outdoors," said Professor Noakes in December. "Now, there is growing evidence that we need to adopt the same rigorous approach to indoor air quality and acknowledge that it plays a significant role in people's health and wellbeing through exposure to pollutants and pathogens.
"The technology exists to help keep people safe. We just need to ensure that it is in place, is working effectively and that people are able to use ventilation properly."
Want to see what else we're doing for Leeds and beyond?
Read our case study, "Clean air at Leeds – research for people and the planet", here, where you can get a wider view of what other faculties and experts are doing to improve the health and wellbeing of the world through their concerted efforts to promote clean air.