Unique collaboration brings together science and ballet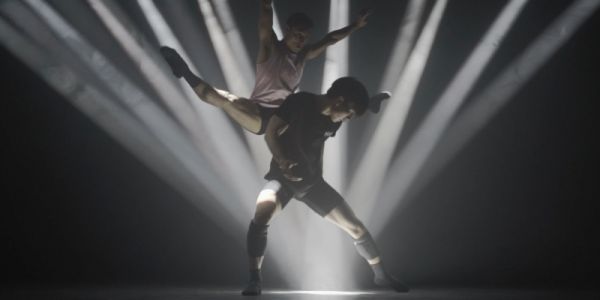 A new partnership between the University of Leeds and the world-renowned Northern Ballet has culminated in an original piece of dance exploring conceptual ideas of pattern and geometry.
ÅNGSTRØM, a three-minute digital dance film, is released today. The piece is the result of a collaboration between Dr Briony Thomas from the University of Leeds' School of Mechanical Engineering and School of Design, and Kenneth Tindall, Artistic Director of Digital and Choreographer in Residence at Northern Ballet.
ÅNGSTRØM investigates the parallels which can be found between crystallography (the study of crystal structure), geometry in design, and choreography. The aim of the final film is to show how both science and the body — through dance — create patterns and geometry.
The University of Leeds pioneered the cross-disciplinary exploration of pattern and structure in the twentieth century. In the 1930s, physicists in the Department of Textiles used X-ray diffraction to study textile fibres and realised the potential impact of crystallographic theory on design.
Patterns are an elegant connection between art and science.
The choreography is informed by diffraction patterns and lattice structures of x-ray crystallography. The film captures moments where a crystal scatters a beam of x-rays and expresses changing states of matter within an atomic world.
Dr Thomas said: "Patterns are an elegant connection between art and science. Repeating patterns in textiles are based on the same ideas of symmetry and groups that developed through the study of crystal structures.
"It was this connection between the artistic expression of pattern and the science behind it that inspired us to create ÅNGSTRØM. Visual references to diffraction patterns, lattices, and the changing states of matter, are interwoven throughout the piece."
ÅNGSTRØM also aims to highlight the connections between science and the arts, which — in an educational setting — are often artificially separated and portrayed as opposites.
ÅNGSTRØM is the result of a connection made through the University of Leeds' Cultural Institute's Creative Labs. This pilot work was funded by Northern Ballet and the University's Interdisciplinary R&I Fund for Culture. Future plans to develop the partnership further include community involvement to develop greater understanding of the parallels between the disciplines and advance opportunities for learning and access.
Commenting on this Kenneth Tindall said: "As we move towards Leeds 2023 and its year of culture Northern Ballet aims to seek out new and exciting collaborations to engage and strengthen its relationships within the city and worldwide.
"We hope this collaboration with the University of Leeds and Dr Briony Thomas is the start of a long and fruitful investigation of the possibilities between science and art."
Further information
The full three-minute performance of ÅNGSTRØM can be viewed here: https://youtu.be/o0RzsGSidM4
Image: Kevin Poeung and Riku Ito in ÅNGSTRØM. Photo credit: Emily Nuttall
For more information contact James Ducker, University of Leeds press office, pressoffice@leeds.ac.uk
For more details of Northern Ballet's tour, on sale dates and booking information, please visit northernballet.com/whats-on