'Running out of time to protect our oceans' – UN chief
Scientists are sharing groundbreaking research with leaders in the Asia-Pacific region in an effort to stem the flow of plastic pollution into the environment.
In a novel eLearning programme launched on World Oceans Day today, officials and leaders in municipal, city and state governments will have the opportunity to learn from scientists who have developed the latest techniques to track and monitor plastic in the waste system, to identify where it "leaks" into the environment. Often, plastic waste becomes a pollution problem because it is not collected or disposed of properly.
Scientists from the University of Leeds and Plymouth Marine Laboratory are part of the international collaboration contributing to the eLearning programme called Cities and Marine Plastic Pollution: Building A Circular Economy.
The initiative is being led by the United Nation's Economic and Social Commission for Asia and Pacific (ESCAP) and is funded by the Japanese government.
Reducing plastic pollution is one of the UN Sustainable Development Goals.
Dr Stefanos Fotiou, Director of Environment and Development at ESCAP, said: "The south east Asian region is in the spotlight when it comes to marine litter prevention. There are solutions, but we are running out of time and must work together if we are to protect our oceans and meet the ambitions of the 2030 Agenda for Sustainable Development.   
"We see that local governments have the passion and drive to rise to this challenge. ESCAP's goal with this knowledge-building is to train on the best available technologies and practices so that science-based strategies can be implemented, and the region can achieve plastic-free waterways before it's too late."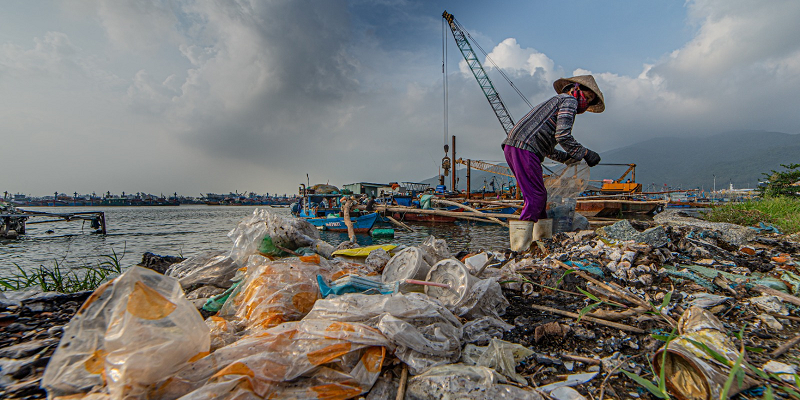 An informal waste worker surrounded by plastic. Picture courtesy of Closing the Loop
Rapid urban development in Asia Pacific is straining the capacities of waste management systems to cope with the amount of plastic now being generated in the region's cities.
Uncollected waste often is openly burned, releasing harmful emissions, or ends up in the environment where some of it enters watercourses and is eventually washed into the marine ecosystem. It is estimated that about 11 million tonnes of plastic pollution enter the world's seas each year.
The eLearning course is free, and participants can work through the material at their own pace. It is expected to take about 12 hours to complete and participants are awarded a certificate.
Among the eLearning course's innovative features are:  
a plastic pollution calculator that processes data and provides plastic leakage "hotspots";
a virtual map of ocean-bound plastics using artificial intelligence;
practical steps to intervene to reduce plastic pollution.
The plastic pollution calculator   
Scientists at the University of Leeds in partnership with the International Solid Waste Association (ISWA), under the auspices of the ISWA Task Force on Marine Litter, have developed a plastics pollution calculator, a modelling tool that tracks plastic waste through the economy enabling government officials not only to quantify the level of plastic waste being generated at a local level such as a city or municipality, but to identify where that waste turns into pollution.  
Armed with that insight, officials can take action to reduce the problem.  
Dr Costas Velis, an expert in environmental engineering and the circular economy based in the School of Civil Engineering, who led the development of the plastic pollution calculator, said: "Before you can begin to tackle plastic pollution you have to understand its scale and dynamics. Once you have that picture, you can then begin to put in place systems for tackling the problems, and the ISWA plastic pollution calculator also enables governments to monitor the progress they are making. They can set goals and measure progress towards them.
"That way, we can move to substantial reductions in plastics ending up in our land, freshwaters and seas." 
The UN has made a short animation describing the pollution calculator.  
Last year, Dr Velis and colleagues were part of an international study that for the first time quantified the level of plastic pollution that the world was producing.
It revealed that – unless the world acted – from 2016 to 2040, 1.4 billion tonnes of plastic would be discarded into the environment, with a lot of it ending up in the marine ecosystem. Recently, the research team published research that said that 2 billion people in low-to-middle income countries self-manage the build-up of plastic waste through open burning.
Monitoring plastic in rivers  
Several rivers in Southeast Asia are heavily polluted with discarded plastics. New research has shown that the majority of the litter gets tangled up in an invasive floating freshwater plant species called water hyacinth (Eichhornia crassipes), which has spread across the subtropics.
Scientists from Plymouth Marine Laboratory (PML) and the University of Wageningen (WUR) in the Netherlands, have developed techniques for combining in-situ data, drone imagery and satellite images as a way of monitoring these "plastic plants".
They didn't stop there. In collaboration with Plastic Fischer and NOAA, these scientists are trialling a new method to remove the invasive plants and plastic litter before they enter ocean waters. The recovered plants can be used as compost, animal feed, and bio-fuel, or even to create products such as baskets and shoes.
Dr Lauren Biermann, Earth Observation Scientist at Plymouth Marine Laboratory, co-author on the water hyacinths study and winner of the Science category in the Ocean Awards 2021 for her development of satellite detection of marine plastics, commented: "This has been a fantastic opportunity to combine skills and resources, and apply our research to real-world monitoring and clean-up efforts.
"By using our expertise in Earth observation, we hope to add an incredible resource to the toolbox being used to try tackle the challenge of marine plastics in a cost-effective and scalable way, supporting both local communities and global efforts. But it doesn't mean anything unless we share these techniques and approaches, so that anyone – anywhere! – can be empowered to try do the same thing."
Further information
Images courtesy of Closing the Loop.
Take a look at the UN eLearning programme, Cities and Marine Plastic Pollution: Building A Circular Economy.
The entire course, which an individual can do at their own pace, will take about ten to 12 hours to complete. Upon completion of course, recipients receive a Certificate from UN ESCAP. The techniques and methods described in the eLearning programme were developed as part of UN ESCAP's Closing the Loop project which is working with countries in the Asia Pacific region to reduce plastic pollution.