Council housing project claims top regional green award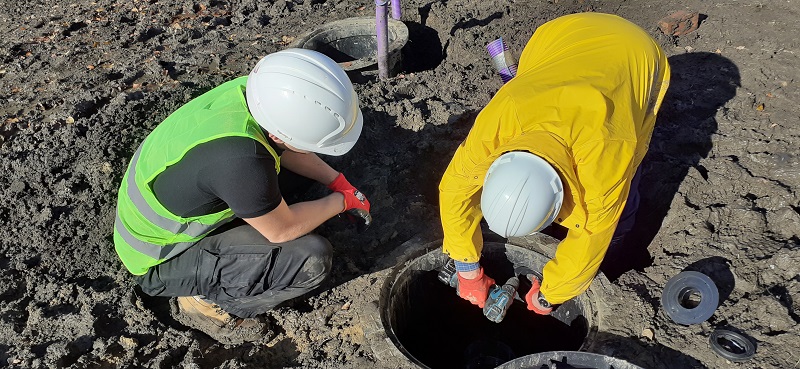 Work undertaken by researchers in the School of Civil Engineering has contributed to an innovative green housing scheme project led by Leeds City Council (LCC) which has scooped a top regional award.
Following the introduction of the authority's first Ground Source Heat Pump (GSHP) project, which used green energy to transform heating and hot water systems for tenants living in 120 flats in two high rise blocks in West Leeds, the project claimed the 'best carbon reduction scheme/innovation' prize in the Northern Housing Awards 2021.
The Leeds team, which included Professor Simon Rees, Dr Fleur Loveridge and PhD student Josh Turner from the Cities, Infrastructure and Energy research group, are investigating the efficiency of the ground-source heat pumps used in the project and how effectively they are exchanging heat with the ground.
The team also worked with Leeds Beckett University, who are investigating the benefits to the residents in terms of thermal comfort and reduced energy costs.
As well as collaborating on this project with LCC, the University of Leeds team is contributing this and other heat pump system monitoring data to the work of an International Energy Agency (IEA) project on long-term performance of ground source heat pumps. It is hoped that the lessons learned from the project will promote large-scale deployment of this approach to decarbonisation of heating.
Using a heat exchange loop to tap into heat from the earth, GSHP technology provides three to four times more energy than it consumes and in doing so has improved the energy performance at the properties. Not only does the use of GSHP increase the levels of warmth for tenants, it also can help significantly reduce energy bills, and in doing so, also play its part in helping to reduce fuel poverty for those residents on low incomes.
Such has been the success of the project, Leeds City Council has subsequently earmarked other high rise blocks in Leeds to benefit from GSHP technology as part of a wider £100m investment plan, with the aim to help tenants save money and cut carbon by improving energy efficiency over the next five years.
Further information
Top image credit: School of Civil Engineering