Toyota Boshoku Internships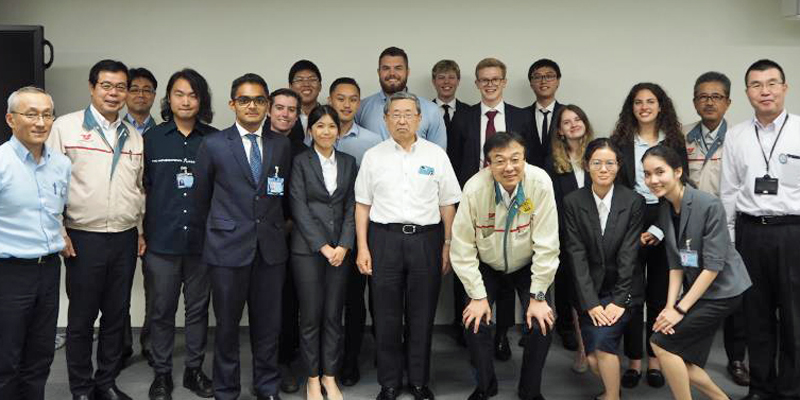 Engineering students, welcomed by distinguished alumnus Dr Shuhei Toyoda, spent their summer working alongside employees at the Toyota Boshoku Corporation in Japan.
The three month placement provided an unrivalled experience of how this globally renowned company turns ideas into technology to be rolled out on the production line.
Each year the corporation invites talented students to gain hands-on experience whilst being immersed in Japanese culture. The scheme stems from Dr Shuhei Toyoda who gained his PhD from Leeds in 1977 and is now chairman of Toyota Boshoku, the leading supplier of interior parts and fittings to the automobile giant Toyota. Each student works with a project supervisor, using their research and technical engineering skills to address a current manufacturing challenge, whilst also experiencing wider Japanese lifestyle. Students participating in 2019 included those from the School of Chemical Engineering (working on benchmarking air filters for vehicle engines) and School Mechanical Engineering (investigating material properties and enhancing quality assurance processes).
We wanted to take this opportunity to convey our gratitude for sending us such exceptional students from the University of Leeds.

At the end of the internship period they conducted a final presentation and impressed their colleagues and top executives, including our Chairman Dr Shuhei Toyoda, with their performance and innovative ideas.
Students from the Faculty of Engineering have the opportunity to apply to the Toyota Boshoku internship scheme, which takes place each summer and includes travel costs and a living allowance. In 2019, Leeds students were amongst a cohort of 14 interns recruited from European, American and Asian universities. For further information about this and other internships please contact our Employability Team.