ISCF Challenge: Robotics and AI systems in Extreme Environments - Online Webinar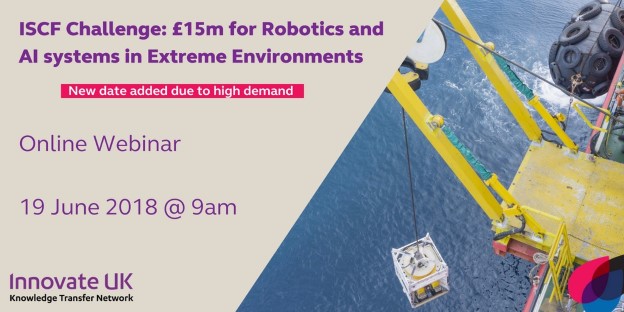 Date: Tuesday 19 June 2018, 09:00 – 11:00
Location: Computing
Type: Seminars, Computing, Seminars, Robotics
Cost: Free
This webinar offers the opportunity to ask questions about the Industrial Strategy Challenge Fund (ISCF) competition: Robotics and Artificial Intelligence Systems for Extreme Environments.
As part of the multi-billion pound Industrial Strategy Challenge Fund, the government will invest in a robotics and AI in extreme environments Super Challenge with the aim of taking humans out of dangerous, harsh or extreme environments. KTN is inviting businesses to join an online webinar find out more about the £15m Innovate UK competition which includes a 5-day residential workshop to develop collaborative proposals for R&D projects.
The goal is to create robotics and artificial intelligence (RAI) technologies and systems that make unmanned operation the standard approach in areas such as off-shore energy, nuclear energy, mining and space.
Further information
The competition scope and details of how to apply can be found on the Innovate UK website.