Strength through Geometry - Reimagining Shell Structures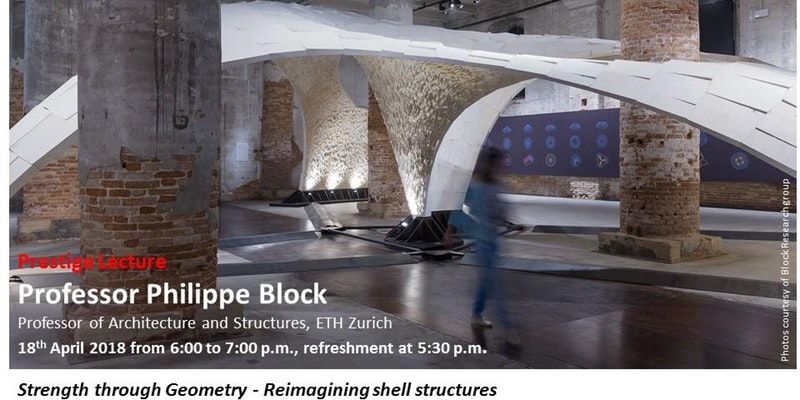 Date: Wednesday 18 April 2018, 17:30 – 19:00
Location: Engineering Building
Cost: Free
The School of Civil Engineering and Robotics at Leeds are jointly organizing this seminar by one of the world leaders in the field of digital design and fabrication, Professor Philippe Block.
Dr Philippe Block, Professor at the Institute of Technology in Architecture at ETH Zurich, is one of the world-leading researchers in the field of digital design and fabrication. Professor Block studied architecture and structural engineering at the VUB in Belgium and at MIT in USA. The Block Research Group focuses on equilibrium design methods and computational form finding and fabrication of curved surface structures.
Professor Block is the director of the Swiss National Centre of Competence in Research (NCCR) Digital Fabrication and partner of Ochsendorf DeJong & Block (ODB Engineering) and has just been recipient of the Kunstpreis Berlin (Berlin Art Prize) in the Architecture Category.
The lecture, entitled 'Strength through Geometry - Reimagining Shell Structures,' will open the new seminar series Between Architecture and Science. Professor Block will draw from a revival of forgotten principles combined with the latest advances in the design, engineering, fabrication and construction of doubly-curved shell structures. This will reveal the foundations upon which the award-winning "Beyond Bending" exhibition at the Venice Architecture Biennale in 2016 and the thin, flexibly formed concrete shell of the NEST HiLo project were based.

There will be an introduction by Dr Ornella Iuorio, Lecturer in Architecture in the School of Civiil Engineering. This lecture is sponsored by the Energy and Sustainable Building Research Theme and Robotics at Leeds.