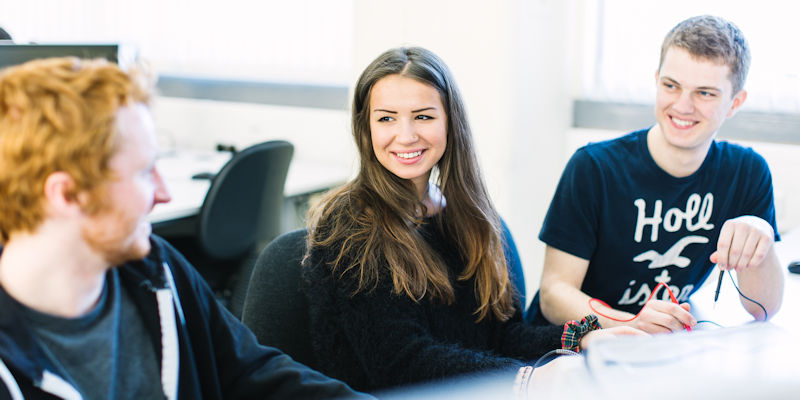 An Integrated Masters (MEng, BEng) is a four-year degree that extends your studies to Masters level. It's the highest award for undergraduate studies in engineering in the UK.
Benefits of an Integrated Masters
Chartered Engineer (CEng) status - the majority of our UK students undertake a MEng, BEng course as it's the most direct way of meeting the educational requirements for subsequent registration as a Chartered Engineer.
Greater breadth and depth of study - you'll have the opportunity to be involved on a wider range of project work, including exciting individual and team-based projects, typically with industrial involvement.
Enhanced employability - you'll develop practical transferable skills such: as team-working; decision-making; delegating; identifying and solving problems; and communications skills.
Higher salaries - Integrated Masters graduates typically command higher salaries than those who leave with a BEng degree.
Advice for International students
If you want to apply for an integrated 4 year Masters (MEng) programme then please note that any decision to leave early and graduate with a BEng will have visa implications as you will be considered an 'early completer' by the UKVI. We usually recommend that students initially apply for a 3 year BEng programme with us, so that you can make a decision about whether to stay on for a Masters level programme when you have had some time on the course. You can apply to extend your visa to either an integrated Masters (MEng) or separate Masters (MSc) from within the UK. Please contact the Admissions team for further information.
Frequently asked questions
What happens if I decide during my studies that I no longer wish to undertake the fourth year of the BEng, MEng course?
If you decide during your degree that you no longer wish to undertake the fourth MEng year, that isn't a problem. You have until the middle of the third year to decide whether you wish to graduate after three years with a BEng honours degree.
Is it possible to apply directly for a three-year BEng course?
If you're sure from the start that you only want to study for three years, for example if you're an international student, you can apply directly for a BEng degree course. The BEng degree course is identical to the first three years of the MEng, BEng course.
Does the BEng have lower entry requirements than the MEng?
No, the MEng, BEng and BEng courses have the same entry requirements.
Can I become a Chartered Engineer if I graduate with a BEng?
Engineers with a BEng degree can apply to become an Incorporated Engineer (IEng) once they've had appropriate training and experience in the workplace. BEng graduates who wish to achieve Chartered Engineer status will need to undertake further learning such as a Masters degree.