Roman Poraziński
Course: Mechatronics and Robotics MEng, BEng
Year of graduation: Current
Roman Poraziński is a current undergraduate student studying Mechatronics and Robotics MEng, BEng at the University of Leeds.
Studying at Leeds
From an early stage, Roman has always been fascinated by mechanisms, in both simple and complex ways, starting with toys and all the way to solutions used in the automotive industry. He said that "As the idea behind becoming an engineer is to innovate what has been already invented, I developed an interest in electronic controls of the mechanical actuation mechanisms, hence the choice was simple for me as Mechatronics and Robotics combine the two fields together."
To pursue his dreams, he started looking at different universities across the country and chose Leeds for its' outstanding ranking position in Mechanical and Electrical and Electronic Engineering. The Mechatronics and Robotics course provides him with a broad view on general engineering and the skills to carry out projects bottom up from mechanical designs to final software controlled robots.
He added,
We worked on in depth circuit analysis with signal manipulation and this opened a new way of thinking for me in the field of circuitry purposes and possibilities behind simple components such as inductors or capacitors.
Project work
Roman really enjoyed working on projects, as it provided him with opportunities to test his skills in different components of the course. For example, the school organises a buggy competitions where students have the opportunity to work on the remote electronic control with data acquisition, as well as working on the chassis of the buggy and power source design.
Leeds Gryphon Racing
Roman is currently the Drivetrain Team leader in which he works on the engineering side of building the Leeds Gryphon Racing car but also manages the team. He finds this an amazing experience to design components using the skills he's learned, but it also provided the team with a broader overview of the field they study.
The future
Studying at Leeds has helped Roman improve his time management and team working skills.
Managing studies alongside societies is a vital challenge to grow not only in the academics but also as a person.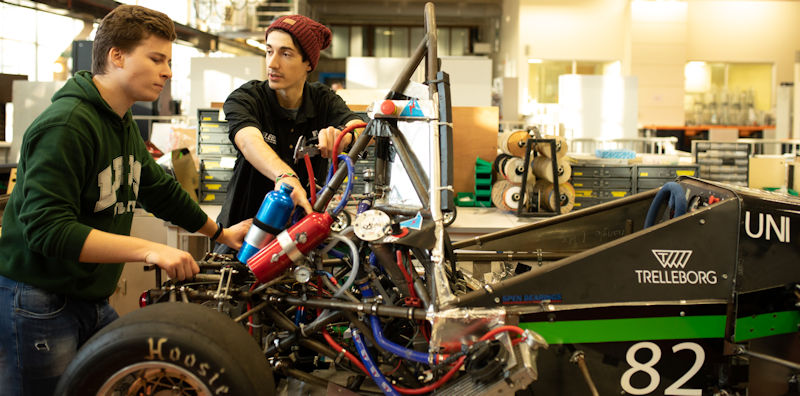 He added, "Managing studies alongside societies is a vital challenge to grow not only in the academics but also as a person. I would like to continue my study path and focus on electronic control /self-adjusting systems based on data acquisition ideally the automotive industry. Entering a WRC team would be a dream come true for me."
Find out more
Discover more about our Undergraduate degree courses in the School of Electronic and Electrical Engineering.