Pioneering safer, cheaper and quicker clinical trials with AI 'digital twins'
Next generation clinical trials using "digital twins" of anonymised real-life patients are a step closer after a leading Leeds scientist was awarded a €2.5m grant to further his pioneering research.
Professor Alejandro Frangi, Diamond Jubilee Chair in Computational Medicine and Royal Academy of Engineering Chair in Emerging Technologies at the University of Leeds's Schools of Computing and Medicine, has won a European Research Council Advanced Grant for his project, INSILICO. It is working on pioneering research on new ways of testing medical technologies using "virtual patients" or "digital twins" built with advanced computational modelling and simulation of human physiology using anonymised real-world patients.

"In-silico", meaning "on a computer", contrasts with traditional "in vitro" (in a tube) or "in vivo" (in life) medical trials. Hence, INSILICO sees researchers use data to create "digital twins" of patients to test new medical devices in a computer simulation, providing evidence on safety and performance which is currently only available through risky, expensive, and time-consuming human trials.
Developers used to test cars in wind tunnels but now use aerodynamic numerical simulations.
Professor Frangi said: "In silico testing is picking up in medical products but not completely new in other sectors. Developers used to test cars in wind tunnels but now use aerodynamic numerical simulations. However, computational modelling and simulation use in medical product development is less consolidated – we still rely on building and testing a device. This process is very slow, expensive, and potentially leaves unaddressed risks due to the selection biases intrinsic to the population participating in clinical trials."
Every new medical device must undergo extensive testing. Currently, that involves lab-based bench experiments, animal studies and clinical trials – expensive, putting humans at risk, and impacting animal welfare. This traditional approach has other limitations and one investigation revealed that from 2008-2018, several regulatorily-cleared medical devices led to 83,000 deaths and 1.7 million seriously injured patients in the USA alone.
On top of this, in traditional real-world clinical trials it can be difficult to get a diverse range of participants. Being able to extensively test devices on "virtual patients", in realistic conditions, and on more diverse populations could help identify failure modes earlier, faster, and cheaper. It could also help find treatments for rare or childhood diseases, where there are practical or ethical problems with human trials.
Scientists in the USA and Europe are increasingly advocating this new approach. According to Professor Frangi, it could become mainstream and fully used by regulators in as little as just five years.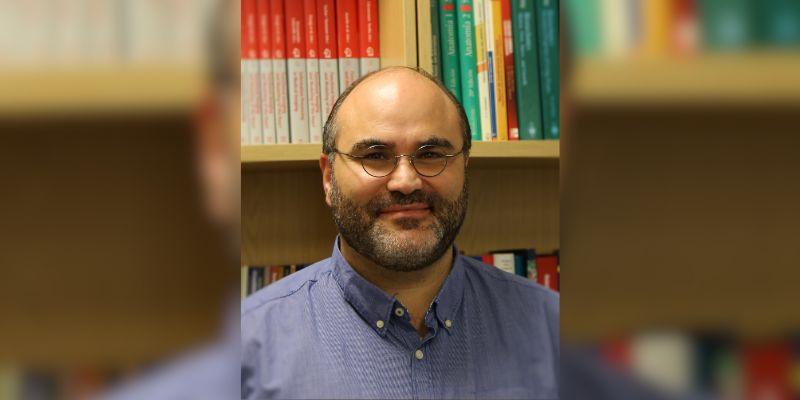 Professor Alejandro Frangi.
"This project provides a new approach to medical device innovation and regulation that will disrupt a stagnant status quo," Professor Frangi added.
"Every time a device fails, a recall needs to happen, which has huge implications across the board. People get harmed, the trust in industry and regulators is damaged; the shareholder value drops, resulting in even more stringent regulations. The increase in regulation makes patient access to other potentially lifesaving innovations slower and more expensive."
Professor Frangi and his team will deliver a real-world demonstrator working with data from a prosthetic heart valve device. The initial clinical trial was designed based on gold standard methods in the sector, i.e., a randomised controlled trial design. The process, however, took nine years and cost several tens of millions of pounds.
INSILICO will re-enact the original trial virtually using machine learning to build virtual patients. They will replicate the design of the prosthetic heart valve on a computer and then test it on the digital patient twins. The team aims to replicate the original trial results, reproduce the device's limitations, and thus establish whether an in-silico trial could have predicted the outcomes of a randomised control trial and provided valuable insights into improving the design.
Safer, cheaper, faster and even greener
"The ultimate aim of this project is to anticipate virtually when a device is unlikely to work. Doing the testing at the beginning of the process will reduce the research and development phase from years to months and significantly reduce risks and welfare issues.
"The need for human confirmatory trials is unlikely to change soon. However, by the time we go to patients, we could have greater certainty of success, have identified as many failure modes as possible, and optimise the designs more thoroughly than today. That has massive implications – it's safer, faster, cheaper, even greener as less physical testing is involved," Professor Frangi added.
The Advanced Grant titled INSILICO: Hybrid Machine Learning for Virtual Chimaeras and In-Silico Trials: Cardiovascular Device Innovation & Regulatory Science has been awarded €2.5m from the European Research Council.
Further information
• Email media officer Victoria Prest on v.prest@leeds.ac.uk with media enquiries
• The European Research Council grant follows earlier research led by Professor Frangi and reported in the journal Nature Communications in June 2021.