Subject pathways within the Natural Sciences degree (2024/25)
Biochemistry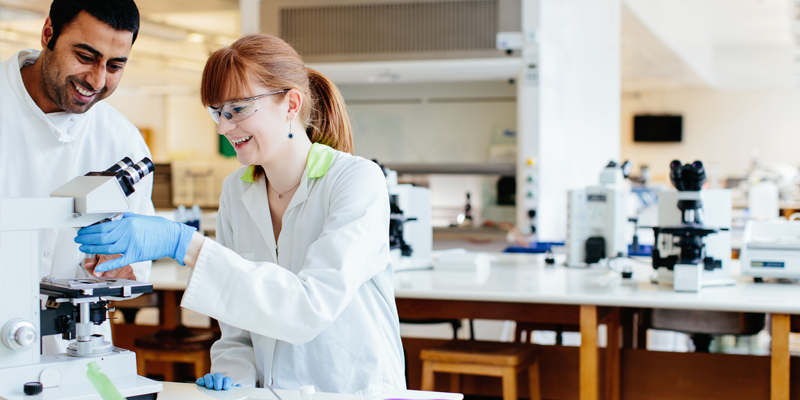 If you choose biochemistry in your first year, you'll take the 'Molecules of Life' 10-credit module, which covers core biological processes and provides an understanding of how simple inorganic elements are organised into large macromolecular structures and polymers (nucleic acids, proteins, polysaccharides and lipids) that are crucial for life. You'll also take the 'Introduction to Biochemistry' module (20 credits) which will cover areas of both organic and inorganic chemistry that are of direct relevance to the understanding of biological processes.
In year 2, you'll study 20 credits of core biochemistry which incorporates major subject areas that underpin modern biochemistry such as protein structure and function and gene regulation. You'll also take a 20-credit biochemistry integrated practical and lecture module, in which you'll develop more specialised practical laboratory skills and attend lectures focusing on the more advanced aspects of core biochemistry. You'll be given the opportunity to learn about how biochemistry underpins and influences wider aspects of molecular and cellular biology by selecting from a range of 10-credit modules covering subject areas such as immunology, chemotherapy, and infectious and non-infectious human diseases.
As you progress through year 3 of biochemistry, you'll take two 20-credit modules on 'Molecular Cell Biology' and 'Structural Biology'. These more advanced modules are given by leaders in their research field. They often describe recent discoveries yet to appear in textbooks and will provide a more in depth understanding of how biochemistry and its application underpin many aspects of fundamental molecular cell biology such as structural biology, microbiology, virology, cancer, synthetic biology and biotechnology. You'll have the opportunity to undertake a 20-credit literature review, providing the opportunity to explore cutting edge areas of biochemistry research in more depth.
If you choose the integrated Masters programme, year 4 will give you the opportunity to take a 60-credit laboratory-based project within an academic research group. During this time, you'll have the chance to apply the practical skills you have learnt over the previous three years to a novel project in an academic research laboratory. You can also select from a range of 15-credit Masters-level modules, which are offered across a number of different interdisciplinary subject areas and are taught by specialists in the field.