Adele Parry
Course: Physics PhD
PhD title: Novel liquid crystal droplets for detecting toxins
Using liquid crystals to investigate diagnostics in healthcare
Adele Parry is a postgraduate researcher carrying out her PhD in the School of Physics and Astronomy. She explained how her research is teaching her new skills, which allows her to contribute to innovations in medical physics. She said:
"Being able to correctly diagnose diseases is an incredibly important aspect of healthcare, and having a cheap, reliable method of doing so is invaluable. I hope that my research will help develop a device to be used in cheap, reliable diagnostics, which provides a platform for other researchers to follow on from our work.
"My research involves testing novel liquid crystal droplets to detect toxins. Practically, my research so far involves me often being in the lab creating radial liquid crystal droplets using microfluidics. I subsequently add these to hydrogels and image them. In the future it will also involve testing these droplet or gel composites with different bacteria to observe their detection capabilities."
She continued:
"I'm confident that I will develop skills that will aid me in whatever I choose to do, post-PhD. The ability to think critically about my research and solve problems that arise are incredibly important and can be applied to a variety of other roles I may fulfil."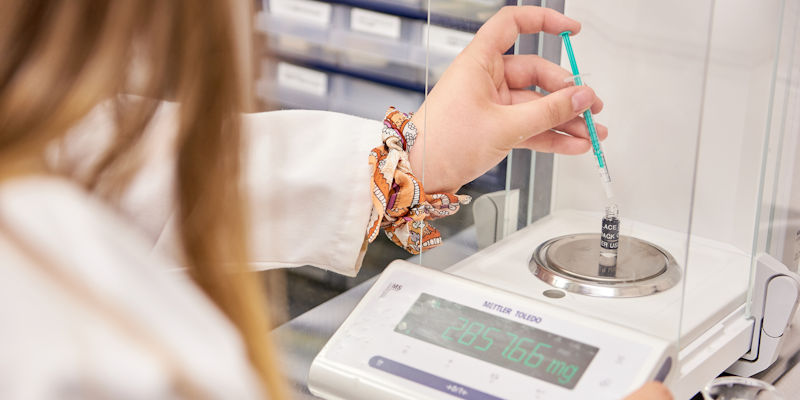 Interdisciplinary learning
Adele is part of the Droplets Research Group at the University, which gives her to chance to develop new perspectives and share her discoveries with researchers from different disciplines. She said:
"Being a part of the Droplets Research Group supports my learning by providing perspectives of scientists from different disciplines: there are researchers from physics, chemistry and medicine.
"The collaborative environment allows us all to share our ideas and provide insight into each other's work. We often find that others in the group may have ideas or suggestions that we had not previously considered, this allows for a much wider insight into our area of research."
After completing her MPhys at Leeds Adele felt confident to pursure PhD study due to the support and encouragement of her peers and the and exciting research she had pursued at Leeds. She said:
"I completed my MPhys degree at Leeds and so already knew the quality of research produced by the University of Leeds, and so the choice to apply for a PhD here was obvious to me.
"When I saw the project title 'Novel liquid crystal droplets for detecting toxins' I thought it was a perfect combination of medical physics research and liquid crystals, as my masters research had been in.."
She added:
"I knew one of my supervisors, Professor Helen Gleeson from my undergraduate degree and thought she would be a fantastic academic to work with."
Expert supervision
The collaborative and inclusive environment among Leeds' community of researchers has allowed Adele to pursue her studies enthusiastically and with a broad level of expertise. She said:
"Both my supervisors, Professors Helen Gleeson Steve Evans are very supportive and help guide me as a new PhD student. Helen is the head of school and is based in the Soft Matter Physics department, focussing primarily on liquid crystals and Steve is the head of Molecular and Nanoscale Physics department. His research focuses on lipid membranes and microbubbles as well as other areas.
She continued:
"Our research interests fit together well as both academics can provide insight on different parts of the project. Given that I have a strong interest in medical physics, both supervisors help me immensely in understanding the depths of my project."
Making a difference in the real world
PhDs offer our researchers the chance to tackle real problems and contribute to important knowledge within their area of expertise. Adele talked about why she wanted to pursue a research degree at Leeds. She said:
"Although it may sound cliché, I wanted to pursue research in an area that I feel has a benefit to the world in some way. I believe that medical physics research ticks this box for me. My research area is specifically in using liquid crystals for diagnostics. I feel incredibly invested in this area of research, and I hope that I may be able to make an impact on the world of medicine, no matter how small."
She added:
"Being at the forefront of physics research is something I have taken an interest in since the early days of my undergraduate degree, and when it came to choose whether to pursue research or find a grad job, the answer was obvious."