Leeds Data Science Society wins the Hiscox university data challenge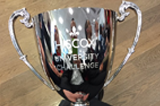 Leeds Data Science Society, led by LIDA PhD Student Lawrence Ning Lu and formed by a team of multidisciplinary students from The University of Leeds, won the Hiscox University Data Challenge!
Three teams from LSE, York and Leeds universities competed against each other at the 'Hiscox University Data Challenge', a nationwide analytical competition set up to explore how data can be used to solve real world problems that affect the insurance industry.
The first challenge of the competition was modelling the causes of railroad accidents in America, identifying factors that may increase liability, and deriving suggestions to reduce incidence rate.
The second challenge was to identify the factors behind the success of start-up companies. Students had to consider factors like business clusters (e.g. Silicon Valley and Hollywood) or the age of the CEO starting up a business.
Congratulations to our bright students, Lawrence Ning Lu (Captain), Zeyu He (Maths), Lukas Cironis (Maths), Lili Xiang (Geography), Ruzive Mazhandu (Data Science), Erin Knochenhauer (LUBS), Karen Husel (LUBS), Sheng Yi Lai (LUBS), Bingqin Lin (LUBS) and Hsiang-Hao Chen (LUBS)!
We are looking forward to your future achievements!