Flying start for university spin-off transforming sustainability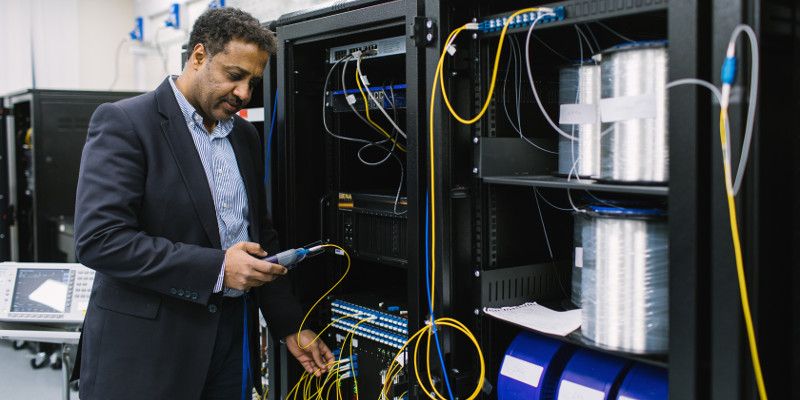 Ultracell Networks, a University of Leeds spin-off company founded by Professor Jaafar Elmirghani of the School of Electronic and Electrical Engineering, has secured over £1.6m in seed funding.
Based in Nexus Leeds, Ultracell Networks focuses on transforming the Internet to improve its energy efficiency and sustainability. Its energy efficient communication technologies are protected through four patents granted in the US, EU, China and Japan.
The technologies were developed through Professor Elmirghani's £5.9m EPSRC INTelligent Energy awaRe NETworks (INTERNET) Programme Grant, and continued through his £6.6m EPSRC Terabit Optical Wireless Systems (TOWS) Programme Grant.
Rising carbon footprint
Information and Communication Technologies (ICT) have a carbon footprint comparable to that of the global aviation industry, and are responsible for 2% of the global emissions. Unlike global aviation, which has almost flat growth, traffic in communication networks continues to grow at 30% to 40% per year, with potential to increase by factors of 30 in 10 years and 1,000 in 20 years. Such an increase would lead to power consumption and emission levels that are not sustainable.
Server-to-server communication in large data centres (clouds) and small data centres at the edge of communication networks (fog) currently accounts for over 70% of the global Internet Protocol (IP) traffic. Their data rates have increased by 100% in the past decade and could increase by as much as 400% in the next decade. Optical interconnection technologies are the only reliable method of supporting this increase.
Green innovation
Ultracell Networks was recently awarded £700,000 from the UK Department for Business, Energy and Industrial Strategy (BEIS) under the £30m eighth Energy Entrepreneurs Fund (EEF8), part of the UK Government £116m investment in green innovation.
The Energy-efficient Cellular Optical Interconnects for Clouds and Edge-processing (ECOICE) project will transform edge processing and data centre networking focusing on energy efficiency. ECOICE proposes low power optical interconnection networks to link servers, resulting in 80% power-saving in the networking inside clouds and fog, compared to state of the art electronic Spine-and-Leaf server interconnection. Adopted globally, the reduction in emissions is equivalent to the elimination of home emissions in a country the size of Greece or Belgium.
Future communication networks
The UK Department for Digital, Culture, Media and Sport (DCMS) awarded Ultracell Networks and University of Leeds £492,000 through the £36m Future RAN: Diversifying the 5G Supply Chain competition (FRANC). The Energy-efficient Cloudlets for ORAN (ECORAN) project, which is the heart of 5G and future 6G communication networks focusing on energy efficiency, will transform the open radio access network (ORAN).
ECORAN aims to reduce the power consumption of the commodity hardware by introducing novel ways of interconnecting and managing servers, accelerators, storage and interfaces in small processing cells (cloudlets). It focuses on a use case where processing capabilities are steered in an energy efficient manner to where they are needed in space and time.
The proposed new approach will enable a wide range of applications and will reduce the total cost of ownership significantly. For example, demand peaks may be witnessed in stadiums, in shopping centres and in city centres for short durations during a match, during the lunch hours or during an event. Processing on demand enables the correct amount of processing to be orchestrated and provisioned on demand at the correct location at low power consumption and low latency using ORAN.
Julia Lopez, Digital Infrastructure Minister said:
"Our mobile networks play an increasingly crucial part in our lives and businesses, which is why we're investing £36 million in cutting-edge projects to ensure our networks are safe and secure for decades to come.
I'm pleased to see such an outstanding range of innovators are now on board with FRANC as we push ahead to build a more competitive and resilient telecoms supply chain."
Ofcom futures
Ultracell Networks secured £104,000 from Research England Connecting Capabilities Fund's Northern Triangle Initiative (CCF-NTI). The Energy-efficient Cellular Optical Networks (ECO-Net) project will develop a proof-of-concept energy efficient cellular optical network for interconnecting servers in an energy efficient manner. The work was also supported in the summer through a £72k EPSRC Impact Acceleration Award (IAA) funding the Cellular Optical Networking Infrastructure (CONI) project.
Ofcom published its Internet Futures report in July 2021. It uses some of the pioneering work carried out by Professor Elmirghani and his group on Internet Energy Efficiency. The report highlights Professor Elmirghani's work in Internet and energy-efficiency.
The report frames well the planned future road map of Ultracell Networks, which will contribute to shape the future Internet. It will significantly impact and will inform government policy.
Ultracell Networks
Ultracell Networks will engage with its industrial collaborators, BT, Vodafone and Orange in use case development and demonstration. Professor Jaafar Elmirghani, CTO of Ultracell Networks said:
"I am thrilled that our technology has been selected and supported by BEIS under the EEF programme.
"ECOICE will transform the networking used in edge processing and in data centres improving energy efficiency and resilience. I am delighted that ECOICE will be carried out in collaboration with world leading network operators. I am also excited that our technology has been selected and supported by DCMS in the Future RAN Competition (FRANC)".
"ECORAN will have significant impact on edge processing improving energy efficiency and resilience. ECO-Net supported by CCF-NTI and CONI supported by EPSRC and the University of Leeds seed funding are the icing on the cake".
Securing [support] from so many leading funders is a testimony to the innovative nature of our technology and the insatiable demand that exists for it in 5G and 6G communication networks.
"Securing all this translation funding concurrently from so many leading funders is a testimony to the innovative nature of our technology and the insatiable demand that exists for it in 5G and 6G communication networks. I look forward to wider collaboration with our end users and the entire eco system and to significant impact on the international market."
Contact us
If you would like to discuss this area of research, please contact Professor Jaafar Elmirghani from the School of Electronic and Electrical Engineering.